Food handling errors and inadequate cooking temperatures are the most common problems that lead to foodborne disease outbreaks during the holidays.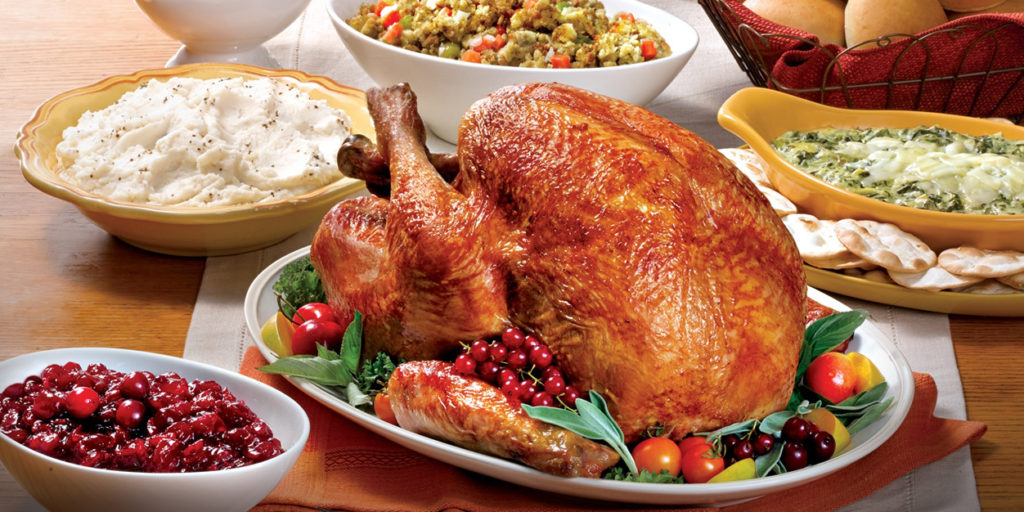 Parties, family dinners, and other gatherings – where food is served – are all part of the holiday cheer. But, the merriment can change to misery if contaminated food makes people ill.
Symptoms of Foodborne Illness
Typical symptoms of foodborne illness are vomiting, diarrhea, and flu-like symptoms, which can start anywhere from hours to days after contaminated food or drinks are consumed.
The symptoms usually are not long-lasting in healthy people—a few hours or a few days—and usually go away without medical treatment. But foodborne illness can be severe and even life-threatening to anyone, especially to those people most at risk:
older adults;
infants and young children;
pregnant women;
people with HIV/AIDS, cancer, or any condition that weakens their immune system; and
people who take medicines that suppress the immune system; for example, some medicines for rheumatoid arthritis.

Food Safety Training - 10% OFF SALE
Learn about proper hygiene, cross contamination, cold and hot food safety, foodborne pathogens, and best practices to prevent foodborne illness.
Food Manager Training & ANSI Certification - $99.00
Food Handler Training - only $7.00!
HACCP Training 16hr/4hr/1hr
Food Allergy Training - $15.00
Enter Promo "train10off" at Checkout
Use these food safety tips to help you safely prepare your next holiday turkey meal:
Safely Thaw Your Turkey
Thaw turkeys in the refrigerator, in a sink of cold water that is changed every 30 minutes, or in the microwave. Never thaw your turkey by leaving it out on the counter. Bacteria can multiply rapidly at room temperature, so don't thaw foods on the counter! A frozen turkey is safe indefinitely, but a thawing turkey must defrost at a safe temperature. When the turkey is left out at room temperature for more than two hours, its temperature becomes unsafe as it moves into the danger zone between 40°F and 140°F, where bacteria can grow rapidly.
Safely Handle Your Turkey
Don't give bacteria the opportunity to spread from one food to another (cross-contamination). Raw poultry can contaminate anything it touches with harmful bacteria. Keep items separate to prevent the spread of bacteria to your food and family.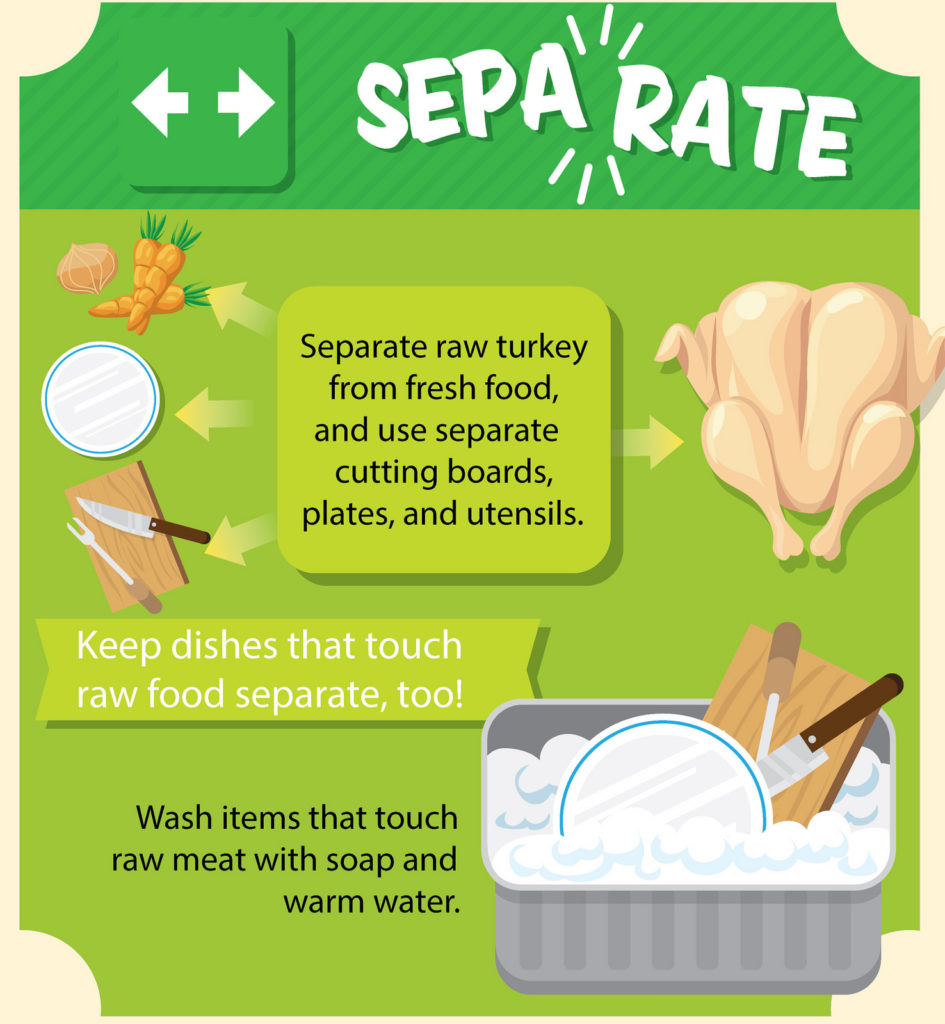 Safely Stuff Your Turkey
Cooking stuffing in a casserole dish makes it easy to make sure it is thoroughly cooked. If you put stuffing in the turkey, do so just before cooking. Use a food thermometer to make sure the stuffing's center reaches 165°F. Bacteria can survive in stuffing that has not reached 165°F and may then cause food poisoning. Wait for 20 minutes after removing the bird from the oven before removing the stuffing from the turkey's cavity; this allows it to cook a little more.
Use these tips to learn more about how to prepare stuffing safely:
Whether it is cooked inside or outside the bird, all stuffing and dressing must be cooked to a minimum temperature of 165ºF. For optimum safety, cooking your stuffing in a casserole dish is recommended.
Stuffing should be prepared and stuffed into the turkey immediately before it's placed in the oven.
Mix wet and dry ingredients for the stuffing separately and combine just before using.
The turkey should be stuffed loosely, about 3/4 cup stuffing per pound of turkey.
Any extra stuffing should be baked in a greased casserole dish.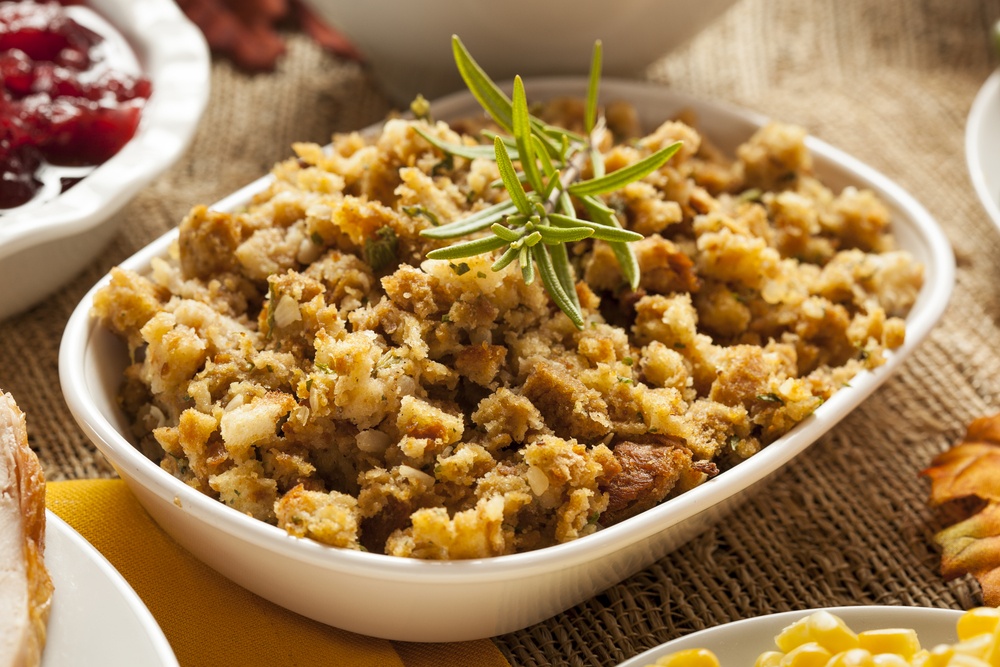 Safely Cook Your Turkey
Set the oven temperature to at least 325°F. Place the completely thawed turkey with the breast side up in a roasting pan that is 2 to 2-1/2 inches deep. Cooking times will vary depending on the weight of the turkey. To make sure the turkey has reached a safe internal temperature of 165°F, check by inserting a food thermometer into the center of the stuffing and the thickest portions of the breast, thigh, and wing joint. Let the turkey stand 20 minutes before removing all stuffing from the cavity and carving the meat.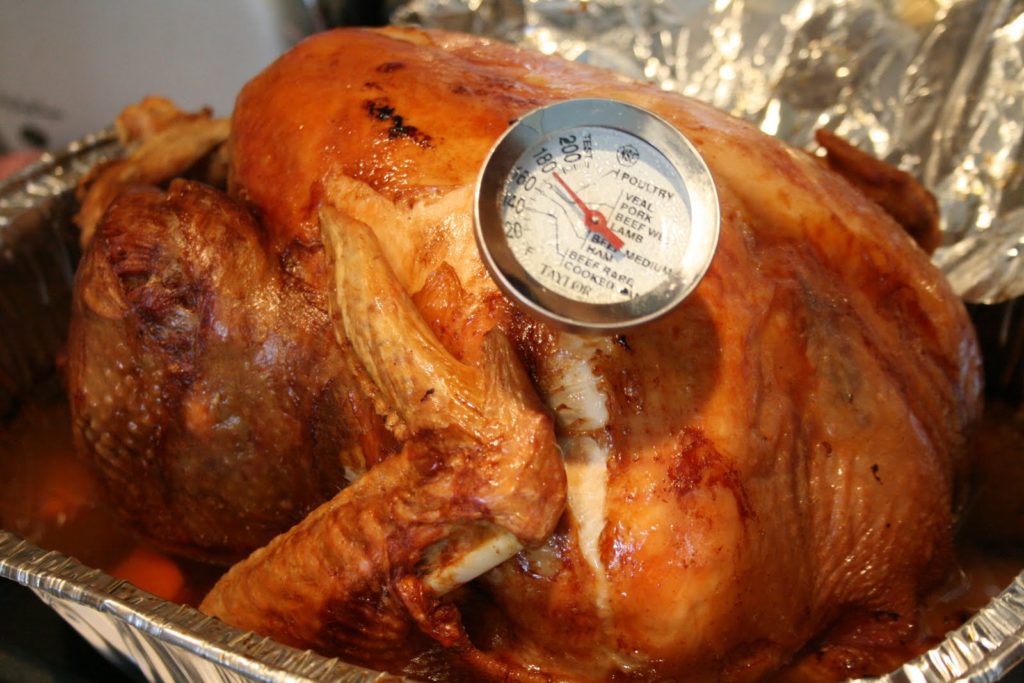 Take Care with Leftovers
Clostridium perfringens are bacteria that grows in cooked foods left at room temperature. It is the second most common bacterial cause of food poisoning. The major symptoms are vomiting and abdominal cramps within 6 to 24 hours after eating.
Refrigerate leftovers at 40°F or colder as soon as possible and within two hours of preparation to prevent food poisoning. Use a food thermometer to check for a safe internal temperature.
Safe Holiday Turkey Tips Infographic