Firing up the grill this weekend? Don't forget food safe temperatures when you're grilling your food! Protect yourself and guests from foodborne illness by ensuring your meat always reaches a safe internal temperature by using a food thermometer.
Don't rely upon sight, smell or taste alone to determine if your food is safe to eat. Make sure foods are cooked to a safe minimum internal cooking temperature by using the recommended food safe internal temperatures and measuring with a food thermometer to make sure this temperature is reached.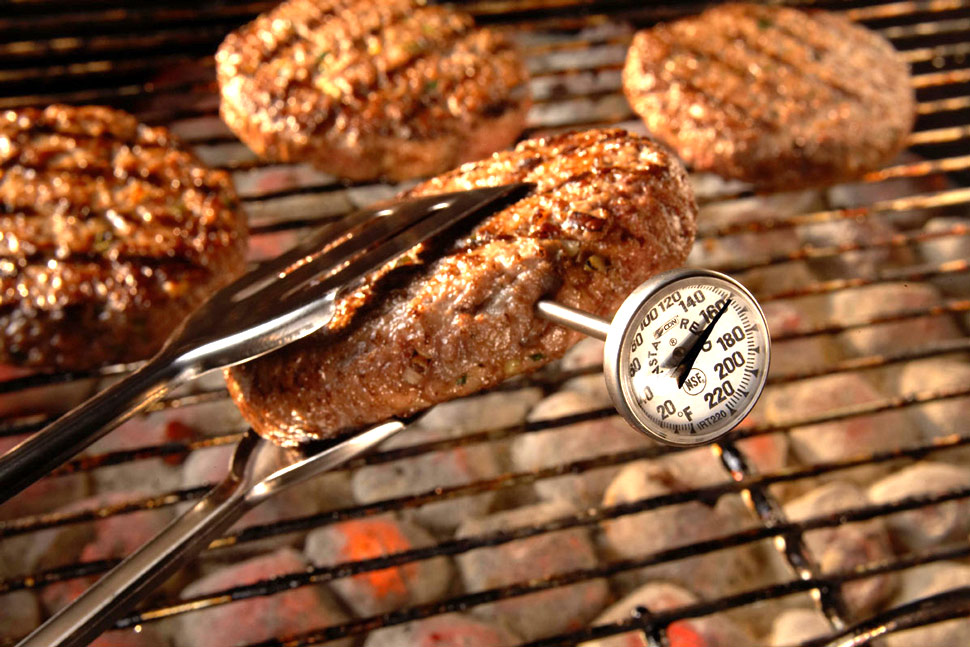 Food Safety Danger Zone
Do you know what happens when perishable foods are left at (40°F – 140°F) for more than 2 hours? Bacteria like Salmonella, E.coli, and Campylobacter can double in number in as little as 20 minutes!

Food Safety & Allergy Training - 10% OFF SALE
Learn about proper hygiene, cross contamination, cold and hot food safety, foodborne pathogens, and best practices to prevent foodborne illness.
Food Manager Training & ANSI Certification - $99.00
Food Handler Training - only $7.00!
HACCP Training 16hr/4hr/1hr
Food Allergy Training - $15.00
Enter Promo "train10off" at Checkout
The temperature range in which foodborne bacteria can grow is known as the "Danger Zone". One of the critical factors in controlling bacteria in food is controlling temperature. Bacteria grows very slowly at temperatures below 40°F, multiply rapidly between 40°F and 140°F, and are destroyed at temperatures above 140°F.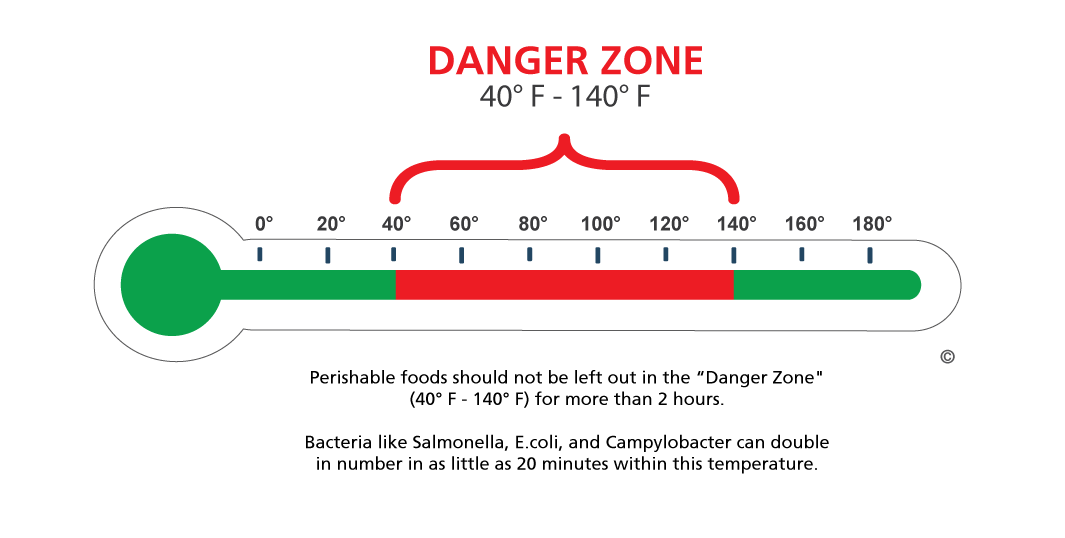 Perishable Foods & the Danger Zone
Perishable foods are foods that are potentially hazardous inside the Danger Zone. They include:
Meat: beef, poultry, pork, seafood
Eggs and other protein-rich foods
Dairy products
Cut or peeled fresh produce
Cooked vegetables, beans, rice, pasta
Sauces, such as gravy
Sprouts
Any foods containing the above, e.g. casseroles, salads, quiches
Safe Minimum Cooking Temperatures
Product
Min. Internal Temperature & Rest Time
Beef, Pork, Veal & Lamb
Steaks, chops, roasts
145 °F (62.8 °C) and allow to rest for at least 3 minutes
Ground meats
160 °F (71.1 °C)
Ham, fresh or smoked (uncooked)
145 °F (62.8 °C) and allow to rest for at least 3 minutes
Fully Cooked Ham
(to reheat)
Reheat cooked hams packaged in USDA-inspected plants to 140 °F (60 °C) and all others to 165 °F (73.9 °C).
| Product | Min. Internal Temperature |
| --- | --- |
| All Poultry (breasts, whole bird, legs, thighs, and wings, ground poultry, and stuffing) | 165 °F (73.9 °C) |
| Eggs | 160 °F (71.1 °C) |
| Fish & Shellfish | 145 °F (62.8 °C) |
| Leftovers | 165 °F (73.9 °C) |
| Casseroles | 165 °F (73.9 °C) |
Foodborne Illness Signs and Symptoms
Foodborne bacteria, in large enough numbers, may cause food poisoning, symptoms similar to gastroenteritis or "stomach flu". Some of the symptoms include stomach cramps, nausea, vomiting, diarrhea, and fever.
Foodborne illness symptoms can begin as early as shortly after and as late as weeks after consumption of the contaminated food.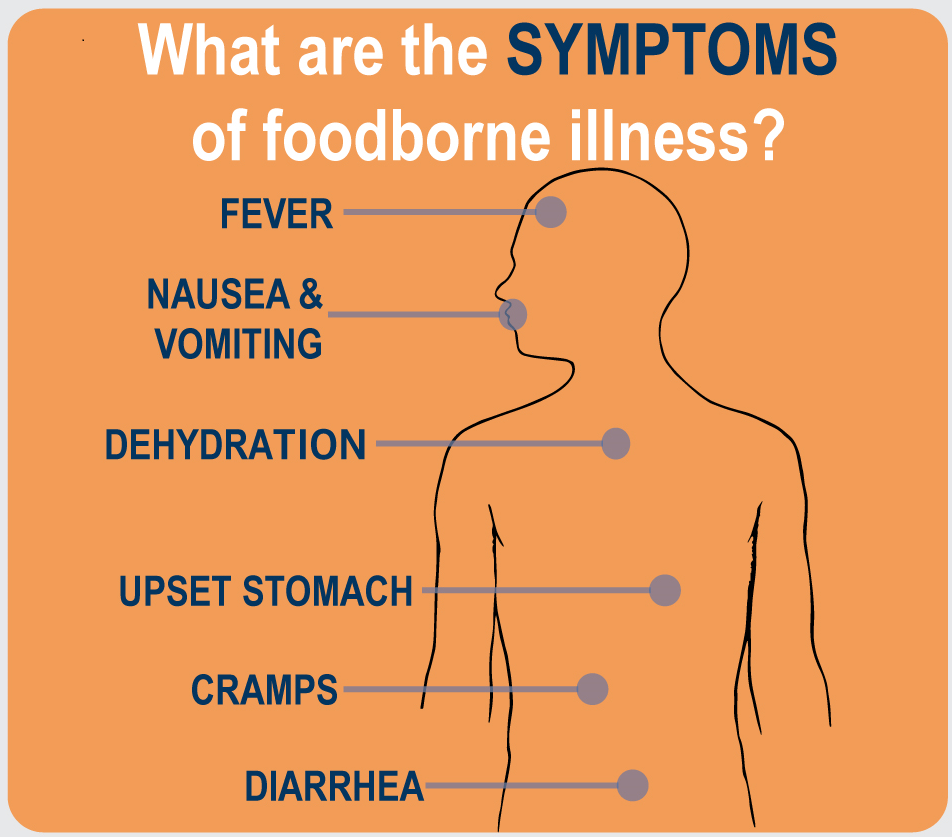 Steps to Food Safety
Safe steps in food handling, cooking, and storage are essential in preventing foodborne illness. You can't see, smell, or taste harmful bacteria that may cause illness. In every step of food preparation, follow the four guidelines to keep food safe:
Clean—Wash hands and surfaces often.
Separate—Separate raw meat from other foods.
Cook—Cook to the right temperature.
Chill—Refrigerate food promptly.

Food Illness Vulnerable Groups
Young children, pregnant women and their unborn babies, older adults, and people with weakened immune systems should take extra precautions to avoid foodborne illness.

Grilling Food Safety Infographic