The FDA Food Safety Modernization Act (FSMA), the most sweeping reform of our food safety laws in more than 70 years, was signed into law on January 4, 2011. It aims to ensure the U.S. food supply is safe by shifting the focus from responding to contamination to preventing it.
Are you confused about Food Safety Modernization Act (FSMA) compliance dates? There are new compliance dates for the rules that form the foundation of the implementation of the FDA Food Safety Modernization Act (FSMA).
The rules are listed in the order in which they became final. It includes compliance dates for the following FSMA rules:
Preventive Controls for Human Food (Part 117)
Preventive Controls for Animal Food (Part 507)
Produce Safety (Part 112)
Foreign Supplier Verification (Part 1, Subpart L)
Sanitary Transportation (Part 1, Subpart O)
Intentional Adulteration (Part 121)

Food Safety Training - 10% OFF SALE
Learn about foodborne pathogens, cross contamination, hot and cold food holding, personal hygiene and how to prevent foodborne illnesses.
Food Manager Training & ANSI Certification - $99.00
Food Handler Training - only $7.00
HACCP Training 16hr/4hr/1hr
10% OFF: Promo "TRAIN10OFF" at Checkout
FSMA Final Rules: Key Dates
Visit FDA.gov for a breakdown of FSMA rules and applicable compliance dates.
There is also a graphic timeline on the page that lists key compliance dates by year.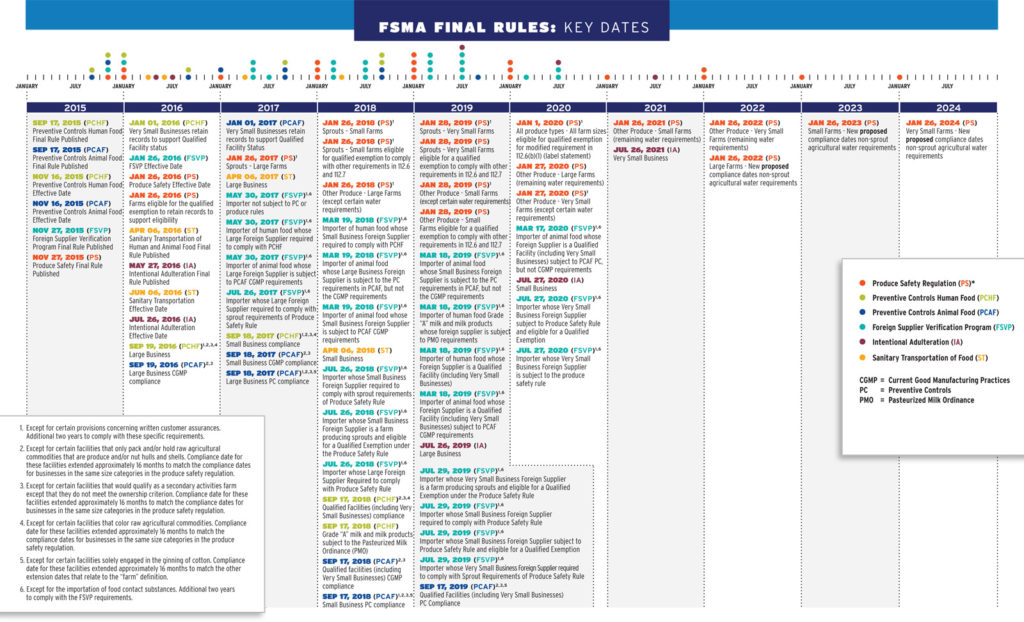 If you need to view past compliance dates, those can still be viewed on FDA.gov.
More About the Food Safety Modernization Act