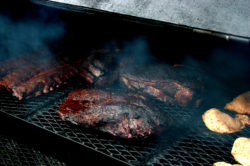 Smoking is slowly cooking food indirectly over a fire. This can be done by using a "smoker," which is an out-door cooker especially designed for this purpose. A covered grill can also be used for smoking food by placing a drip pan of water beneath the meat on the grill.
If you love smoked meats, you will be happy to know it's easy to create a smoked – and safe – flavor on your smoker grill. All you need is low temperature heat, water, flavored wood chips, several hours of smoke and, of course, food safety, for a great tasting meal.

Food Safety & Allergy Training - 10% OFF SALE
Learn about proper hygiene, cross contamination, cold and hot food safety, foodborne pathogens, and best practices to prevent foodborne illness.
Food Manager Training & ANSI Certification - $99.00
Food Handler Training - only $7.00!
HACCP Training 16hr/4hr/1hr
Food Allergy Training - $15.00
Enter Promo "train10off" at Checkout
To avoid food illness, keep these food safety tips in mind before, during and after your next meat smoking adventure:
A. Thawing
Completely thaw meat or poultry before smoking. Because smoking uses low temperatures to cook food, the meat will take too long to thaw in the smoker, allowing it to linger in the "Danger Zone" (temperatures between 40 and 140 °F) where harmful bacteria can multiply. Defrosted meat also cooks more evenly. There are three safe ways to thaw meat and poultry:
In the refrigerator: This is the safest way to thaw meat and poultry. Take the food out of the freezer and thaw in the fridge on a plate or in a pan to catch any juices that may leak.
In cold water: For faster thawing, put the frozen package in a watertight plastic bag and submerge it in cold water; change the water every 30 minutes. Once thawed, cook it immediately.
In the microwave: Follow instructions on the microwave oven or in the manual. Cook immediately after thawing in the microwave.
B. Marinate
Always marinate food in the refrigerator, not on the counter. If some of the marinade is to be used for basting during smoking or as a sauce on the cooked food, reserve a portion of the marinade. Don't put raw meat or poultry in it. Don't reuse the marinade from raw meat or poultry on cooked food unless it's boiled first to destroy any harmful bacteria.
Meats should be marinated in the refrigerator at 40° F (4.4°C) or below.
Don't cross-contaminate marinades. Sauce used to marinate raw meat, poultry or seafood should never be used on cooked foods unless it is boiled just before serving with food.
C. Smoking Process
Cook food in smokers made of materials approved for contact with meat and poultry. Don't smoke foods in makeshift containers such as galvanized steel cans or other materials not intended for cooking. Chemical residue contamination can result.
To ensure meat and poultry are smoked safely, you'll need two types of thermometers: one for the food and one for the smoker. Many smokers have built-in thermometers.
Smoker thermometer: These are often built in. Be sure that the temperature in the smoker stays between 225°F and 300°F (107°C and 149°C).
Food thermometer: Use a food thermometer to determine the temperature of the meat or poultry. Oven-safe thermometers can be inserted in the meat and remain there during smoking. Use an instant-read thermometer after the meat is taken out of the smoker.

Smoke food to a safe minimum internal temperature:
Cook all raw beef, pork, veal, and lamb steaks, chops, and roasts to a minimum internal temperature of 145 °F as measured with a food thermometer before removing meat from the heat source. For safety and quality, allow meat to rest for at least three minutes before carving or consuming. For reasons of personal preference, consumers may choose to cook meat to higher temperatures.
Cook all raw ground beef, pork, lamb, and veal to an internal temperature of 160°F as measured with a food thermometer.\
Cook all poultry to a safe minimum internal temperature of 165°F as measured with a food thermometer.
Cooking time depends on many factors: the type of meat, its size and shape, the distance of food from the heat, the temperature of the coals, and the weather. It can take anywhere from 4 to 8 hours to smoke meat or poultry, so it's imperative to use thermometers to monitor temperatures.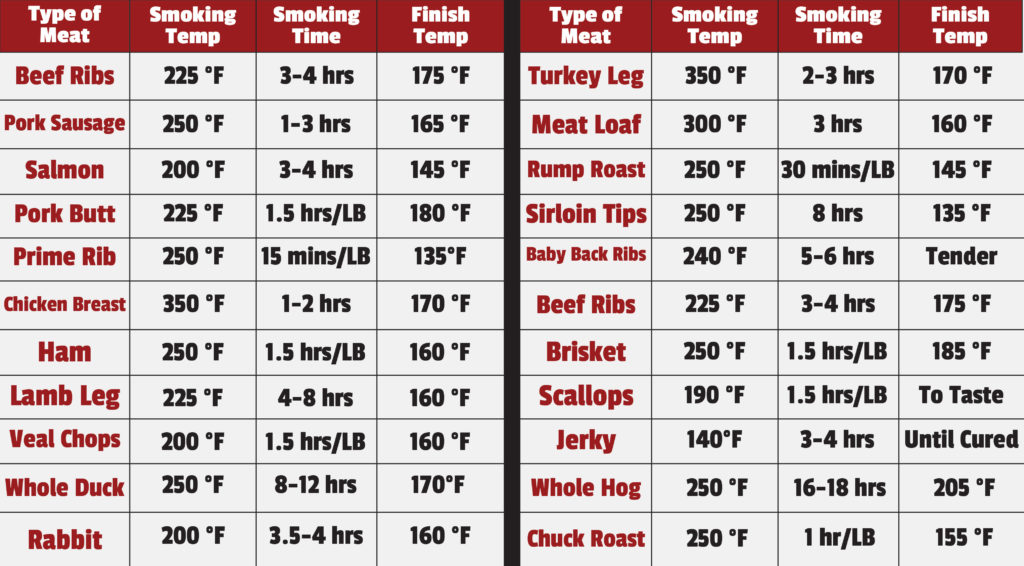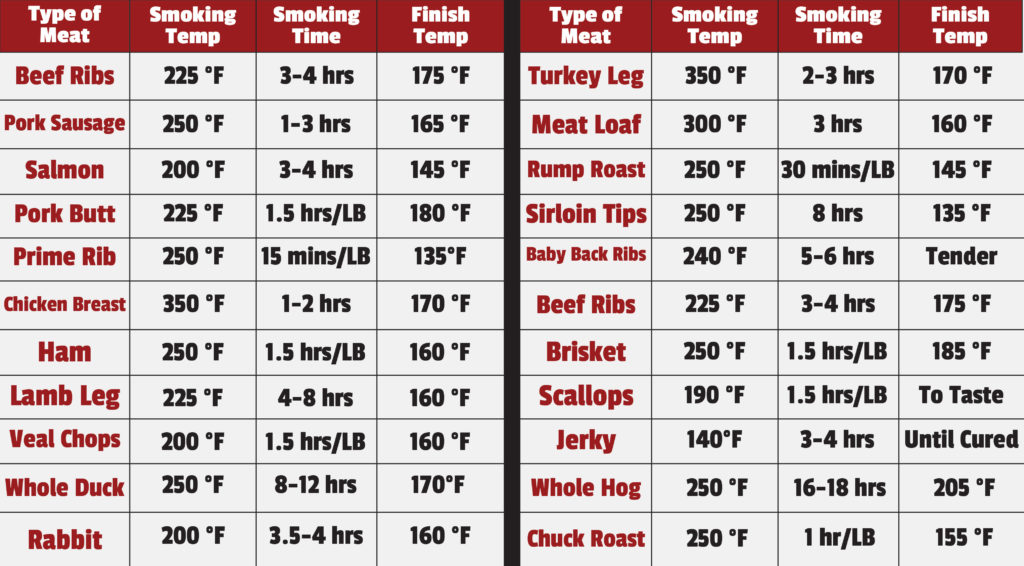 D. Chill
Chill promptly. If you aren't taking your smoked food straight to the dinner table, refrigerate within two hours of cooking (one hour when the outside temperature is above 90° F (32.2°C)). If the meat is a larger cut of meat, remember to cut the product into smaller portions, place it in shallow containers, cover and refrigerate. For best storage, use within four days, or freeze for later use.