Planing a fiesta for National Fajita Day? Don't let a food illness ruin your party. Remember to follow proper food safe procedures when preparing, marinating, and cooking fajitas. Likewise, always discard perishable foods that have been out for more than 2 hours.
Use the hashtag #NationalFajitaDay on social media to find specials.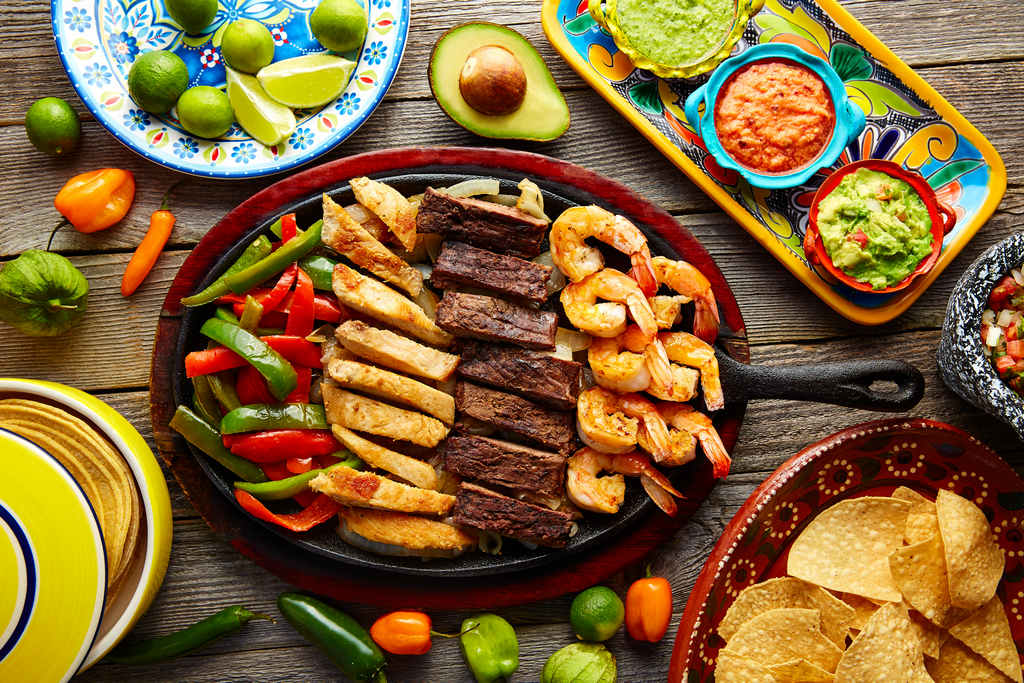 History of Fajitas
The first serious study of the history of fajitas was done in 1984 by Homero Recio as part of his graduate work in animal science at Texas A&M. Recio was intrigued by a spike in the retail price of skirt steak, and that sparked his research into the dish that took the once humble skirt steak from throwaway cut to food and restaurant menu star.
Recio found anecdotal evidence describing the cut of meat, the cooking style (directly on a campfire or on a grill), and the Spanish nickname going back as far as the 1930s in the ranch lands of South and West Texas. During cattle roundups, beef were butchered regularly to feed the hands and fajitas/arracheras (grilled skirt steak) have their roots in this practice.

Food Safety & Allergy Training - 10% OFF SALE
Learn about proper hygiene, cross contamination, cold and hot food safety, foodborne pathogens, and best practices to prevent foodborne illness.
Food Manager Training & ANSI Certification - $99.00
Food Handler Training - only $7.00!
HACCP Training: 16hr/4hr/1hr
Food Allergy Training - $15.00
Enter Promo "train10off" at Checkout
Bacteria "Danger Zone"
Bacteria grow rapidly between the temperatures of 40° F and 140° F.  After food is safely cooked, hot food must be kept hot at 165°F or warmer to prevent bacterial growth.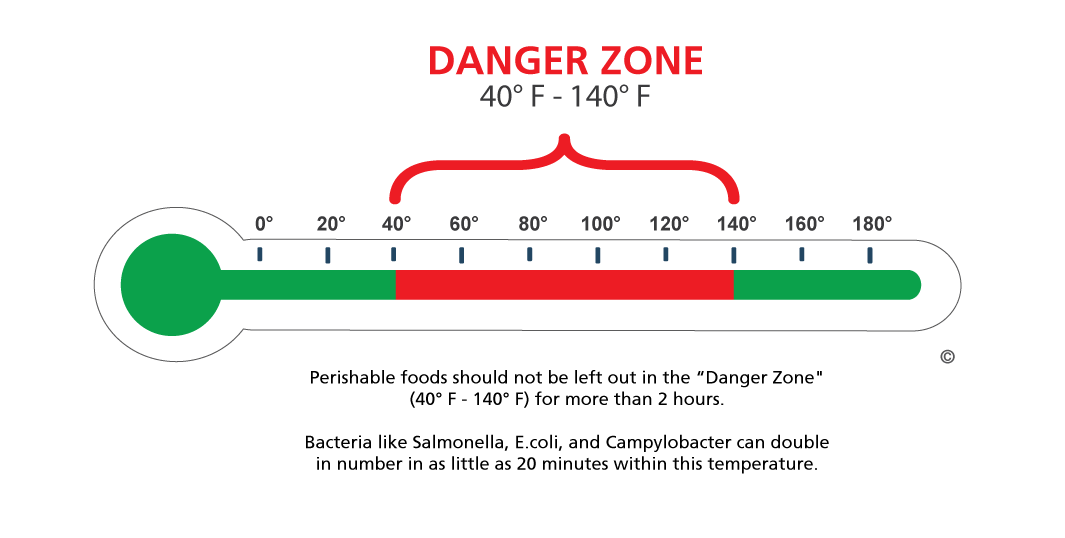 Within 2 hours of cooking food or after it is removed from an appliance keeping it warm, leftovers must be refrigerated. Throw away all perishable foods that have been left in room temperature for more than 2 hours (1 hour if the temperature is over 90°F).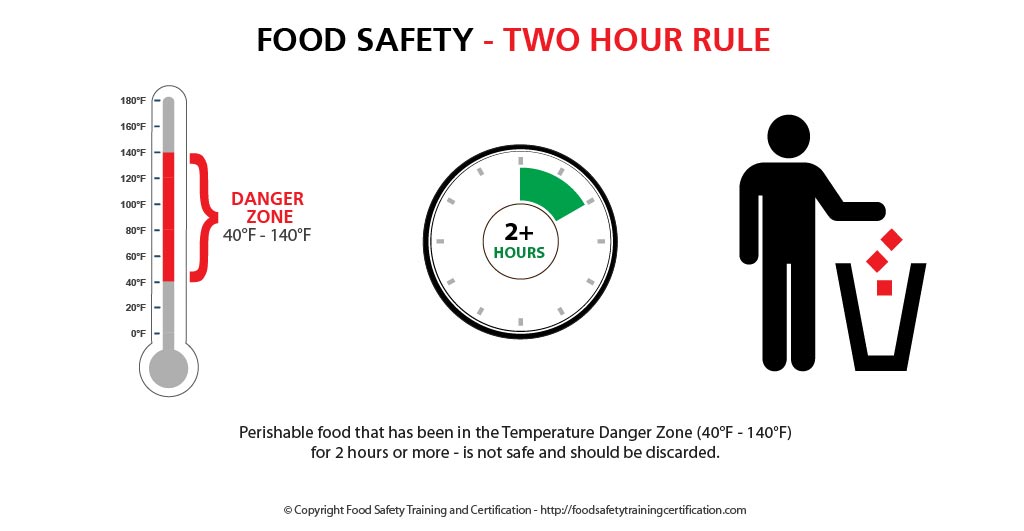 Types of Fajita Preparation
Grill or Barbeque:
This is the traditional method of preparation for fajitas. Drain the marinade from the meat and cook it about 3 inches above the coals for approximately 6 minutes on each side. When the meat is cooked to your liking, remove it from the grill and let it rest for 5 or 10 minutes. Cut it across the grain and diagonally into finger-length strips.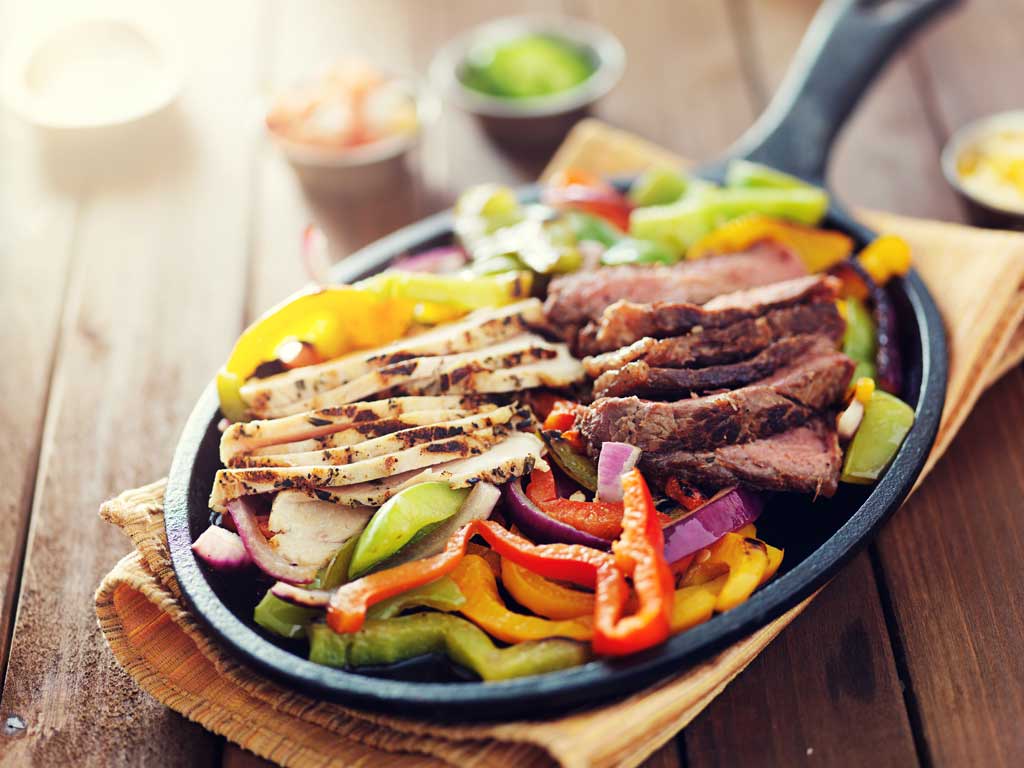 Oven Broil or Roast:
Broil the meat about 4 inches below the broiler flame for 5 to 6 minutes per side; Or raost in a pan with marinade covered for the first two thirds of cooking. Finish uncovered for last ten minutes or so. let the meat rest and slice as for grilled fajitas.
Pan-Frying:
Drain the meat; then cut it across the grain, diagonally, into finger-length strips. Fry the strips over high heat in a large cast-iron skillet or wok, working in batches if necessary, turning them frequently. They should take no more than 1-1/2 to 2 minutes to cook. Roll the meat in a flour tortilla along with, grilled or fried onions and bell peppers (red and/or green), pico de gallo, guacamole and maybe a little sour cream and fresh coriander.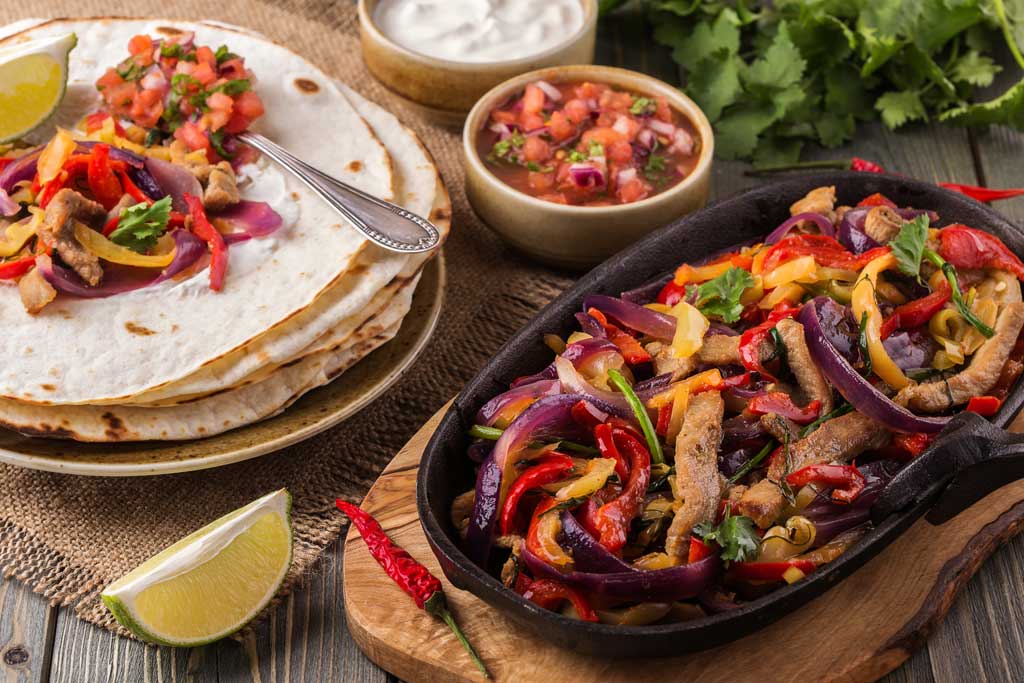 Rules for Marinating and Cooking Safely
What containers to use: For easy cleanup, use food-safe plastic bags during storage, and discard the bags after marinating. You may also use food grade plastic, stainless steel, or glass containers to marinate food.
Where to marinate: Always marinate food in the refrigerator, never on the counter. If you marinate in container, cover the container during storage in the refrigerator.
Reusing marinade: Never reuse marinade used on raw meat or poultry unless you boil it first to destroy any harmful bacteria. If you plan to use some of the marinade as sauce for the cooked food, your best bet is to reserve a portion of the marinade before putting raw meat and poultry in it.
Storing marinated food: If things get busy and you end up not cooking the chicken, don't worry! You can store marinated poultry in your refrigerator for two days. Beef, veal, pork, and lamb roasts, chops, and steaks may be marinated up to 5 days.
Cook it safely: Be sure to use a food thermometer and cook chicken to a safe minimum internal temperature of 165° F.
Food
Type
Internal Temperature (°F)
Ground meat and meat mixtures
Beef, pork, veal, lamb
160
Turkey, chicken
165
Fresh beef, veal, lamb
Steaks, roasts, chops
Rest time: 3 minutes
145
Poultry
All Poultry (breasts, whole bird, legs, thighs, wings, ground poultry, giblets, and stuffing)
165
Pork and ham
Fresh pork, including fresh ham
Rest time: 3 minutes
145
Precooked ham (to reheat)
Note: Reheat cooked hams packaged in USDA-inspected plants to 140°F
165
Eggs and egg dishes
Eggs
Cook until yolk and white are firm
Egg dishes (such as frittata, quiche)
160
Leftovers and casseroles
Leftovers and casseroles
165
Seafood
Fish with fins
145 or cook until flesh is opaque and separates easily with a fork
Shrimp, lobster, crab, and scallops
Cook until flesh is pearly or white, and opaque
Clams, oysters, mussels
Cook until shells open during cooking
What goes along with Fajita Meat
Onions and Peppers:
Heat your frying pan or wok and add a few tablespoons of olive oil. Add 1 large (or 2 medium) onions, separated into rings, and 2 green bell peppers (or 1 green and 1 red), cut into strips.
When the oil is heated, add the onion rings and pepper strips and stir-fry them just until they start to get soft and brown 3 or 4 minutes.
Tortillas:
Make or buy tortillas select the thickest ones you can find, 6 or 7 inches in diameter. Warm them up in foil packages, six or eight at a time, and placing them in a 325°F oven for about 20 minutes. Wrap them in a cloth napkin to bring them to the table. Better yet, use one of a tortilla keepers.
Pico de gallo:
In Mexican cuisine, pico de gallo (Spanish: literally beak of rooster), also called salsa fresca, is made from chopped tomato, onion, cilantro, fresh serranos (jalapeños or habaneros are used as alternatives), salt, and lime juice.
Guacamole:
Preferably use Haas variety of Avocado and it's okay to buy them rock hard if you won't be using them right away.