Foodborne illness is a common, costly – yet preventable – public health problem. The CDC estimates that 1 in 6 Americans get sick from contaminated foods or beverages each year, and 3,000 die. The USDA estimates that foodborne illnesses cost more than $15.6 billion each year (inpatient medical care, outpatient expenses, lost wages, and continued evaluation of foodborne infections).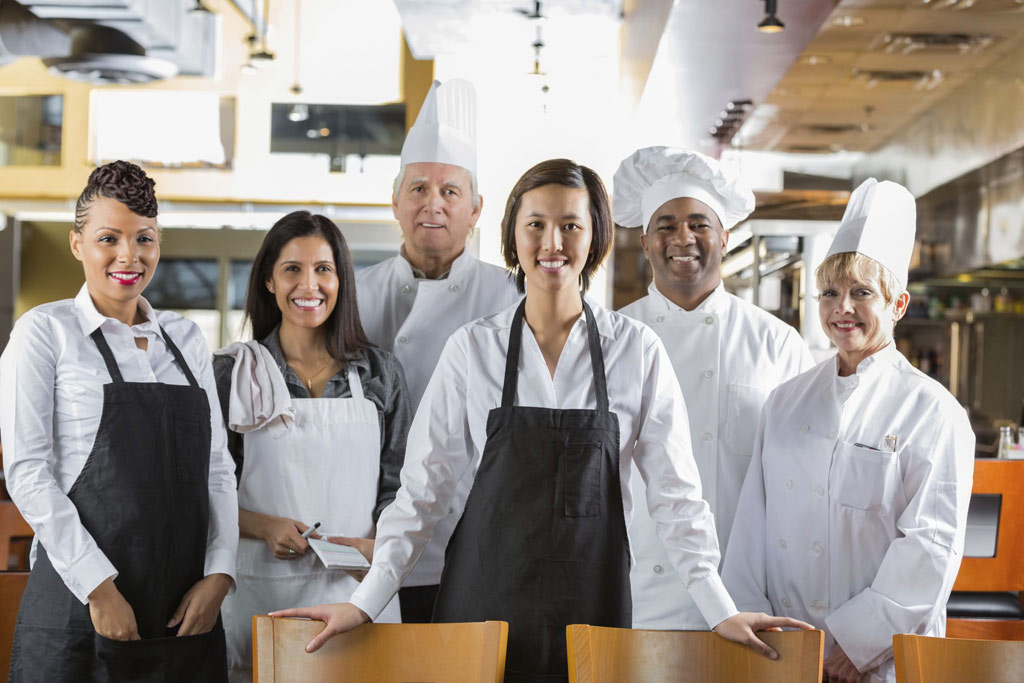 Shared Responsibility
A major selling point of food is its quality – and food safety training is key to that quality. Food safety and sanitation are integral to operating a successful food service industry. The safety of food is a responsibility shared by producers, sellers, managers, and handlers.
Affects Sales
Food safety not only affects continued patronage and sales of a food service business, but also public safety.
Businesses Require
Many businesses require food safety training, so being food safety trained will increase your chances of employment. Furthermore, businesses are willing to pay higher wages to those trained.
States Require
Because the CDC estimates – 76 million will become ill, 325,000 hospitalized, and 5,000 die annually in the U.S. due to foodborne infections –  most states require training and a certification exam in food safety.
Choose your state below and get one step closer to obtaining your food safety training:
(Click State for more info)
Food Handler Training Map
Alabama | Alaska | Arizona | Arkansas | California | Colorado | Connecticut | Delaware | Florida | Georgia | Hawaii | Idaho | Illinois | Indiana | Iowa | Kansas | Kentucky | Louisiana | Maine | Maryland | Massachusetts | Michigan | Minnesota | Mississippi | Missouri | Montana | Nebraska | Nevada | New Hampshire | New Jersey | New Mexico | New York | North Carolina | North Dakota | Ohio | Oklahoma | Oregon | Pennsylvania | Rhode Island | South Carolina | South Dakota | Tennessee | Texas | Utah | Vermont | Virginia | Washington | Washington DC | West Virginia | Wisconsin | Wyoming
Food Handler Course Description
The Food Handler Training course will discuss the various food safety issues, regulations, and techniques needed to maintain a food-safe environment. The course will instruct the learner about proper hygiene, cross contamination, cold and hot food safety, foodborne pathogens, and best practices to prevent foodborne illness.
At the conclusion of the course, the learner will be tested on their knowledge of the learning objectives and content. Upon successfully passing the exam, the learner will be issued a Food Handler's certificate (or card).
Audience:  Chefs, cooks, mobile food vendors, bartenders, host/hostesses that handle food, bussers, caterers, wait staff,servers, supervisors and managers, food warehouse staff, and convenience store (c-store) clerks.
Hours: 1.5 hrs
Learning Objectives:
Upon completion of the Food Handler Training Course students will be able to:
Identify food safety: its importance, goals, benefits, impact, and proper adherence
Identify the importance food safety training: issues, regulations, and techniques to maintain a food-safe environment
Identify the types of foodborne illness and food spoilage and their causes and signs
Identify the types of food contamination: biological, physical and chemical
Enact the proper food temperature controls and time practices
Enact the proper procedures to safely prepare, handle and store food
Implement proper personal hygiene and health practices in the food workplace
Implement the proper procedures of purchasing, receiving and storing food
Enact proper cleaning and sanitation methods in the food workplace
Identify the signs and enact the eradication procedures for pest infestation
Course Topics:
Lesson 1: Introduction to Food Safety
Lesson 2: Biohazards, Foodborne Disease and Food Spoilage
Lesson 3: Contamination
Lesson 4: Food and Temperature Control
Lesson 5: Preventing Food Contamination
Lesson 6: Food Receiving and Storage
Lesson 7: Sanitizing
Lesson 8: Pest Control
End of Course Test
As soon as you complete the food handler course – with a minimum seat time of 75 minutes – you will then be required to take the End of Course Test
With a minimum passing score of 75% on the test,  you will be able to download and print your food handler training certificate of completion.
Individuals who do not pass the food handler training test on the first attempt will be allowed one additional attempt to review the course content and pass the test.
Renewing Your Food Handler Certificate
To renew your Food Handler Certification, you must complete the food handler training course again. The entire course must be generally taken every three years to renew your certificate. However, in a few local jurisdictions this may vary, so make sure to check with your local health authority.
Food Handler Course Accreditation – ANSI Accredited ID 0975
Our Learn2Serve food handler training course program has been accredited by the American National Standards Institute (ANSI) in accordance with the standard set by American Society for Testing and Materials (ASTM). This national level certification for food handlers is valid in all 50 states. Source: ANSI – Food Handler Training Course
Gaining an accreditation from ANSI means quality training fora more qualified food handler. Be a certified food handler and the the ANSI  Food Handler Certificate Training Program today!