Hanukkah is the eight-day holiday that celebrates the Jewish religion and culture and commemorates the rededication of the Second Temple in Jerusalem.
Known as the Festival of Lights, Hanukkah is a time when friends and family gather to rejoice, exchange gifts, and enjoy an assortment of traditional Hanukkah foods.
When cooking for a group of people for Hanukkah, be sure to follow important food safety principles. This type of food service – where foods are left out for long periods – increases the chance of harmful bacteria. Festive times for giving and sharing – should not include sharing foodborne illness.
Hanukkah Parties
Hanukkah parties are filled with delicious fried food that celebrates the miracle of oil.
Latkes. Fried potato pancakes, called latkes in Yiddish and levivot in Hebrew, are the most popular Hanukkah food and are made by grating potatoes and frying them in oil. They are traditionally served with applesauce and/or sour cream.
Brisket. Brisket is a popular dish featured on Jewish holiday tables and since Hanukkah is during the winter, this slow-cooked cut of meat is a hearty, warming and welcome dish. According to the FDA, because brisket is less tender than many beef cuts, it usually needs to cook for 2-3 hours until "fork-tender." Make sure the brisket reaches a safe minimum internal temperature of 160 °F.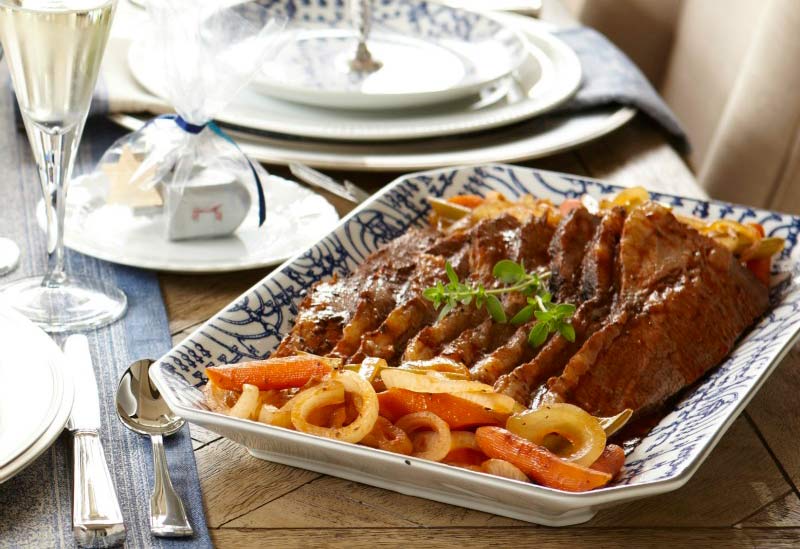 Sufganiot. Another fried-in-oil delicacy for Hanukkah is the deep-fried, jelly-filled donuts, called sufganiot, which are traditionally enjoyed during Hanukkah in Israel and loved by children all over the globe.
Cheese. One Hanukkah food tradition is eating dairy products, especially cheese, in commemoration of the Jewish heroine Judith (Yehudit) who helped secure an important military victory with the aid of her homemade cheese.
Desserts. There are quite a variety of Hanukkah desserts, from decorated Hanukkah sugar cookies, cupcake "menorahs," traditional Hanukkah donuts and contemporary cakes.

Food Safety & Allergy Training - 10% OFF HOLIDAY SALE
Learn about proper hygiene, cross contamination, cold and hot food safety, foodborne pathogens, and best practices to prevent foodborne illness.
Food Manager Training & ANSI Certification - $99.00
Food Handler Training - only $7.00!
HACCP Training: 16hr/4hr/1hr
Food Allergy Training - $15.00
Enter Promo "train10off" at Checkout
Food Safety Steps
Cleanliness, avoid cross-contamination, and cooking foods thoroughly are the best and easiest ways to avoid food illness. To prevent food illness it is recommended to: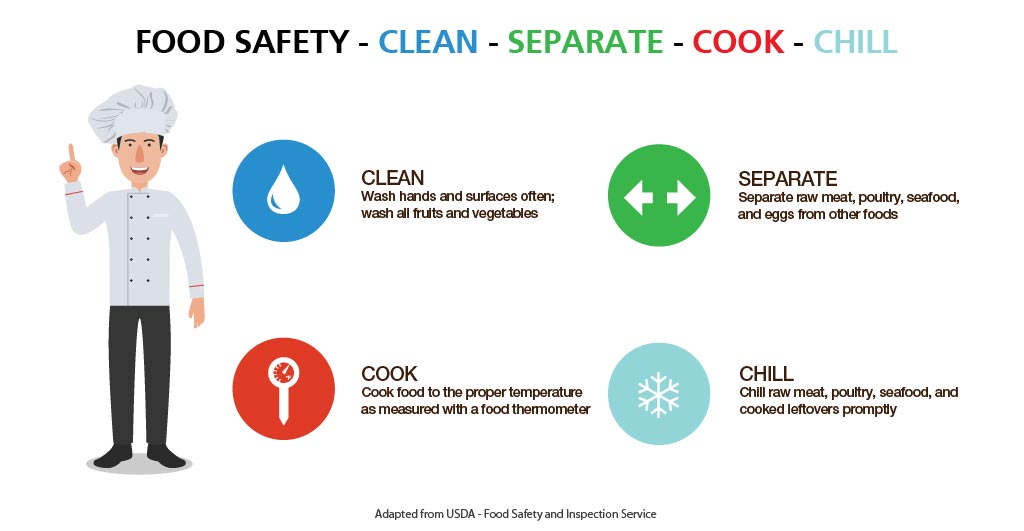 Always clean your hands, utensils and food surfaces before using them.
Separate foods and avoid cross-contamination. Never store raw foods next to ready-to-eat foods.
Cook foods to a safe temperature. Check them using a food thermometer:

brisket: 160 °F – brisket is less tender than many beef cuts, it usually needs to cook for 2-3 hours until "fork-tender"
ground meats: 160°F
fresh beef, veal, and lamb: 145°F (let stand 3 minutes)
poultry: 165°F
pork and ham: 145°F (let stand 3 minutes)
egg dishes: 160°F, cook eggs until whites are firm
leftover dishes and casseroles: 165°F
fish: 145°F or flesh can come apart with a fork
shellfish: cook until shells open on their own

Refrigerate or freeze perishable foods within two hours since purchase or preparation.

Defrost food safely in the refrigerator.
Make sure to dispose of food if you are unsure of its safety.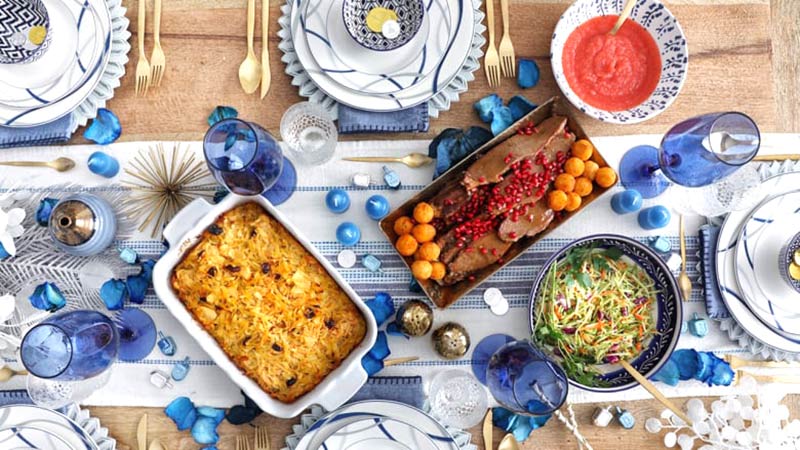 Temperature "Danger Zone" and Two Hour Rule
One of the factors in controlling bacteria in food is maintaining safe temperatures. Bacteria grows very slowly at temperatures below 40°F, and is destroyed at temperatures above 140°F.  To keep food out of this temperature "Danger Zone," keep cold food cold and hot food hot.
Keep food cold in the refrigerator, in coolers, or on the serving line on ice.
Keep hot food in the oven, in heated chafing dishes, or in preheated steam tables, warming trays and/or slow cookers.
Never leave perishable foods, such as meat, poultry, eggs and casseroles in the temperature "Danger Zone" for over 2 hours – only 1 hour if temperatures are above 90°F.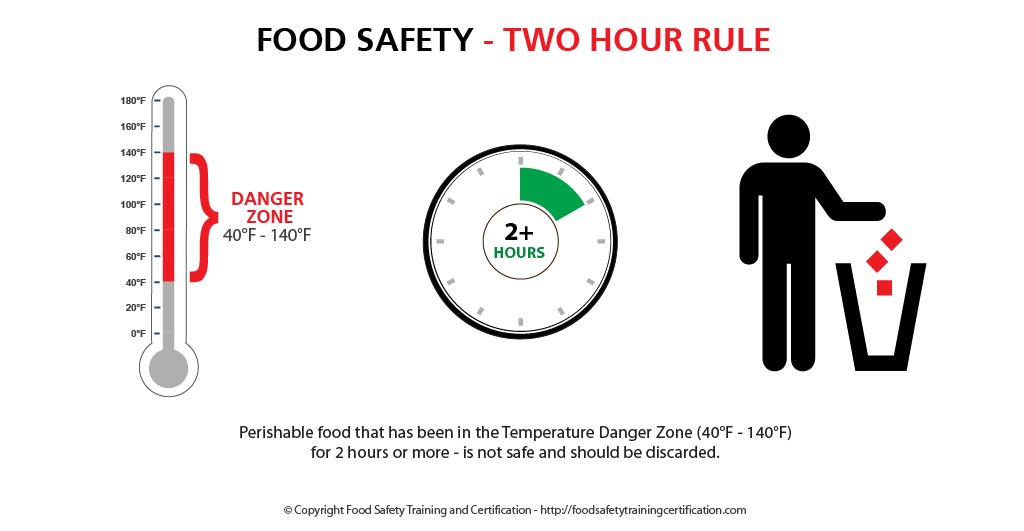 USDA Brochure – Cooking for Groups
This brochure helps people prepare and serve food safely for large groups.
Additional Resources – Cooking for Groups Food Safety