Irish-American Heritage Month is in March to coincide with Saint Patrick's Day, the Irish national holiday on March 17. Heritage Months celebrate a group's achievements and recognize the contributions made to our Nation's character, culture, and prosperity.
During Irish-American Heritage Month and culminating with St. Patrick's Day, people celebrate by participating in public parades and festivals, listening to Irish traditional music, drinking green beer, wearing green attire or shamrocks – and eating traditional Irish dishes.
But, food can get contaminated anywhere – so it's important to always follow sound food safety practices – no matter who prepares the meal or where you eat it.
The luck of the Irish only goes so far, so knowing how to properly prepare, cook, store, and reheat traditional Irish dishes – like corned beef – will help you avoid food illness.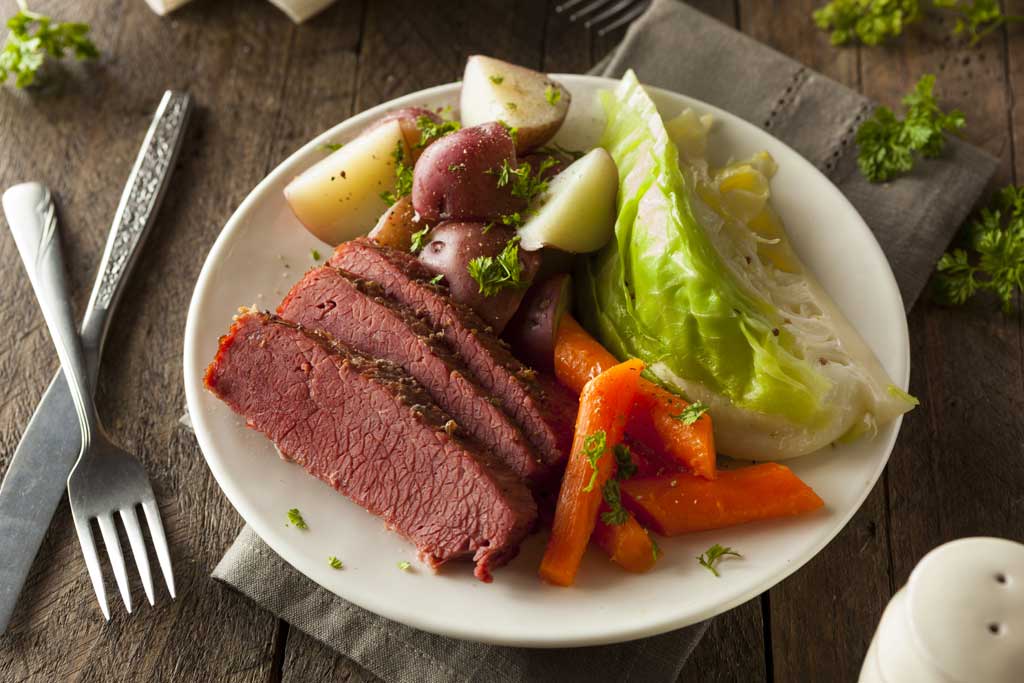 Short History of Corned Beef and Cabbage
Corned beef and cabbage might be one of the most popular dishes to eat on St. Patrick's Day. However, it's not an authentic Irish recipe—it's Irish-American.
After the Irish potato blight, or Great Famine, the mid-19th century brought hundreds of Irish emigrants to the U.S. The newly immigrated Irish Americans found corned beef to be both more accessible and more affordable than it was in Ireland.
Both corned beef and cabbage were ingredients of the lower working class, and their popularity among the Irish population grew. By the 1920s, corned beef and cabbage came to have an association with Irish American cooking.

Food Safety & Allergy Training - 10% OFF SALE
Learn about proper hygiene, cross contamination, cold and hot food safety, foodborne pathogens, and best practices to prevent foodborne illness.
Food Manager Training & ANSI Certification - $99.00
Food Handler Training - only $7.00!
HACCP Training: 16hr/4hr/1hr
Food Allergy Training - $15.00
Enter Promo "train10off" at Checkout
St. Patrick's Day Traditional Foods
Celebrate St. Patrick's Day with Irish-inspired foods like corned beef and cabbage, shepherd's pie and Irish soda bread.
Corned Beef
Cabbage
Shepherd's Pie
Irish Soda Bread
Irish Stew
Lime Poke Cake
Colcannon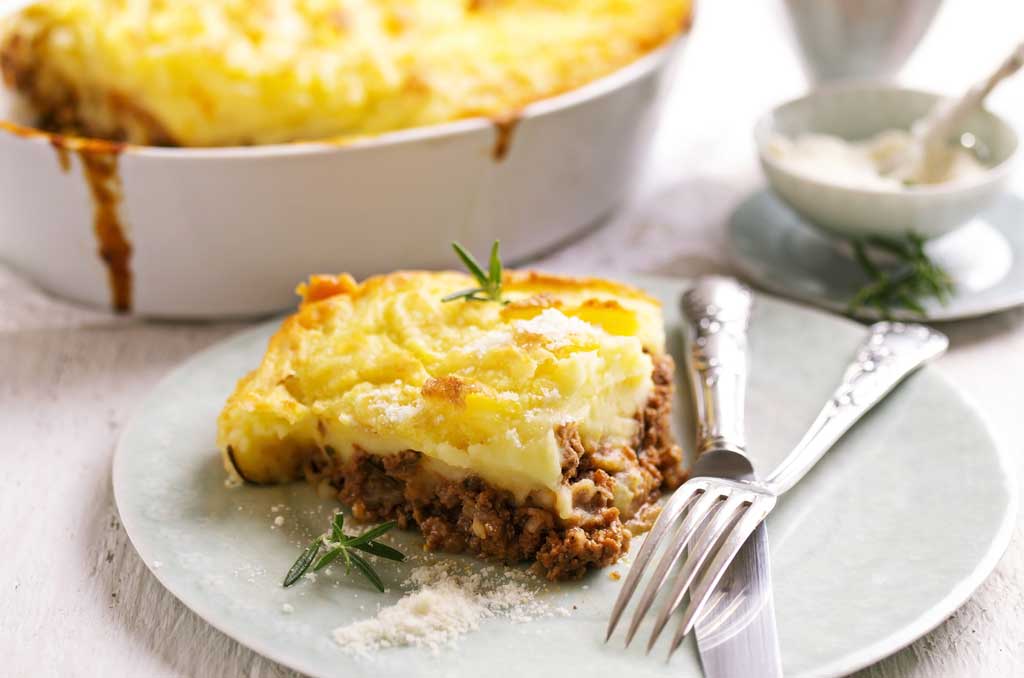 Additional St Patrick's Day Party Food Ideas
Whether you're hosting a St. Patty's Day party or attending a get-together, you're going to want to make a festive dish. Here's some ideas from Forkly.com.
Jalapeno Popper Cups
Green Stuffed Pepper
Green Pizza
Spinach Cups
Shamrock Veggie Skewers
Grilled Beef and Vegetable Skewers
Guacamole Cups
Grilled Zucchini Rolls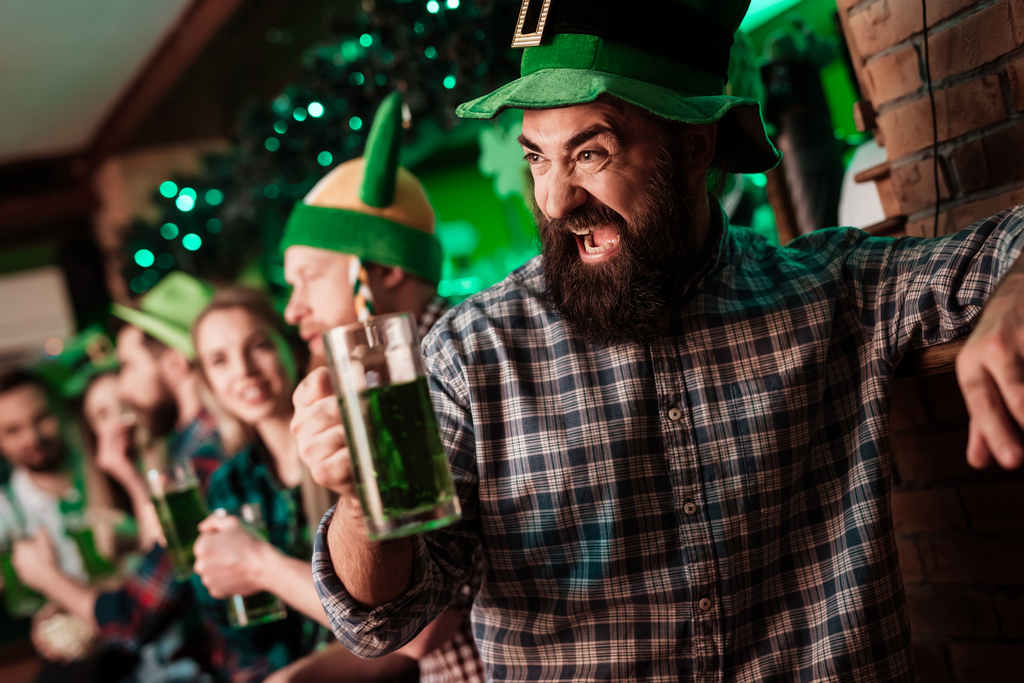 Food Safety Steps
Cleanliness, avoid cross-contamination, and cooking foods thoroughly are the best and easiest ways to avoid food illness. To prevent food illness it is recommended to: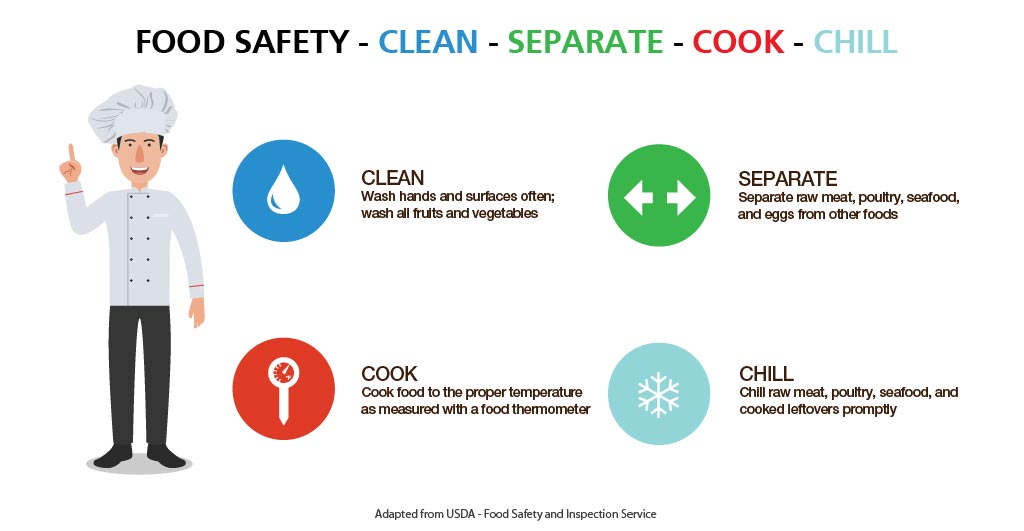 Always clean your hands, utensils and food surfaces before – and after – using them.
Separate foods and avoid cross-contamination. Never store raw foods next to ready-to-eat foods.
Cook foods to a safe temperature. Check them using a food thermometer:

Corned Beef: 145°F – Corned beef can be cooked several different ways, according to the USDA. Cook all raw corned beef to a minimum internal temperature of 145 °F as measured with a food thermometer before removing meat from the heat source. For safety and quality, allow meat to rest for at least three minutes before carving or consuming.

OVEN: Set the oven for 350 °F or no lower than 325 °F. Place brisket fat-side up. Barely cover the meat with water—about 1 inch—and keep the container covered throughout the cooking time. Allow about 1 hour per pound.
OVEN COOKING BAG: Preheat the oven to 325 °F. Add 1 tablespoon of flour to the bag plus 1/2 cup water. Follow the manufacturer's instructions for closing the bag. For a 2 to 3-pound corned beef brisket, cook for 2 1/2 to 3 hours. For a 3 to 5-pound corned beef brisket, cook for 3 to 3 1/2 hours.
STOVE: Place brisket fat-side up in a large pot and cover it with water. Bring the water to a boil; then reduce the heat and simmer, allowing about 1 hour per pound. Vegetables may be added during the last 20 to 30 minutes of cooking. Cook vegetables to desired tenderness.
SLOW COOKER: If using root vegetables, such as potatoes and carrots, put them in the bottom of slow cooker. Place brisket on top of vegetables (if using) or in bottom of cooker. Add about 1-1/2 cups of water or enough to cover meat. Cover and cook on high setting for the first hour of cooking. Then cook for 10 to 12 hours on the low setting or 5 to 6 hours on high. Cabbage wedges may be added on top of the brisket during the last 3 hours of cooking.
MICROWAVE: Calculate cooking time at 20 to 30 minutes per pound. Place brisket in a large casserole dish and add 1-1/2 cups of water. Cover with lid or vented plastic wrap and microwave on medium-low (30 percent power) for half the estimated time. Turn meat over and rotate dish. Microwave on high for remainder of time or until fork tender. Vegetables may be added during the final 30 minutes of cooking.

Refrigerate or freeze perishable foods within two hours since purchase or preparation. Make sure to dispose of food if you are unsure of its safety.
Temperature "Danger Zone"
One of the factors in controlling bacteria in food is maintaining safe temperatures. Bacteria grows very slowly at temperatures below 40 °F, multiplies rapidly between 40 °F and 140 °F, and is destroyed at temperatures above 140 °F.
Keep food cold in the refrigerator, in coolers, or on the serving line on ice.
Keep hot food in the oven, in heated chafing dishes, or in preheated steam tables, warming trays and/or slow cookers.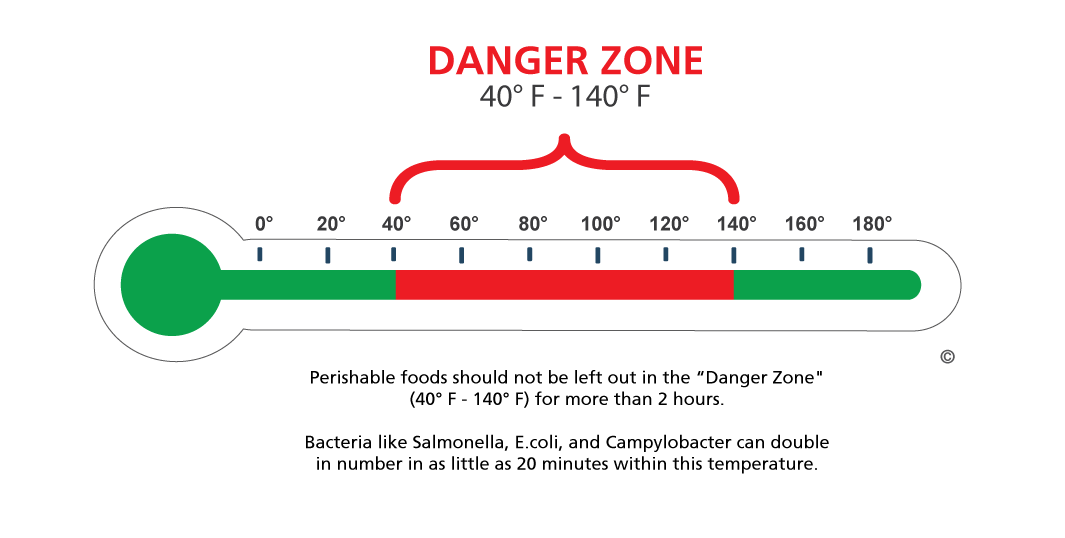 Leftover Safety
Leftover corned beef can be consumed safely within 3-4 days of cooking when put in the fridge or can be frozen for up to 2-3 months. Reheat any leftovers to an internal temperature of at least 165 °F and use a food thermometer to check.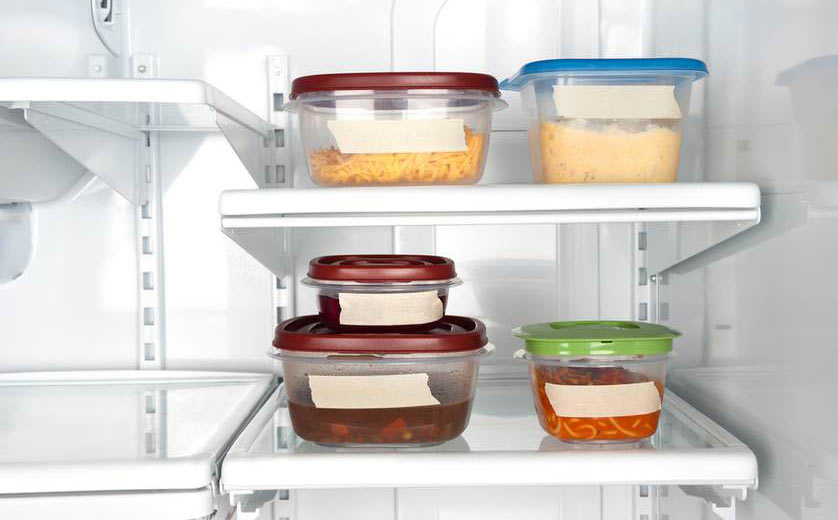 USDA Brochure – Cooking for Groups
This brochure helps volunteers prepare and serve food safely for large groups.
Additional Resources – Cooking for Groups Food Safety