March 3rd is National Cold Cuts Day.  Cold cuts are also known as lunch meat, cooked meat, cold meat and deli meat. These types of meat are all precooked or cured, and then sliced to your liking. However you like them, National Cold Cuts Day was made for sandwich and snack makers.  Just remember, to prevent foodborne illness, keep them at temperatures below 41°F.
Use #NationalColdCutsDay to post on social media.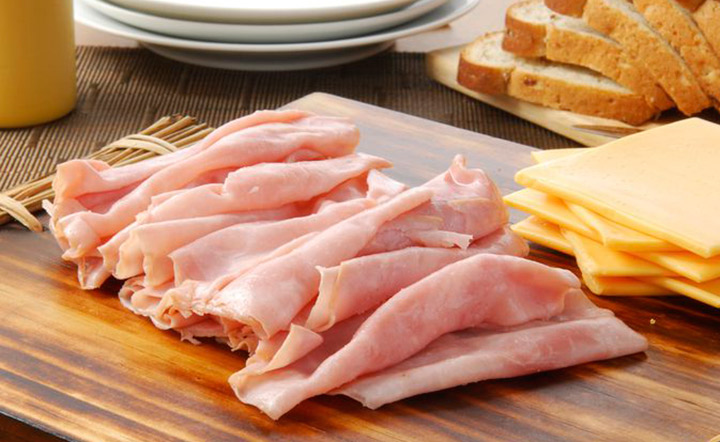 Ready to Eat Foods
Cold cuts belong in a class of foods named Ready to Eat (RTE) foods. Ready to eat foods can be refrigerated, shelf-stable, require minimal heating or are served hot. Ready to eat foods have specific guidelines to ensure that there is no contamination or chance of bacteria forming after the foods have already been prepared.

Food Safety Training - 10% OFF SALE
Learn about proper hygiene, cross contamination, cold and hot food safety, foodborne pathogens, and best practices to prevent foodborne illness.
Food Manager Training & ANSI Certification - $99.00
Food Handler Training - only $7.00!
HACCP Training 16hr/4hr/1hr
Food Allergy Training - $15.00
10% OFF: Promo "train10off" at Checkout
The Temperature Danger Zone
The Temperature Danger Zone is the temperature range between 40°F and 140°F. At warm temperatures, 60°F and above, bacteria that cause foodborne illness can begin to multiply. At temperatures of 80°F and above, they multiply rapidly.
While foodborne illness usually means uncomfortable intestinal flu-like symptoms, it can be serious for young children, the elderly and persons with chronic illnesses.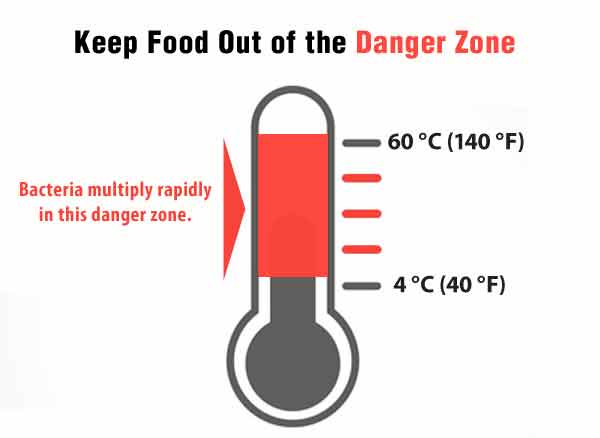 Food Prep Area Cleanliness Is Critical
Before preparing food, wash your hands with warm water and soap for 20 seconds. Countertops and cutting boards should washed as well; they can be sanitized with a bleach solution (one tablespoon liquid bleach to a gallon of water).
Sandwich Safety Key Concepts
Some sandwiches are ready-to-eat and receive no further heat/kill step. Eliminating bare hand contact is critical.
Pre-chilled ingredients are the key to temperature control during sandwich making.
Wash all fresh vegetables.
Avoid cross-contamination during sandwich assembly and storage.
Control for Listeria monocytogenes growth during the entire sandwich making process.
Follow use by and expiration dates on individual ingredients like luncheon meats.
Proper hot or cold holding temperatures are another critical step in the process.
All food contact surface and equipment must be cleaned and sanitized.
Proper labeling, especially ingredients statement regarding food allergens and lot identification and location are important.
Store and transport sandwiches safely.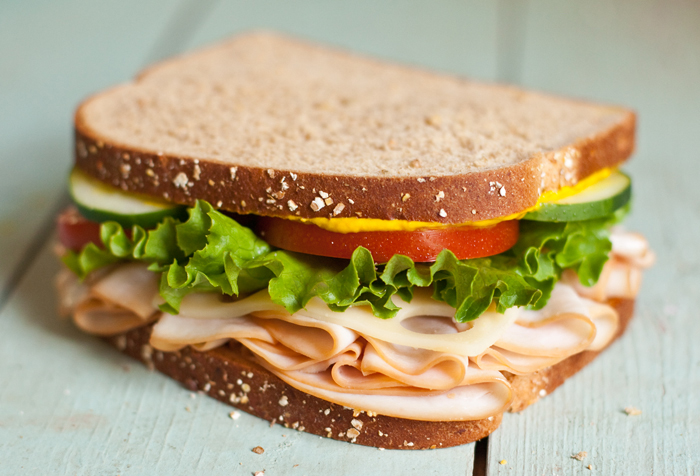 Storage Life
The CDC stresses the importance of using precooked or ready-to-eat food as soon as you can. Do not store the product in the refrigerator beyond the use-by date. Follow USDA refrigerator storage time guidelines:
Luncheon and Deli Meat – Store factory-sealed, unopened package no longer than 2 weeks. Store opened packages and meat sliced at a local deli no longer than 3 to 5 days in the refrigerator.