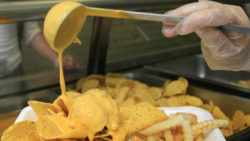 Sacramento County Public Health officials are investigating a botulism outbreak after several people ate prepared food from the Valley Oak Food and Fuel gas station in Walnut Grove and who have contracted the possibly fatal form of food poisoning, according to the Sacramento Bee.
County Public Health Officer Dr. Olivia Kasirye said five cases are under investigation, with the affected people in serious condition at local hospitals. Four of the five people hospitalized confirmed they'd eaten prepared food from the gas station, Kasirye said. The county wants to ensure that anyone else who has eaten food from there since April 23 and is experiencing botulism symptoms receives immediate medical attention.
The gas station stopped selling food and drink products after the county Department of Environmental Management temporarily revoked its permit. The aisles of mini-market staples such as chips, candy bars, nuts, jerky and packaged pastries were blocked off with a green rope, and only cigarettes and gasoline were for sale.

Food Safety Training - 10% OFF SALE
Learn about foodborne pathogens, cross contamination, hot and cold food holding, personal hygiene and how to prevent foodborne illnesses.
Food Manager Training & ANSI Certification - $99.00
Food Handler Training - only $7.00
HACCP Training 16hr/4hr/1hr
Food Allergy Training - $15.00
10% OFF: Promo "TRAIN10OFF" at Checkout
About Botulism (Clostridium botulinum)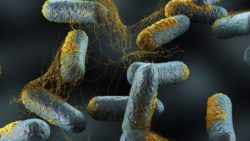 Botulism is a rare but serious paralytic illness caused caused by a bacterium which occurs in soil. The bacterium Clostridium botulinum produces a nerve toxin.
Botulism accounts for fewer than one of every 400 cases of food poisoning in the U.S., but two factors make it very important. First, it has caused death in approximately 30 percent of the cases; and secondly, it occurs mostly in home-canned foods.
Clostridium botulinum thrives in moist, low-oxygen, low-acidity environments, showing up in homemade canned foods or cooked commercial foods stored at the wrong temperature. The bacteria is heat-resistant, so it won't die during the cooking process like some other harmful organisms
Symptoms usually occur from 18 to 36 hours after eating contaminated food. Symptoms can include double vision, blurred vision, drooping eyelids, slurred speech, difficulty swallowing, dry mouth, and muscle weakness. Person to person transmission of botulism does not occur.
The illness can cause paralysis, respiratory failure and death. If you or someone you know has symptoms suggestive of botulism, consult a healthcare provider or go to the emergency room.
Types of Botulism
Foodborne botulism
Foodborne botulism has often been from home-canned foods with low acid content, such as asparagus, green beans, beets, and corn, and is caused by failure to follow proper canning methods. However, seemingly unlikely or unusual sources are found every decade, with the common problem of improper handling during manufacture, at retail, or by consumers; some examples are chopped garlic in oil, canned cheese sauce, chili peppers, tomatoes, carrot juice, and baked potatoes wrapped in foil. In Alaska, foodborne botulism is caused by fermented fish and other aquatic game foods.
Wound botulism
Wound botulism can be prevented by promptly seeking medical care for infected wounds, and by not using injectable street drugs.
Infant botulism
Most infant botulism cases cannot be prevented because the bacteria that causes this disease is in soil and dust. The bacteria can be found inside homes on floors, carpet, and countertops even after cleaning.
Honey can contain the bacteria that causes infant botulism so, children younger than 12 months old should not be fed honey. Honey is safe for people 1 year of age and older.
How is food contaminated?
Food can become contaminated at any stage during production, processing or cooking. Foods particularly susceptible to contamination if not handled, stored or cooked properly include:
raw meat, poultry, eggs, and shellfish;
unpasteurised milk;
RTE "ready-o-eat" foods, such as cooked sliced meats, pâté, soft cheeses and pre-packed sandwiches.
Botulism in the U.S.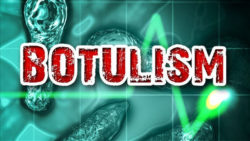 Illnesses from the Clostridium botulinum bacterium in the United States are relatively rare and usually associated with homemade canned foods, according to the Centers for Disease Control and Prevention.
In 2014, which is the most recent year CDC has statistics for, there were 161 confirmed cases of botulism in the United States. Of those, 15 were foodborne, with most of the remainder being related to infants ingesting Clostridium botulinum spores before their digestive systems were developed.