Subscription meal kits and mail-order food offer great convenience and simplicity, but there are some food safety and security issues to take into consideration.
The meal kit industry is a new player in the food supply chain, and there are no strict regulations yet to ensure food safety. While there are regulations for food transportation, there are no regulations that refer to food that is delivered to the doorstep. Therefore, consumers are on their own when it comes to ensuring food safety and need to observe and follow important food safety principle and procedures.
Likewise, most home-delivery meal kits are likely to be left outside for hours before they are opened and refrigerated – which presents security issues along with food safety challenges.
So, whether food is shipped to your home or delivered by a local service, it needs to delivered into a secured area and stay at a safe temperature to prevent the growth of bacteria that could cause illness.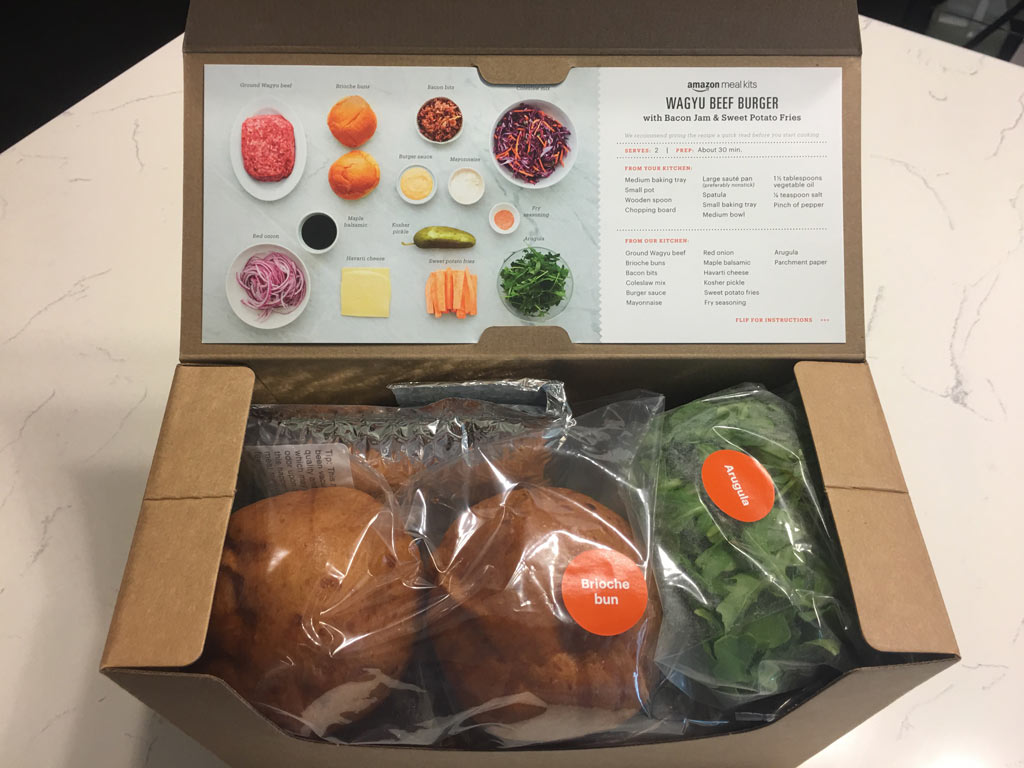 A. Prepare Before You Order
1. Compare Suppliers and Ask Questions Before Subscribing
Research the different meal kit companies (Reviewed.com – Best Meal Kit Delivery Services of 2019) and call customer service to ask about food safety standards.  Some of the criteria you should think about are:
Has the service had any major recalls?
How flexible is the service? Many subscription meal services have strict cancellation policies. That is why you should not subscribe until you are sure that you really want to receive a meal kit every week. In many cases there are special offers to test food kits. But be careful – if you don't unsubscribe in time you will receive the kit every week and it might take some time if you will be allowed to cancel the service
How do other consumers rate the service?
Does the service offer refunds for damages boxed or spoiled food? Ask how the company responds if food is delivered at an unsafe temperature or is otherwise not safe to eat.
Find out if the company provides food safety information with each shipment on safe handling and preparation of food, including cooking temperatures.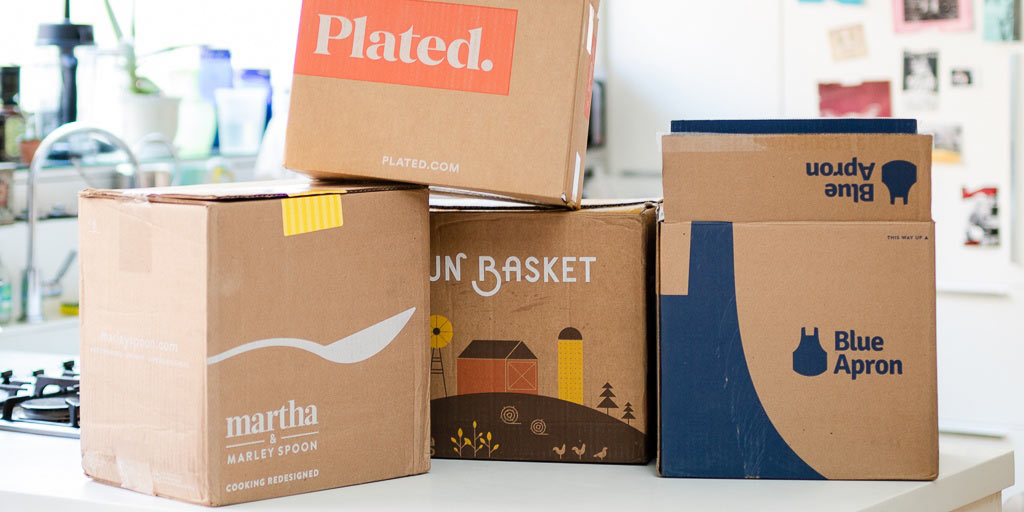 2. Arrange for Delivery – When Someone is at Home
It's best to arrange delivery when someone is at home – so food can be refrigerated quickly – instead of being left outside until someone is at home. If you can't be there in person, see if a neighbor can.

Food Safety & Allergy Training - 10% OFF SALE
Learn about proper hygiene, cross contamination, cold and hot food safety, foodborne pathogens, and best practices to prevent foodborne illness.
Food Manager Training & ANSI Certification - $99.00
Food Handler Training - only $7.00!
HACCP Training 16hr/4hr/1hr
Food Allergy Training - $15.00
Enter Promo "train10off" at Checkout
3. When Not at Home – Arrange for a Secure and Safe Delivery Location
When no one will be at home to receive the delivery, arrange a cool, safe space for delivery. Food should be delivered to an arranged cool, shaded, and secure location where pests and rodents won't be able to get it. Let the company know where you would like them to leave your box.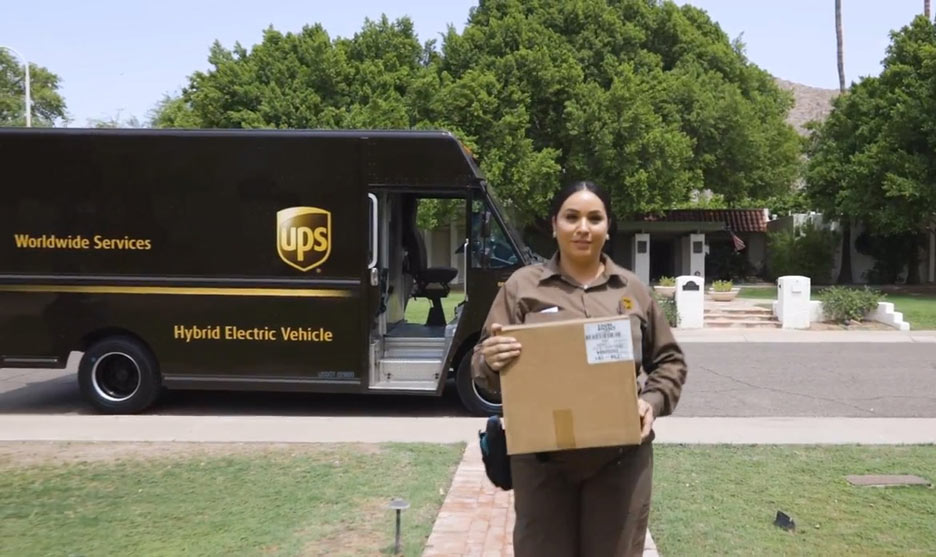 B. Safe Food Delivery and Receipt
1. Examine the Box and Packaging
When you get your delivery, make sure it is packed is packed in heavy corrugated cardboard and foam – undamaged – and look for stickers on the box that say "Keep Refrigerated" or "Keep Frozen".
If you ordered perishable food such as meat, seafood, poultry, eggs, or dairy – make sure the company sends these items cold or frozen and packed with a cold source.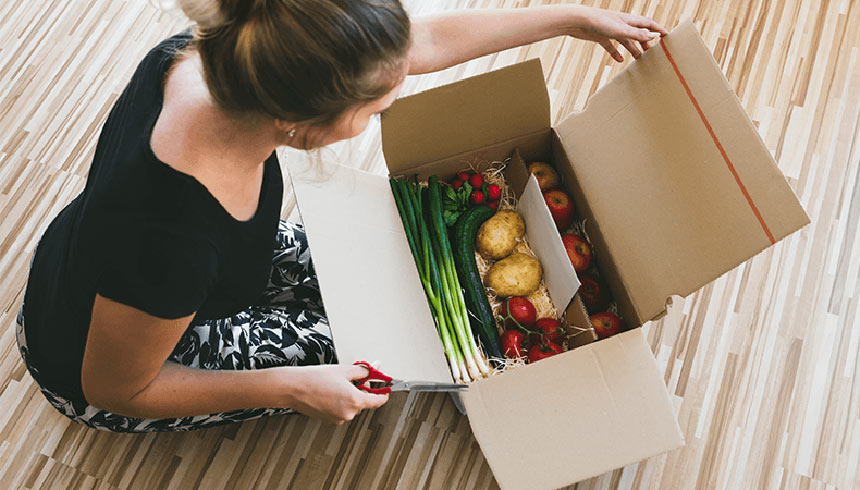 2. Check the Temperature with a Food Thermometer
Perishable food should arrive frozen, partially frozen with ice crystals still visible, or at least as cold as it would be in a refrigerator (40°F or below). The only way to know that the food is safe to eat is to use a food thermometer to make sure that the ingredients are 40°F or below. Even if a perishable food product is smoked, cured, vacuum-packed, or fully cooked, it still must be kept cold.
Notify the company if food arrives above 40°F. If perishable food arrives warm—above 40°F as measured with a food thermometer—notify the company. Don't eat any of the food, or even taste it to see if it is safe. Food can be unsafe and still taste, look, and smell OK. When in doubt, throw it out.

Refrigerate or freeze your delivery as soon as possible. Bacteria can multiply rapidly if food is kept in the "danger zone" between 40°F and 140°F for more than two hours. After you have made sure that the food was delivered at a safe temperature, store it in the refrigerator or freezer as soon as possible until you are ready to prepare it.
C. Safe Handling and Preparation of Meal Kits
Wash your hands and kitchen utensils. Use soap and water for at least 20 seconds before, during, and after handling any food. Wash your utensils, cutting boards, and countertops with hot, soapy water after using them.
Rinse fresh fruits and vegetables under running water. Under running water, rub fruits and vegetables briskly with your hands to remove dirt and surface microorganisms.
Separate foods to avoid cross-contamination. Keep raw meat, poultry, seafood, and eggs away from other foods, and use separate cutting boards for these ingredients.
Refrigerate leftovers within 2 hours. Refrigerate or freeze leftovers within two hours of preparation (or one hour on days over 90º F) to reduce the chance of bacteria growing. Any perishable foods sitting out at room temperature for longer than two hours should be discarded. Leftovers can also be immediately frozen for reheating later.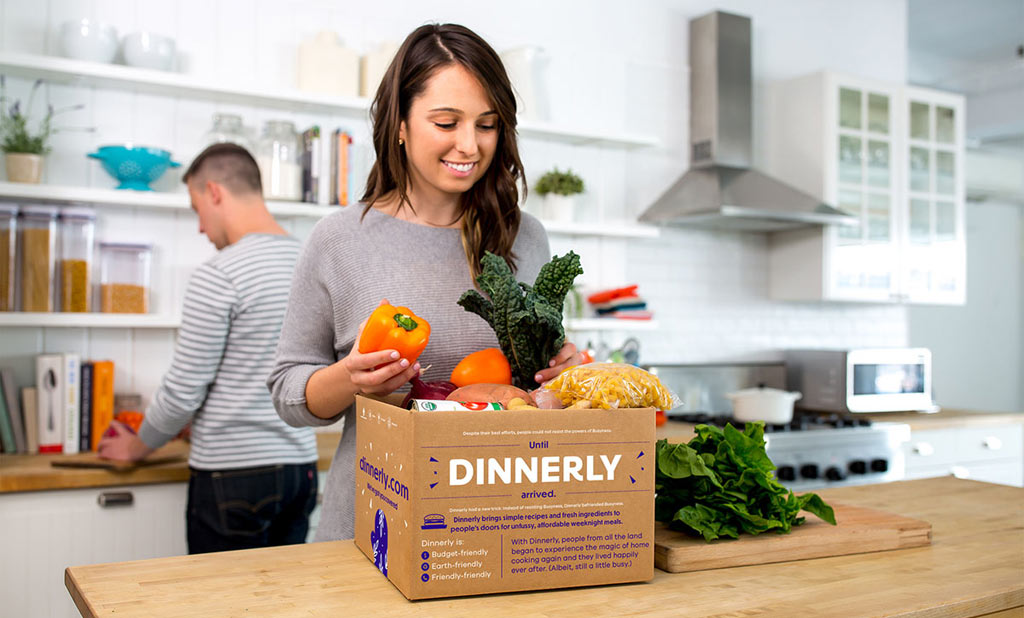 Safe Handling of Mail Order Foods
Short but safe time limits will help keep refrigerated foods from spoiling or becoming unsafe to eat. The USDA recommended storage times:
N/A – not advisable
Safe Handling of Mail Order Foods
Food
Item
Condition Upon Arrival
STORAGE
Pantry
STORAGE
Refrigerator
40 °F
STORAGE
Freezer 0°F
Meats
Beef and Lamb; steaks and roasts
Frozen or refrigerator cold
N/A
3-5 days
1 year
Game Birds
Frozen or refrigerator cold
N/A
1-2 days
1 year
Pork, chops, and roasts
Frozen or refrigerator cold
N/A
3-5 days
6 months
Turkey—smoked, cooked
Frozen or refrigerator cold
N/A
7 days
6 months
Turkey—whole, uncooked
Frozen or refrigerator cold
N/A
1-2 days
1 year
Ham—country
Room temperature
1 year
Sliced, 2-3 months
1 month
Ham—whole, fully cooked
Frozen or refrigerator cold
N/A
7 days
1-2 months
Ham—canned, labeled "Keep Refrigerated"
Refrigerator cold
N/A
6-9 months unopened;
7 days opened
1-2 months opened
Ham—canned, shelf stable
Room temperature
2 years
3-4 days opened
1-2 months opened
Ham—fully cooked, vacuum sealed at plant, undated, unopened
Frozen or refrigerator cold
N/A
2 weeks
1-2 months
Ham—fully cooked, vacuum sealed at plant, dated, unopened
Frozen or refrigerator cold
N/A
Use by date
1-2 months
Sausage—dry fermented, not labeled "Keep Refrigerated"
Room temperature
4 -6 weeks
6 months unopened;
2-3 weeks opened
1-2 months
Sausage—Summer, not labeled "Keep Refrigerated"
Room temperature
4-6 weeks
6 months unopened; 2-3 weeks opened
1-2 months
Sausage—Summer, labeled "Keep Refrigerated"
Frozen or refrigerator cold
N/A
3 months unopened;
3 weeks opened
1-2 months
Frozen entrees—meat or vegetable
Frozen
N/A
3-4 days after cooking
2-3 months, cook frozen
Seafood
Caviar—non-pasteurized (fresh)
Refrigerator cold
N/A
6 months unopened;
2 days opened
Do not freeze
Caviar—pasteurized, vacuum package
Room temperature
Refrigerate upon arrival
1 year unopened
Do not freeze
Hors d'Oeuvres / Pastries
Frozen or refrigerator cold
N/A
3-4 days after cooking
3 months
Lobster—live
Alive in sea water
N/A
1-2 days, alive
Do not freeze
Salmon—smoked, clear vacuum package (e.g., Nova Lox)
Frozen or refrigerator cold
N/A
7 days unopened;
2 days opened
2 months
Salmon—vacuum packaged, and/or labeled "Keep Refrigerated"
Frozen or refrigerator cold
N/A
7 days unopened;
2 days opened
2 months
Salmon—smoked, heavy metallic pouch in outer cardboard container, shelf stable
Room temperature
1 year unopened
2 days opened
N/A
Frozen entrees—seafood
Frozen
N/A
2 days after thawing
1 year
Cheese Products
Cheese—soft (e.g., cream cheese)
Refrigerator cold
N/A
2 weeks opened
N/A
Cheese—processed or hard
Safe at room temperature, but refrigeration prolongs quality
N/A
3-6 months unopened;
3-4 months opened;
2 weeks sliced
small pieces
6 months
Cheesecake
Frozen or refrigerator cold
N/A
7 days
3 months
Fruit Products
Fruit—fresh whole*
Refrigerator cold or room temperature
*Fruit storage varies by type. After refrigerating, store from 3 days to 3 weeks; prepared for freezing, fruits can be frozen for up to 1 year.
Fruit—dried
Room temperature
1 month
6 months after opened
N/A
Fruit Cakes / Plum Pudding
Cold or room temperature
1 month, quality better if refrigerated or frozen
6 months
1 year
Fruit / Nut Breads
Cold or room temperature
N/A
7 days
6 months
Other
Frosted cakes, layered tortes, petit fours
Frozen or refrigerator cold
2 days
3 days
2 months
Chocolate candy / other confections
Cold or room temperature
1 year
1 year
1 year
Jams / Jellies
Room temperature
12 months unopened
6 months
N/A
Pickles, pickled vegetables
Room temperature
1 year
2 months opened
N/A
Olives
Room temperature
1 year
2 weeks
N/A
Oil, olive or vegetable
Room temperature
6 months unopened;
3 months opened
N/A
N/A
Oils, nut
Room temperature
6 months unopened
4 months opened
N/A
Vinegar
Room temperature
2 years unopened; 1 year opened
N/A
N/A
Mustard
Room temperature
1 year unopened; 1 month opened
1 year opened
N/A
Honey
Room temperature
1 year
N/A
N/A
Pure Maple Syrup
Room temperature
2 years unopened
1 year opened
N/A
Nuts—cans, jars, or cellophane
Room temperature
1 year unopened
6 months opened
1 year opened
Tea—Bags
Room temperature
18 months
N/A
N/A
Tea—Loose
Room temperature
2 years
N/A
N/A
Tea—Instant
Room temperature
3 years
N/A
N/A
Coffee—Whole beans, non-vacuum bag
Room temperature
1-3 weeks
2 weeks
3-4 months
Coffee—Ground, in can
Room temperature
2 years
2 weeks
3-4 months
Coffee—Instant, jars, & tins
Room temperature
1 year unopened; 2-3 months opened
2 weeks
3-4 months
Additional Help
If mail order foods arrive in a questionable condition, you may contact the following organizations for help:
USDA Meat and Poultry Hotline 1-888-MPHotline, weekdays 10 a.m. to 4 p.m. ET (1-888-674-6854) (meat, poultry, and egg products)
FDA Outreach and Information Center 1 (888) 723-3366 weekdays 10 a.m. to 4 p.m. ET
(any foods other than meat, poultry, and egg products)