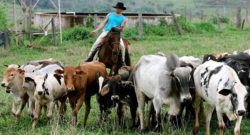 As of June 22, 2017, the USDA is halting the import of fresh beef from Brazil because of recurring concerns about the safety of the products. Specifically, concerns about Brazil's beef products include "public health concerns, sanitary conditions, and animal health issues."
Since March, USDA's Food Safety and Inspection Service (FSIS) has been inspecting 100 percent of all meat products arriving in the United States from Brazil. FSIS has refused entry to 11 percent of Brazilian fresh beef products. That figure is substantially higher than the rejection rate of one percent of shipments from the rest of the world. Since implementation of the increased inspection, FSIS has refused entry to 106 lots (approximately 1.9 million pounds) of Brazilian beef products due to public health concerns, sanitary conditions, and animal health issues. It is important to note that none of the rejected lots made it into the U.S. market.

Food Safety & Allergy Training - 10% OFF SALE
Learn about proper hygiene, cross contamination, cold and hot food safety, foodborne pathogens, and best practices to prevent foodborne illness.
Food Manager Training & ANSI Certification - $99.00
Food Handler Training - only $7.00!
HACCP Training 16hr/4hr/1hr
Food Allergy Training - $15.00
Enter Promo "train10off" at Checkout
Previously, Brazil's government promised to address safety concerns surrounding their meat exports. One solution included halting shipments of beef from five of the country's facilities. However, USDA's decision this week overrules Brazil's own food safety policing.
The authorities in Brazil suspended 33 government officials amid allegations that some of the country's biggest meat processors have been selling rotten beef and poultry for years.
The suspension will remain in place until the Brazilian Ministry of Agriculture takes "corrective action which the USDA finds satisfactory."
Brazil: Largest Meat Exporter
Brazil is the world's biggest red meat and poultry exporter, selling more than $12bn (£9.7bn) a year. It exports mainly to China, the European Union and the United States. Exports fell sharply when the allegations were made public, following a Federal Police investigation.
Food Illness or Diseases Associated with Meat
E. coli from ground beef
BSE (bovine spongiform encephalitis) from beef cattle
Trichinosis from pork
Salmonella from poultry
Scrapie from lamb and mutton
In addition, the meat and food industry are vulnerable to a variety of other infectious diseases that can manifest in food processing areas due mainly to poor personal hygiene and processing sanitation practices, which in turn can develop the growth of bacteria, viruses, moulds, and yeasts. These can then set the stage for:
Foodborne infection, such as salmonella or trichinosis, caused by ingesting food that is contaminated with bacteria, parasites, and viruses
Foodborne intoxication, either bacterial, such as E. coli, or chemical, where food has been contaminated with toxic chemicals, such as cleaning compounds or pesticides
Two particularly dangerous foodborne bacteria that can cause serious illness require special attention:
Clostridium botulinum, which can develop in vacuum-packaged and canned foods
Listeria monocytogenes, which occurs due to poor cleaning of machines, dirty floors, and drains
Following is a brief overview of the major risks – in terms of bacteria and illnesses – associated with meat and the meat industry. Some of the bacteria are known to originate from meat; others can and do develop in food processing areas through unhygienic practices.
Safeguards:
Understand that E. coli cannot be destroyed by freezing.
Cook products such as ground meat to a core temperature of 71°C (160°F) to kill E. coli.
Follow and enforce good personal hygiene (hand washing) after using the toilet.
Follow industry safeguards to prevent contamination during the harvesting of animals, especially during the removal of the hide, which is often covered in fecal matter. (One large harvesting plant in Alberta has a state-of-the-art hide wash to help eliminate contamination prior to removal of the hide.)
Take the preventive measure, which should now be a common practice, of carefully trimming meat surfaces on sub-primals that are near the aitch bone portion of the pelvis and anal canal. These areas are located on the hip and sirloin, especially on the hindquarters of beef carcasses and pork and lamb legs.
Sources: