Happy Chinese New Year! Also called Lunar New Year, Chinese New Year is celebrated by more than 20% of the world.
Chinese New Year ranges from January 21 to February 20. In 2019, it occurs on February 5th. For a full list of dates and events check out the Chinese New Year calendar.
In China, it is called chunjie (春节), or the Spring Festival.  It is still winter, but the holiday marks the end of the coldest days. People welcome spring and what it brings along: planting and harvests, new beginnings and fresh starts.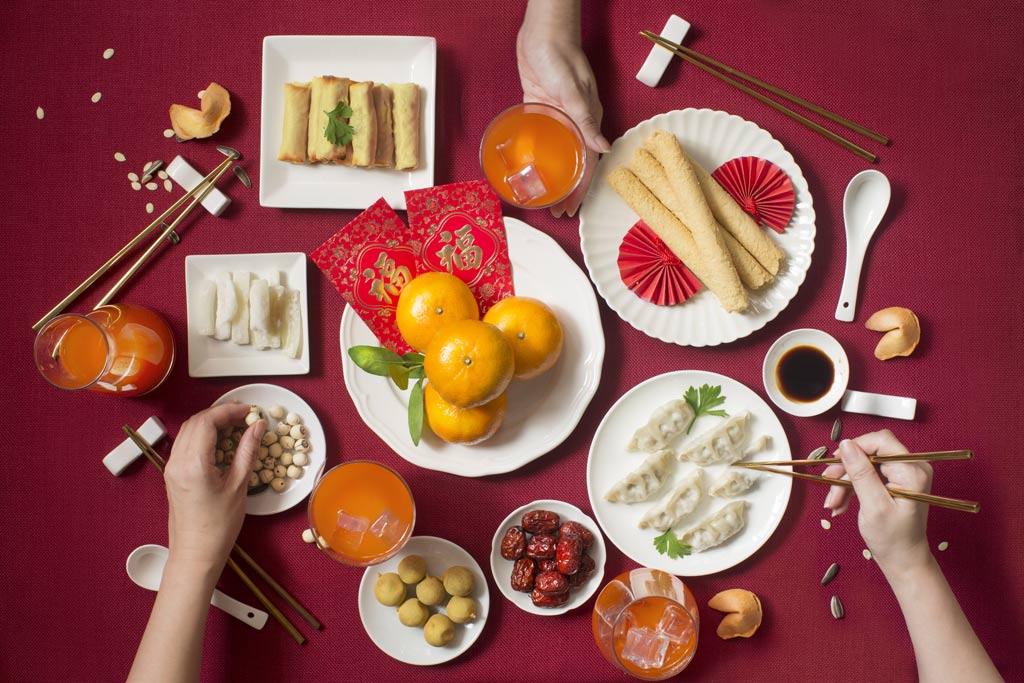 The Spring Festival was originally a ceremonial day to pray to gods for a good planting and harvest season – and one of the popular ways to honor the holiday is with a giant, family-style, reunion meal.
However, this type of food service – where foods are left out for long periods – leaves the door open for uninvited guests – bacteria that cause foodborne illness. Festive times for giving and sharing should not include sharing foodborne illness.

Food Safety & Allergy Training - 10% OFF SALE
Learn about proper hygiene, cross contamination, cold and hot food safety, foodborne pathogens, and best practices to prevent foodborne illness.
Food Manager Training & ANSI Certification - $99.00
Food Handler Training - only $7.00!
HACCP Training 16hr/4hr/1hr
Food Allergy Training - $15.00
Enter Promo "train10off" at Checkout
Chinese New Year Food: Top 7 Lucky Foods and Symbolism
Chinese New Year – or Spring Festival – parties start off with dishes of roast pork and winter melon soup as common appetizers. Steamed whole fish along with stir-fried beef are standard main courses that are served with braised noodles and fried rice.
There's also a lucky meaning behind most of the traditional dishes, which is why they're always part of the table.
Fish — an Increase in Prosperity.
Dumplings — Wealth.
Spring Rolls — Wealth.
Glutinous Rice Cake — a Higher Income or Position.
Sweet Rice Balls — Family Togetherness.
Longevity Noodles — Happiness and Longevity.
Good Fortune Fruit — Fullness and Wealth.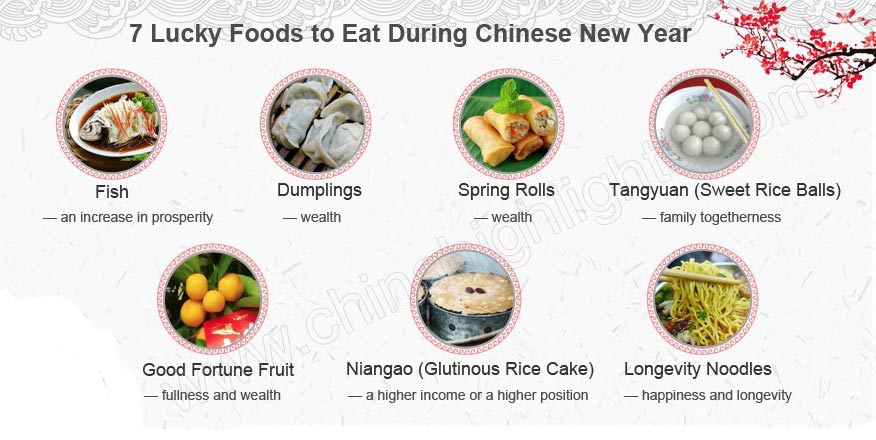 Food Safety Steps
Cleanliness, avoid cross-contamination, and cooking foods thoroughly are the best and easiest ways to avoid food illness. To prevent food illness it is recommended to:

Always clean your hands, utensils and food surfaces before – and after – using them;
Separate foods and avoid cross-contamination. Never store raw foods next to ready-to-eat foods;
Cook foods to a safe temperature. Check them using a food thermometer:

ground meats: 160°F
fresh beef, veal, and lamb: 145°F
poultry: 165°F
pork and ham: 145°F
egg dishes: 160°F, cook eggs until whites are firm
leftover dishes and casseroles: 165°F
fish: 145°F or flesh can come apart with a fork
shellfish: cook until shells open on their own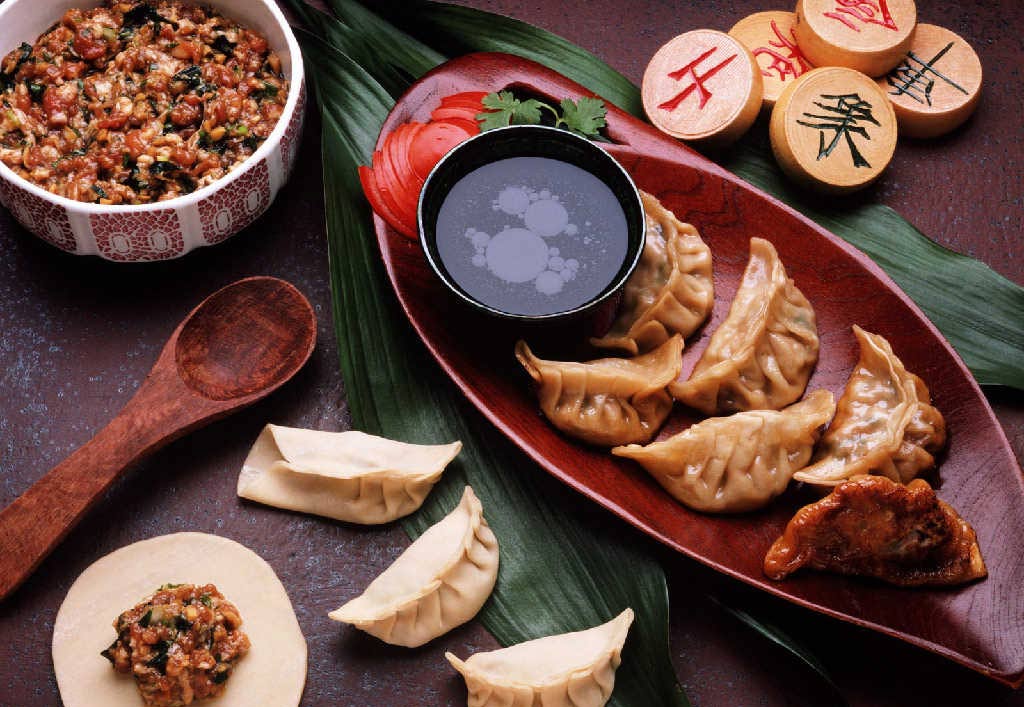 Refrigerate or freeze perishable foods within two hours since purchase or preparation;
Defrost food safely in the refrigerator;
Make sure to dispose of food if you are unsure of its safety.
Bacteria "Danger Zone"
One of the factors in controlling bacteria in food is maintaining safe temperatures. Bacteria grows very slowly at temperatures below 40 °F, multiplies rapidly between 40 °F and 140 °F, and ais destroyed at temperatures above 140 °F.
Keep food cold in the refrigerator, in coolers, or on the serving line on ice.
Keep hot food in the oven, in heated chafing dishes, or in preheated steam tables, warming trays and/or slow cookers.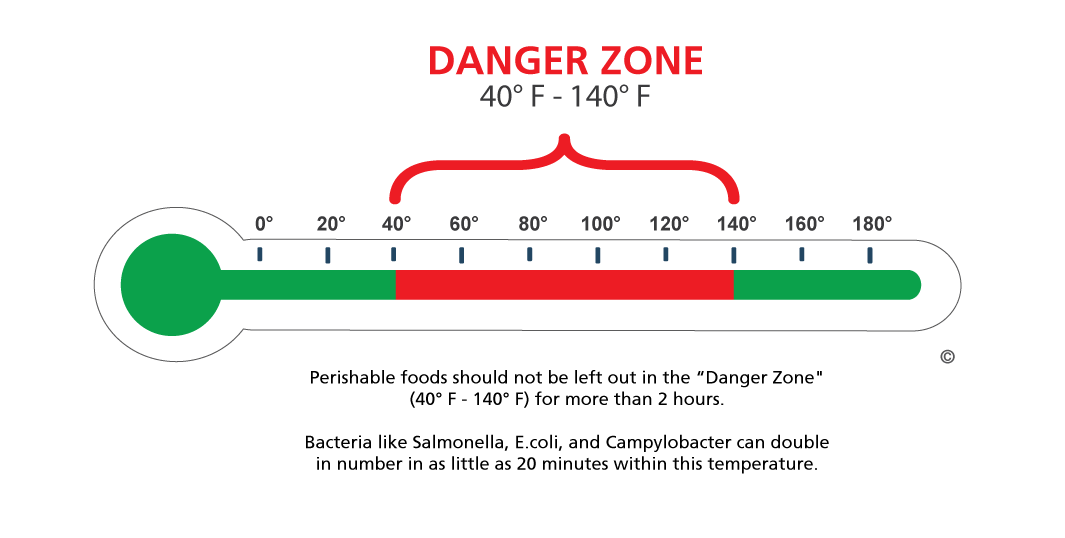 Leftover Safety (2hrs)
Never leave perishable foods, such as meat, poultry, eggs and casseroles in the temperature "Danger Zone" for over 2 hours – only 1 hour if temperatures are above 90 °F.
USDA Brochure – Cooking for Groups
This brochure helps volunteers prepare and serve food safely for large groups.
Additional Resources – Cooking for Groups Food Safety