Hurricane Preparedness Week is May 6-12. Are you and your family prepared for a power outage or flooding caused by a hurricane? It's important to know how to keep your food safe before, during, and after a disaster emergency to help prevent food spoilage and illness.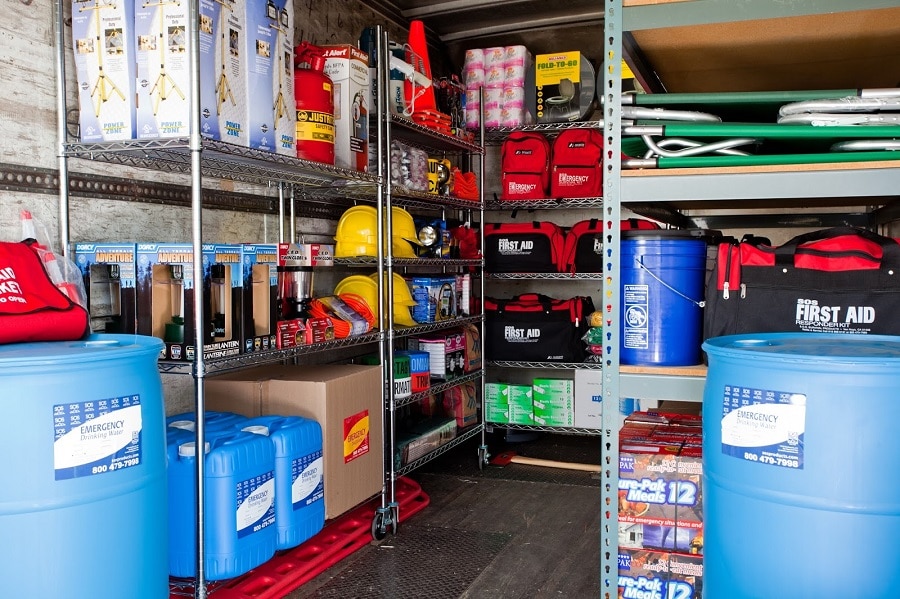 Power Loss and Food Safety
Power outages can be dangerous – when dealing with food safety. Knowing how to determine if food is safe and how to keep food safe will help minimize the potential loss of food and reduce the risk of foodborne illness.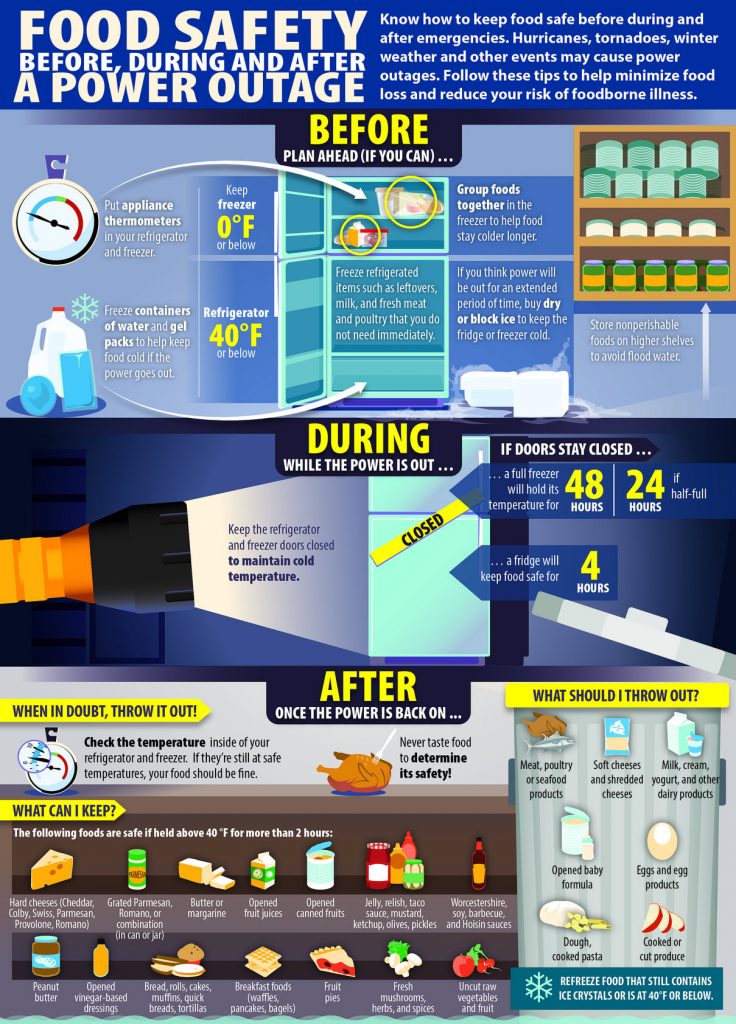 Food Storage During an Emergency – What Do I Need?
Use shelf-stable foods, such as canned goods and powdered or boxed milk. These can be eaten cold or heated on the grill.
Multiple coolers: Consider packing beverages in one cooler and perishable foods in another since you are likely to grab beverages most often.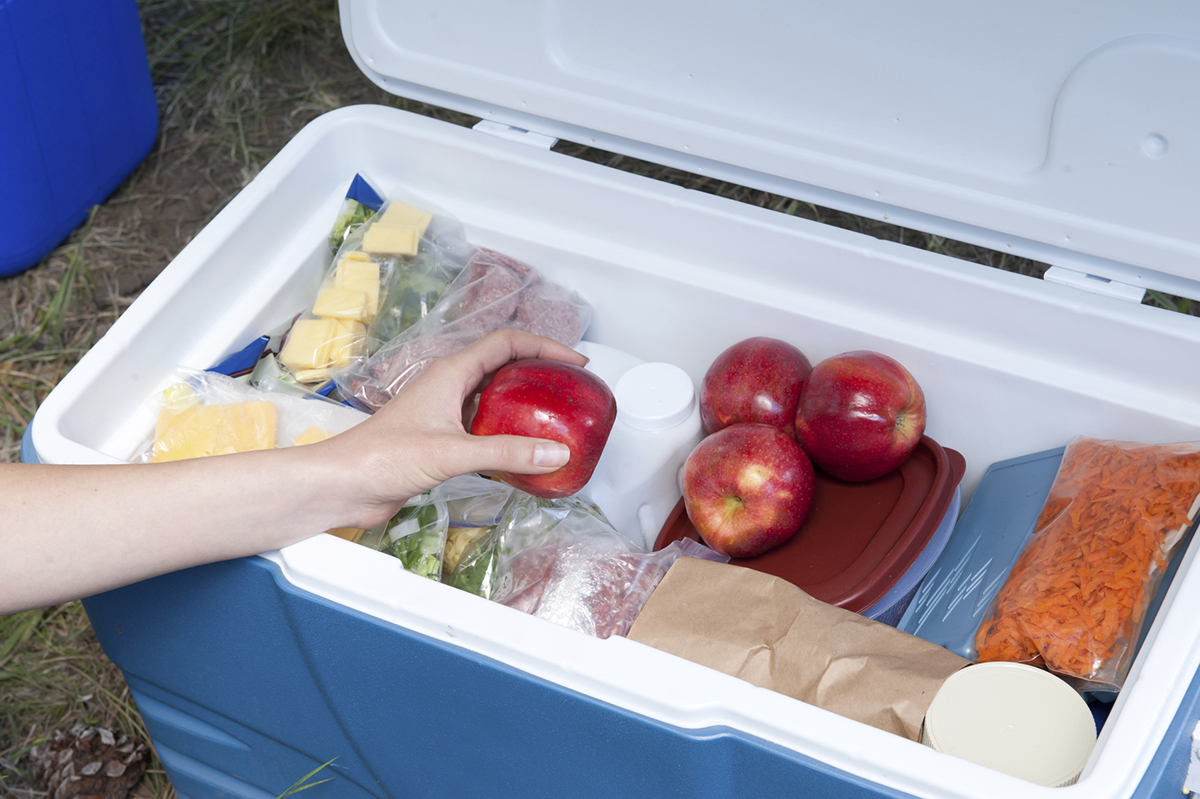 Food thermometer. A food thermometer should be a necessity in your kitchen anyway. With these thermometers you can quickly check the internal temperatures of food for doneness and safety.
Keep cold foods cold. Place cold food in coolers with frozen gel packs or ice. Keeping it at 40°F or below prevents bacterial growth.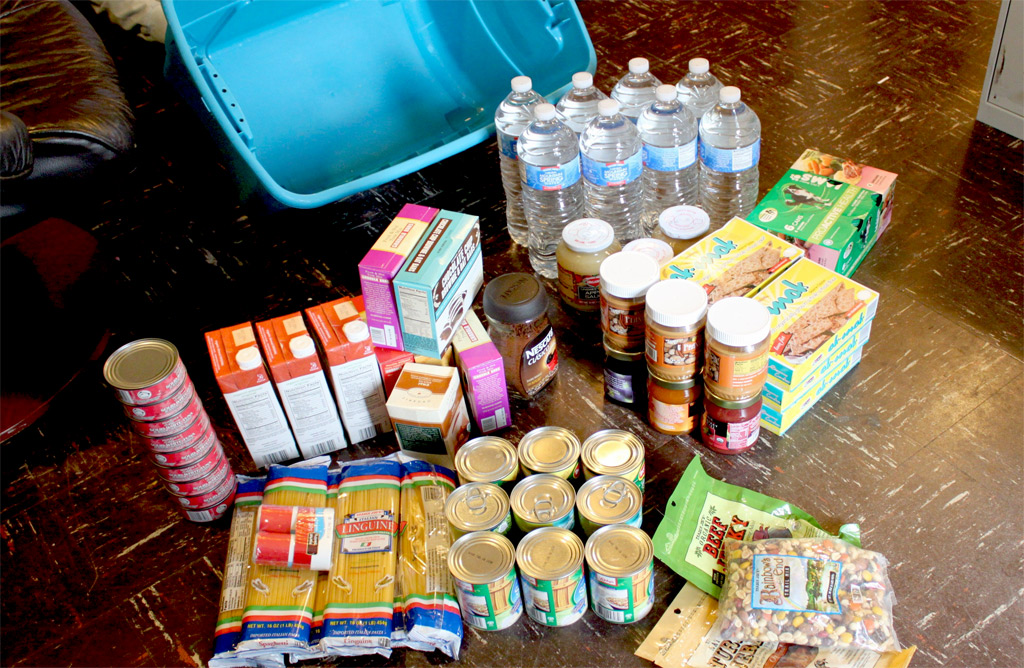 Refrigerator Power Loos and Food Safety
When your refrigerator power goes out, special food safety measures must be taken:

Food Safety & Allergy Training - 10% OFF SALE
Learn about proper hygiene, cross contamination, cold and hot food safety, foodborne pathogens, and best practices to prevent foodborne illness.
Food Manager Training & ANSI Certification - $99.00
Food Handler Training - only $7.00!
HACCP Training 16hr/4hr/1hr
Food Allergy Training - $15.00
Enter Promo "train10off" at Checkout
Do not open the refrigerator or freezer. Tell your little ones not to open the door. An unopened refrigerator will keep foods cold enough for a couple of hours at least. A freezer that is half full will hold for up to 24 hours and a full freezer for 48 hours. Instead, eat shelf-stable foods.
If it looks like the power outage will be for more than 2-4 hours, pack the important items in your refrigerator, such as milk, dairy products, meats, fish, poultry, eggs, and left-overs into your cooler surrounded by ice. Keep temperature at or below 40 degrees. Throw away any items that have been exposed to temperatures greater than 40 degrees for more than two hours.
If it looks like the power outage will be prolonged beyond a day or so, prepare another cooler with ice for the items in your freezer.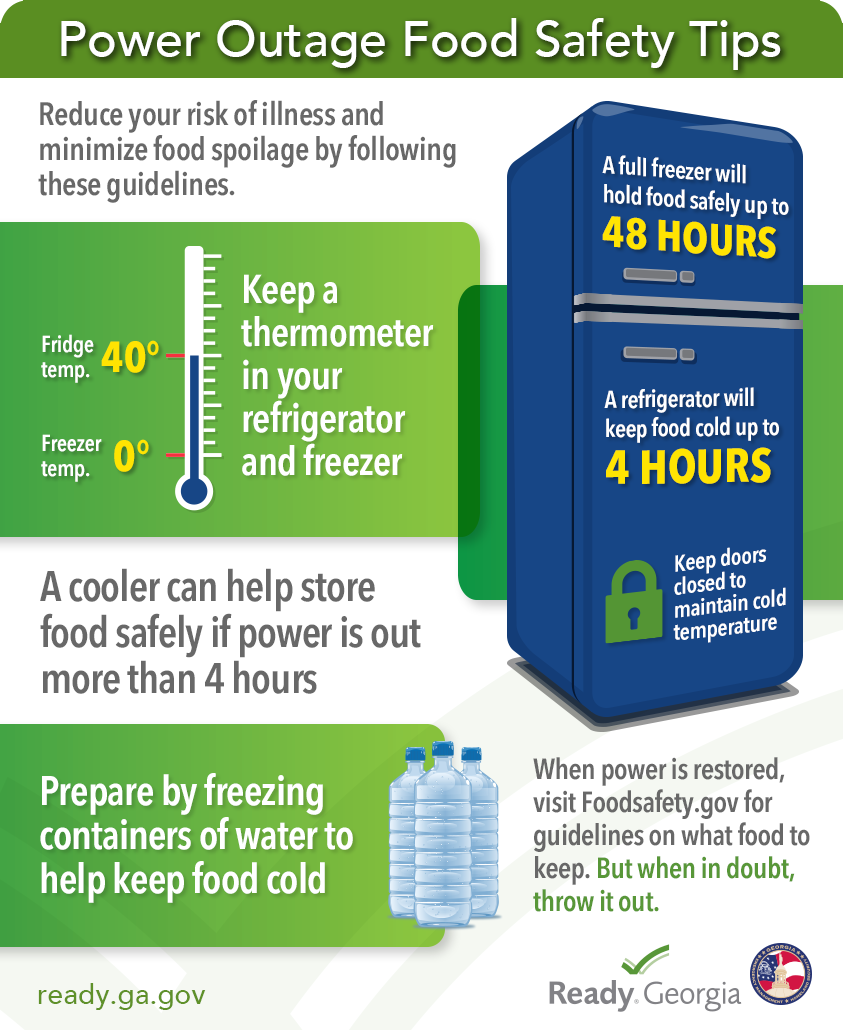 Disaster Safety and Sanitation Guidelines
Proper food safety and sanitation handling guidelines are necessary during or after a disaster will reduce the possibility of food contamination and disease.
Safe Water
Safe potable water must be available for drinking, personal hygiene, and cooking.
Safe Temperatures
Foods should be cooked to a minimum of 140°F. If food is to be reheated, it must be reheated to a minimum of 165°F.
Perishable or potentially hazardous food should be stored at 41°F or below.
Proper Sanitation
Sanitization is very important during and after a disaster. Effective sanitization can be obtained by adding 1 ounce of chlorine to each gallon of safe potable cool water. Wash dishes and utensils with soap and water first, rinse with clean water and sanitize with the bleach water.
The use of single service items is encouraged to reduce the possibility of food borne illness. Paper plates and cups, plastic knives and forks that are used only once are highly recommended.
Store clean utensils in a clean place after washing, to be protected from recontamination. Food dishes and utensils should be guarded against chemical exposure or contamination.
Insects and Rodents
After a disaster, insect and rodent activity usually increases. Doors and windows should have adequate protection to exclude insects and rodents.
Emergency Food Kits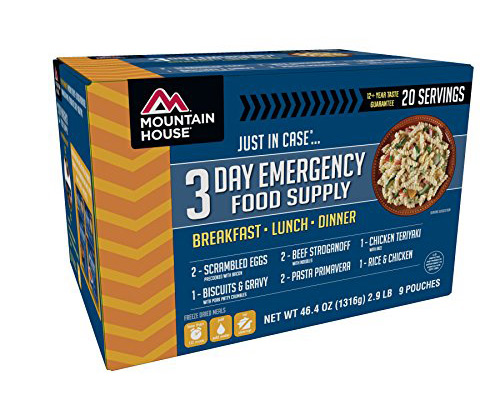 Emergency Food Kits
Best Rated Emergency and Disaster Food Survival Kits - Powered by Amazon®.
Emergency Food Survival Kits for all disaster situations.
Best selection and deals! Free 2-Day Shipping with Amazon Prime.
If you wish to put together your own an emergency food survival kit, make sure you include these minimal items to last at least three days:
canned and/or dried food – luncheon meat, jerky, fruits, vegetables, cereals, tea, coffee, powdered soup, salt, sugar, sweets, biscuits, a can opener
portable gas cooker or barbeque to cook on
eating equipment – utensils, knives, pots, cups, plates, bowls, matches, lighters
bottled water – 3 pints per person per day, or 6 to 8 large plastic soft-drink bottles of water per person per day. 1 pint for washing food and cooking each meal, washing dishes and washing yourself
milk powder
Check and renew food and water every year, taking into account medical or dietary conditions in your family. If you have babies or children, make sure they have enough suitable food.
If you live in a flood-prone area, keep your food survival kit above the likely reach of flood water.
Hurricane Hazards and How to Prepare for Them

Infographic courtesy of The Allstate Blog.
Additional Disaster & Food Safety Resources
Red Cross Food Safety Resources