Grill masters, make sure you brush up on proper food and fire safety practices before firing up the grill.
Cooking outdoors in warm weather presents a food safety challenge. Not not only does bacteria multiply faster in warmer temperatures, but preparing food outdoors makes safe food handling more challenging.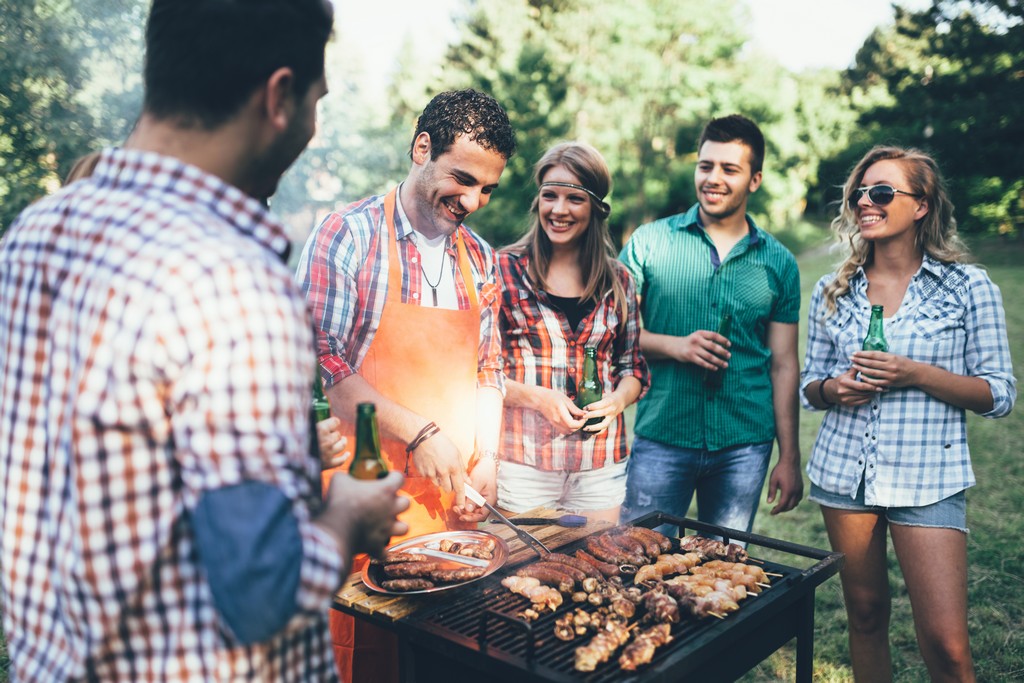 Temperature Danger Zone
One of the critical factors in controlling bacteria in food is controlling temperature. Bacteria grows slowly below 40°F, multiply rapidly between 40°F and 140°F, and are destroyed above 140°F.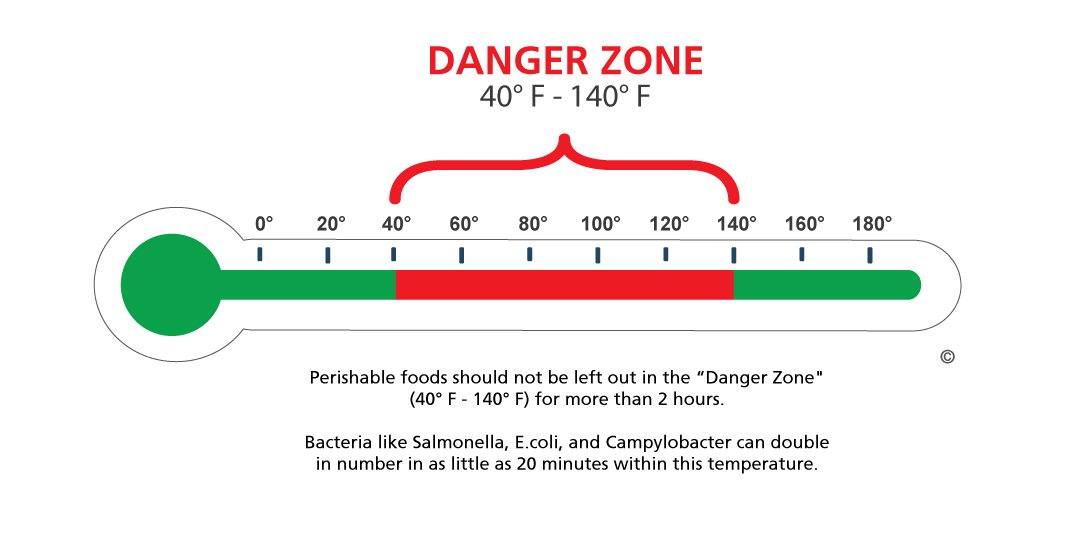 Basic Food Safety Steps
Food illness peaks when warmer temperatures cause bacteria to flourish. Follow these basic steps for a safe and enjoyable grilling season: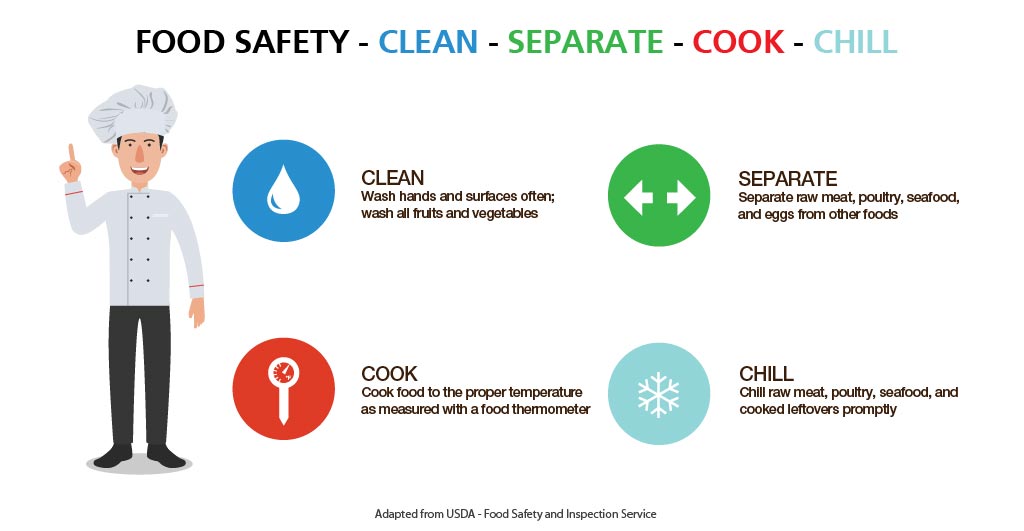 Clean: It seems basic, but not everyone does it. Keep hands, utensils and surfaces clean. Wash your hands with soap before and after handling raw meat, poultry, and seafood. Wash work surfaces, utensils, and the grill before and after cooking.

Food Safety & Allergy Training - 10% OFF SALE
Learn about proper hygiene, cross contamination, cold and hot food safety, foodborne pathogens, and best practices to prevent foodborne illness.
Food Manager Training & ANSI Certification - $99.00
Food Handler Training - only $7.00!
HACCP Training: 16hr/4hr/1hr
Food Allergy Training - $15.00
Enter Promo "train10off" at Checkout
Separate: Use clean plates. Likewise, don't put foods eaten raw on the same platter that held raw meat or poultry. Any harmful bacteria present in the raw meat juices could contaminate them.
Don't cross-contaminate. Throw out marinades and sauces that have touched raw meat juices, which can spread germs to cooked foods. Use clean utensils and a clean plate to remove cooked meat from the grill.
Cook: Always use a food thermometer to check the internal temperature of burgers, beef, and chicken. When smoking, keep temperatures inside the smoker at 225°F to 300°F to keep meat a safe temperature while it cooks.
145°F – whole cuts of beef, pork, lamb, and veal (stand-time of 3 minutes at this temperature)
145°F – fish
160°F – hamburgers and other ground beef
165°F – all poultry and pre-cooked meats, like hot dogs
Smoking: 250°F – 300°F – inside smoke
After Grilling: 140°F or warmer – until it's served
Chill: Place leftovers in shallow containers and store them in a cooler immediately. Discard food left in the Danger Zone for more than two hours. When the outside temperature is 90°F or above this time reduces to just one hour.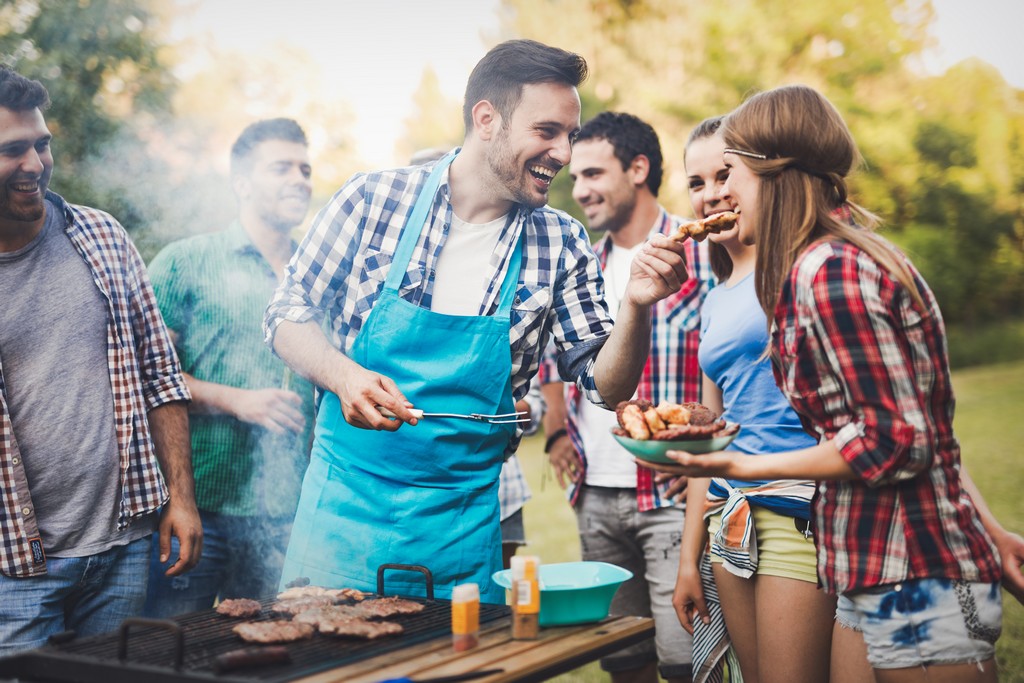 Grilling Fire Safety

The National Fire Protection Association (NFPA) offers grill safely tips to prevent fires:
Nearly 9,000 home fires a year involve grills, according to a National Fire Protection Association report. Of all the home fires involving grills, gas-fueled grills accounted for four out of five fires, while 16% involved charcoal or other solid-fueled grills.
Grill Fire and Burn Statistics
July is the peak month for grill fires (17%), including both structure, outdoor or unclassified fires, followed by May (14%), June (14%) and August (13%).
In 2012-2016, an average of 16,600 patients per year went to emergency rooms because of injuries involving grills.** Half (8,200 or 49%) of the injuries were thermal burns.
Children under five accounted for an average of 1,600 or one-third (35%) of the 4,500 thermal non-fire grill burns.These burns typically occurred when someone, often a child, bumped into, touched or fell on the grill, grill part or hot coals.
Gas grills were involved in an average of 7,900 home fires per year, including 3,300 structure fires and 4,700 outdoor fires annually. Leaks or breaks were primarily a problem with gas grills.Twelve percent of gas grill structure fires and 24% of outside gas grill fires were caused by leaks or breaks.
Charcoal or other solid-fueled grills were involved in 1,300 home fires per year, including 600 structure fires and 700 outside fires annually.
Source: NFPA's Research, Data & Analytics Division
* Hearth, Patio and Barbecue Association (HPBA)
**Consumer Product Safety Commission's National Electronic Injury Surveillance System, queried in April 2016
More Grilling Info