Farmers markets provide farmers a place to sell their produce and educate shoppers on why food, agriculture, and nutrition matter.
Farmers markets are a gathering place where you can buy locally produced food, and at the same time, get to know the farmer and story behind the food you purchase. These types of markets improve earning potential for farmers and ranchers, building stronger community ties and access to local foods.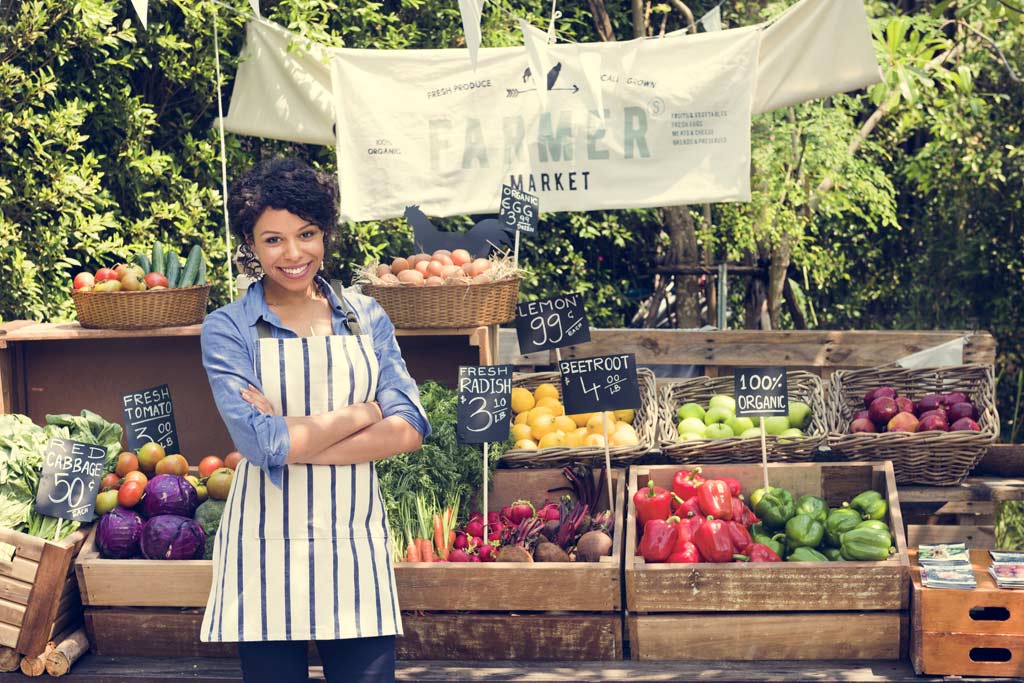 Farmers Market Coalition (FMC)
The Farmers Market Coalition (FMC) provides a network of support to market managers, vendors and customers, where ideas and issues are discussed, and best practices are shared.
According to the Farmers Market Coalition (FMC), farmers markets are important because they:
Preserve America's rural livelihoods and farmland
Stimulate local economies
Increase access to fresh, nutritious food
Support healthy communities
Promote Sustainability
Farmers markets also foster entrepreneurship and serve as incubators for small and independent businesses. By providing a low-barrier to entry, maximum return on investment, and immediate feedback on products, farmers markets function as an innovation lab for new farmers, food producers, and various small businesses.
Be sure to go out and support your farmers at your local farmers market!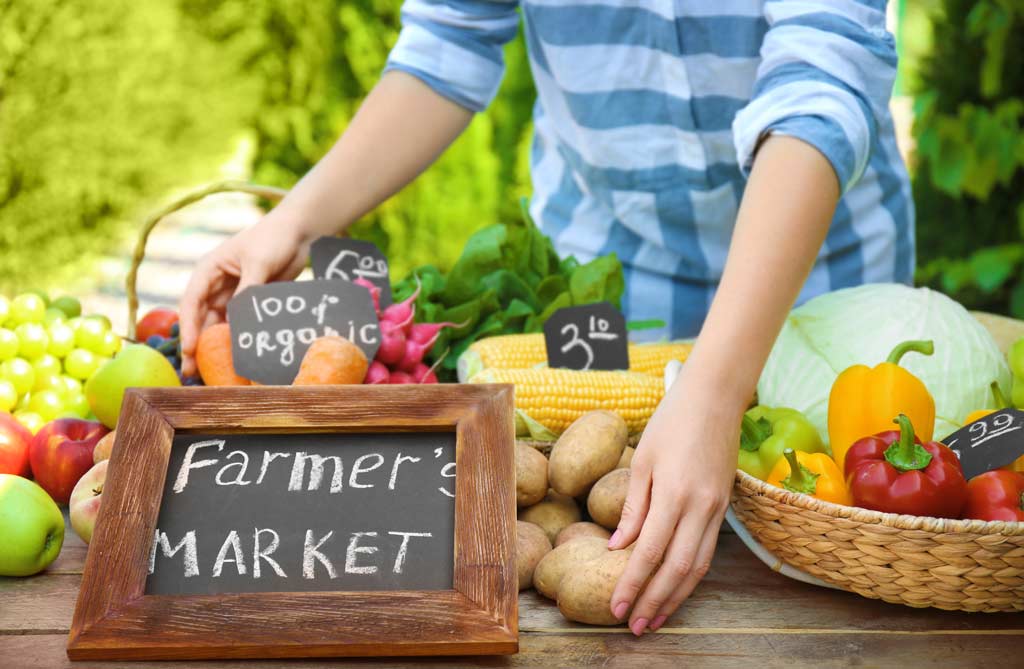 Food Safety Rules for Farmers Markets
Many state and local governments have their own food safety rules for these markets, and vendors must comply with them – but they widely differ – and are not well-enforced.
Unfortunately, there have been several cases of foodborne illness connected with farmer's markets and local food. As the number of these illnesses have increased, there is an increasing need to have standard rules established to ensure the safety of food.
To ensure food safety, there are basic guidelines that you should follow to ensure that – not only  farm-fresh food – but all your food you buy is safe.
Farmer's Market Produce Tips
Only purchase produce that is not bruised or damaged.
When buying pre-cut produce — such as a half a watermelon or cut veggies from a salad bar — choose only items that are refrigerated or surrounded by ice.
Make sure fresh fruits and vegetables are bagged separately from meat, poultry, and seafood products when packing them to take home from the market.
Before and after handling fresh produce at home, wash your hands for 20 seconds with warm water and soap.

Food Safety & Allergy Training - 10% OFF SALE
Learn about proper hygiene, cross contamination, cold and hot food safety, foodborne pathogens, and best practices to prevent foodborne illness.
Food Manager Training & ANSI Certification - $99.00
Food Handler Training - only $7.00!
HACCP Training: 16hr/4hr/1hr
Food Allergy Training - $15.00
Enter Promo "train10off" at Checkout
Wash fruits and vegetables thoroughly under running water just before eating, cutting, or cooking.  Even if you plan to peel the produce before eating, it is still important to wash it first. Any bacteria present on the outside of items like melons can be transferred to the inside when you cut or peel them.
Be sure to refrigerate cut or peeled fruits and vegetables within 2 hours after preparation.
Raw Juices and Cider Tips
Check to see whether the juice or cider has been treated (pasteurized) to kill harmful bacteria. Pregnant women, children, older adults, and people with weakened immune systems should not drink raw juice – because they can risk serious illness or even death.
For example, unpasteurized juice may contain harmful bacteria (such as listeriosis and toxoplasmosis) that can be especially dangerous during pregnancy.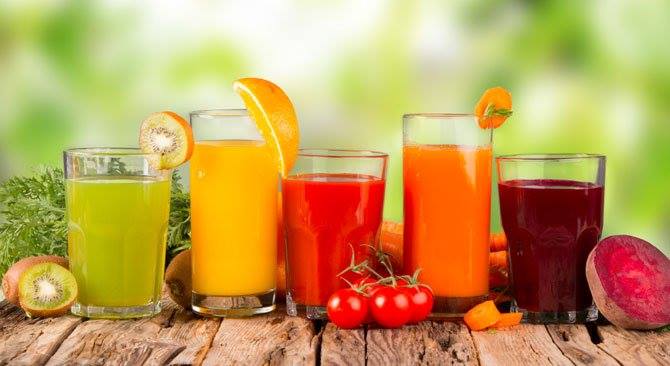 Raw Milk and Cheese Tips
Don't buy milk that has not been pasteurized or otherwise treated to destroy microorganisms. Raw milk can harbor dangerous bacteria, such as Salmonella, E. coli, and Listeria, which can pose serious health risks.
Pregnant women, older adults, and people with immune systems weakened by such conditions as diabetes, cancer, HIV/AIDS, liver or kidney disease, alcoholism, and organ transplants are at higher risk for illness caused by Listeria. One source for these bacteria is soft cheese made from unpasteurized milk. If you buy soft cheese (including feta, Brie, Camembert, blue-veined cheeses, queso blanco, queso fresco, and panela), check the label to make sure that it's made from milk that has been pasteurized.
More Information: CDC Raw Milk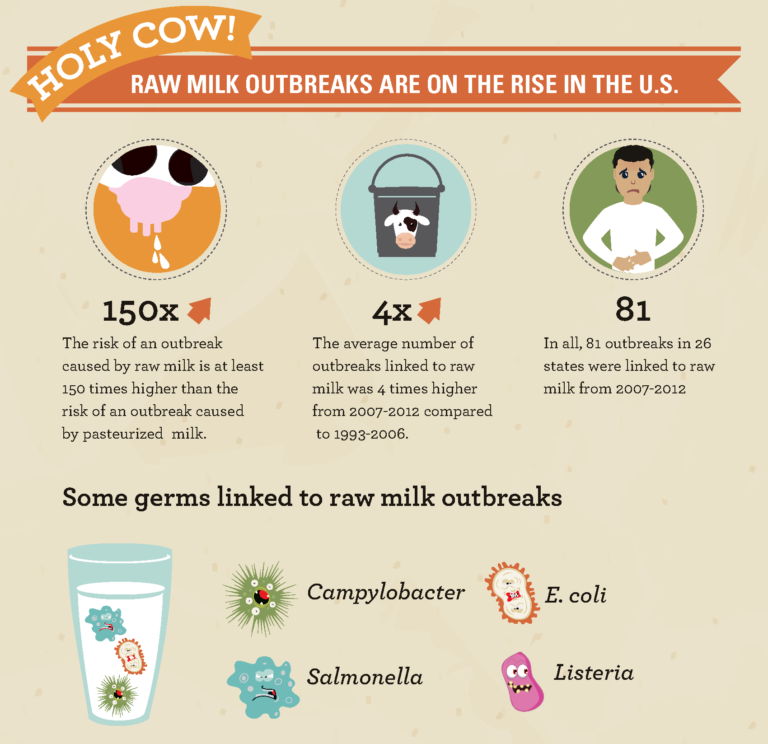 Egg Food Safety Tips
Make sure that eggs are properly chilled at the market. FDA requires that untreated shell eggs must be stored and displayed at 45°F.
Before buying eggs, open the carton and make sure that the eggs are clean and the shells are not cracked.
Meat and Poultry Safety Tips
Make sure that meat or poultry is kept in closed coolers with adequate amounts of ice to maintain cool temperatures.
Bring an insulated bag or cooler with you to keep meat and poultry cool on the way home.
Be sure to keep meat and poultry separate from your other purchases, so that the juices from raw meat or poultry (which may contain harmful bacteria) do not come in contact with produce and other foods.
Canned and Jarred Vegetables Safety Tips
Because many vegetables and some vegetable-based sauces have a low acid content they must be canned properly to prevent the bacteria that cause botulism to grow and produce toxin in sealed cans and jars. That's why FDA requires all canners of low-acid foods that will be sold, no matter how small their business may be, to register and submit information about their canning processes to the agency.  Many states have similar requirements.
USDA – National Farmers Market Directory
The National Farmers Market Directory lists markets that feature two or more farm vendors selling agricultural products directly to customers at a common, recurrent physical location.
Maintained by the Agricultural Marketing Service, the Directory is designed to provide customers with convenient access to information about farmers market listings to include: market locations, directions, operating times, product offerings, accepted forms of payment, and more.  (Screenshot)
Summary
National Farmer's Day is observed annually on October 12th as a day to pay tribute to all farmers throughout American history who put food in the grocery stores and on our tables every day. Support your local farmer by shopping at a farmers market.
But to ensure food safety, there are basic guidelines that you should follow to ensure that – not only farm-fresh food – but all the food you buy is safe.