The person-in-charge is the owner of the business, or a designated person – such as a chef, kitchen manager, or employee – who is always present at the work site and has direct authority and supervision over employees who engage in the safe storage, preparation, display, and service of food.
According to the U.S. Food Code, a "person-in-charge" is "the individual present at a food establishment who is responsible for the operation at the time of inspection." [1]
Likewise, the person-in-charge is required to be "present at the food establishment during all hours of operation." [2]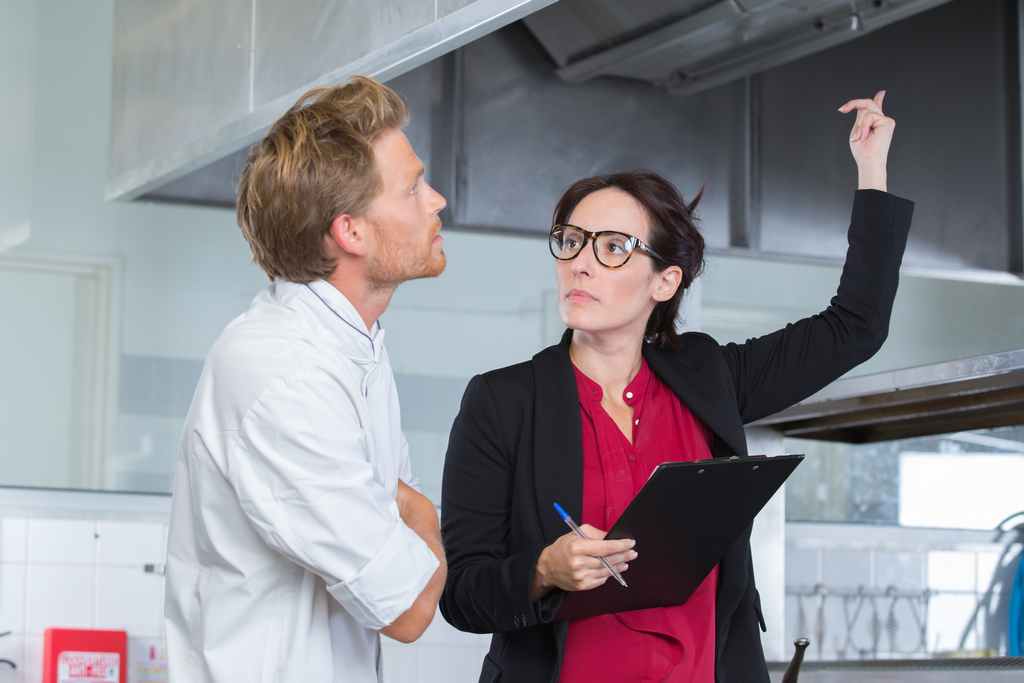 Each State Designates Requirements for the Person-in-Charge
The federal government has authority over food traveling in interstate commerce (between different states), but food produced for sale only intrastate (within a state's borders) is regulated by state law.
Therefore, states have the primary authority to create laws that affect the public health and safety of their residents and to control commerce within state lines – and  each state has its' own, but similar, definition, regulations, and requirements for a person-in-charge.

Food Safety & Allergy Training - 10% OFF SALE
Learn about proper hygiene, cross contamination, cold and hot food safety, foodborne pathogens, and best practices to prevent foodborne illness.
Food Manager Training & ANSI Certification - $99.00
Food Handler Training - only $7.00!
HACCP Training: 16hr/4hr/1hr
Food Allergy Training - $15.00
Enter Promo "train10off" at Checkout
More generally, the person-in-charge, or PIC, is the designated individual present at a food establishment or operation – who has the overall responsibility for the operation at the time – and oversees food preparation, supplies, quality of service, food safety, regulations, and techniques to maintain a food-safe environment. Most states require at least one PIC must be on the premises during operating hours and must demonstrate knowledge of foodborne illness prevention and other factors at the request of a health officer. [3]
Who can be the person-in-charge?
Chefs, head cooks, food service managers, and certified food managers are all terms to describe a person-in-charge that oversees food establishments and facilities (permanent or mobile) where food is prepared and served. [4]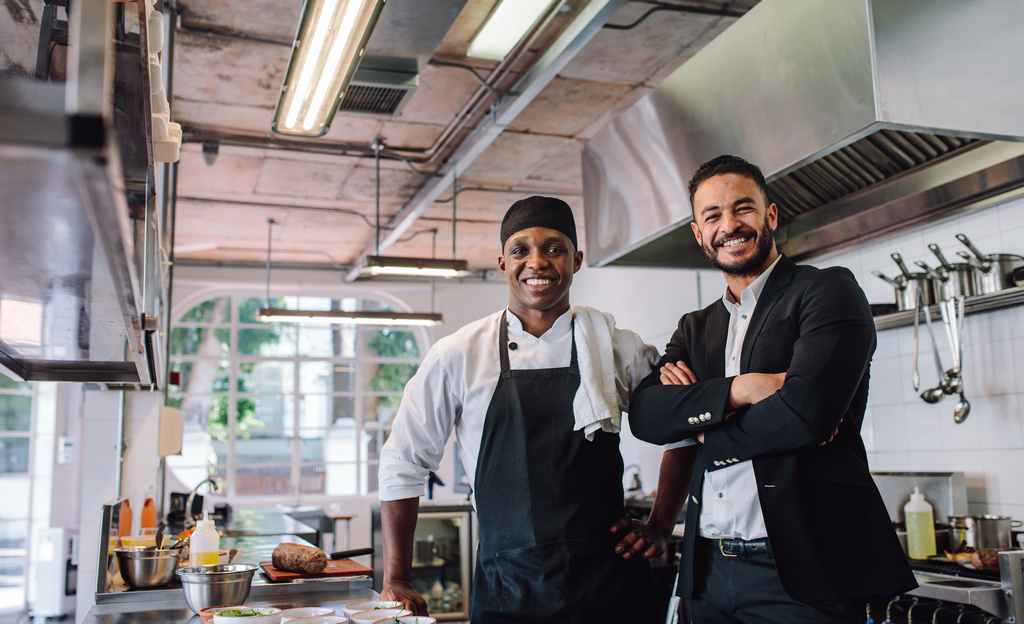 How does the person-in-charge demonstrate knowledge of the Food Code?
The Food Code states that the person-in-charge should be able to demonstrate "knowledge of foodborne disease prevention, application of Hazard Analysis Critical Control Point (HACCP) principles, and the requirements" of the Food Code. [5]
The person-in-charge shall demonstrate this knowledge by either:
Certification: Being a a certified food protection manager (CFPM) who has shown proficiency through passing a certification exam of an accredited program; or
Knowledge: Responding correctly to a series inspector's questions as they relate to the specific food operation (as specified in Food Code § 2-102-11 (C) 1-17); or
Compliance: Compliance with the Food Code by having no priority violations during an inspection.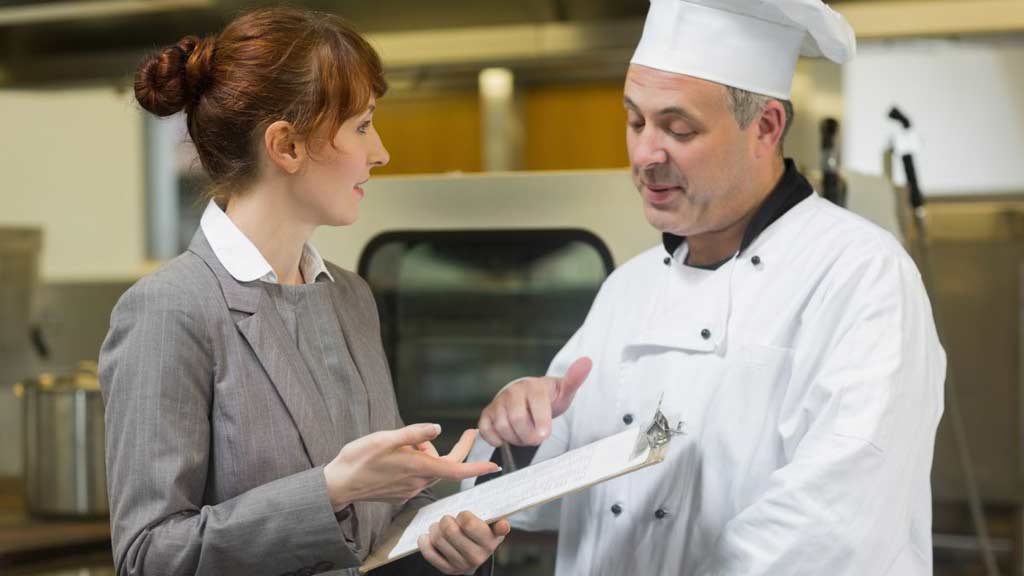 What are the duties of a person-in-charge as outlined by the Food Code?
According to the Food Code §2-103.11, the person-in-charge should ensure that all supervisory duties are followed, including that: [6]
Food establishment operations are not conducted in a private home or in a room used as living or sleeping quarters.
Unnecessary persons are not allowed in the food preparation, storage, or warewashing areas – unless authorized for specific support purpose.
Employees and other persons (such as delivery, maintenance, and pesticide) entering the food preparation, food storage, and warewashing areas comply with the Food Code.
Employees are effectively cleaning their hands and routinely monitor their handwashing.
Employees receive delivered food only from approved sources – at the proper temperatures, unadulterated, and protected from contamination.
Employees receive delivered food (during non-operating hours) only from approved sources and placed into appropriate storage locations (maintained at the proper temperatures, unadulterated, and protected from contamination).
Employees are properly cooking Time/Temperature Control for Safety (TCS) foods – and provide oversight by routinely monitoring the cooking temperatures using appropriate temperature measuring devices.
Employees are using proper methods to rapidly cool Time/Temperature Control for Safety (TCS) foods that are not held hot or are not for consumption within 4 hours – and provide oversight by routinely monitoring temperatures during cooling.
Employees are properly maintaining temperatures of Time/Temperature Control for Safety (TCS) foods during hot and cold holding – and provide oversight by routinely monitoring temperatures.
Advisories are posted to inform consumers that raw or partially cooked read-to-eat foods of animal origin are not cooked sufficiently to ensure safety.
Employees are using proper methods are used to sanitize surfaces, utensils and equipment – and provide oversight by routinely monitoring solution temperature and exposure time for hot water, sanitizing and chemical concentration, pH, temperature, and exposure time for chemical sanitizing.
Consumers are to be notified that clean tableware has to be used when returning to self-service areas – such as salad bars and buffets.
Employees are preventing cross-contamination with bare hands by properly using properly using suitable utensils such as deli tissue, spatulas, tongs, single-use gloves, or dispensing equipment.
Employees are properly trained in food safety, including food allergy awareness, as it relates to their assigned duties.
Employees are informed of their responsibility to report information about their health and activities – as they relate to illnesses – that are transmissible through food.
Written procedures and plans, specified by the Food Code and developed by the food establishment, are maintained and implemented as required.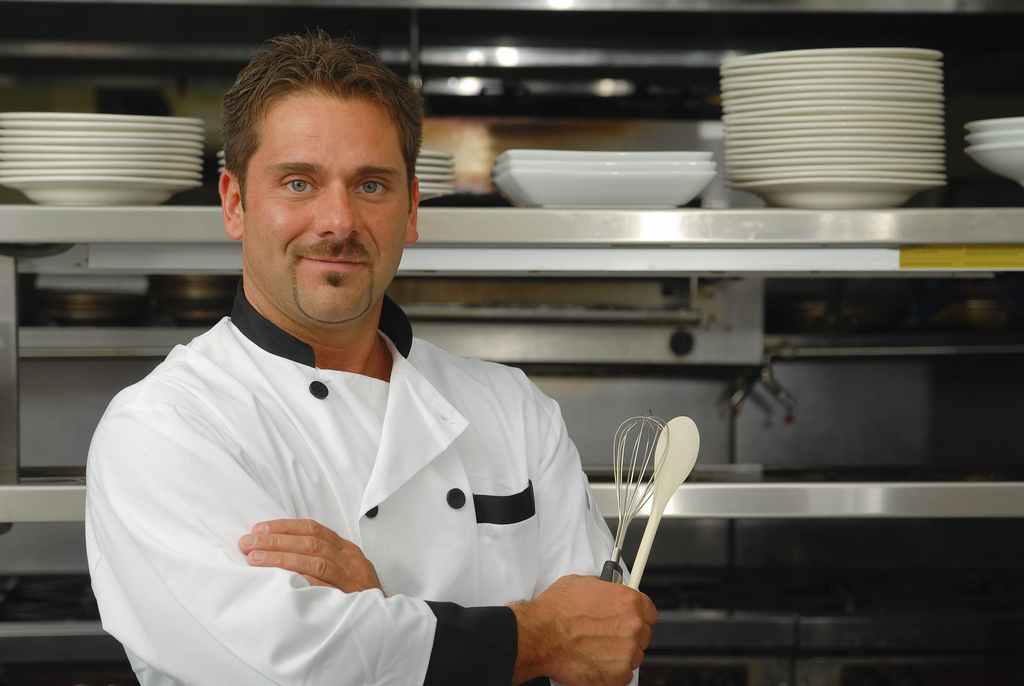 What questions might be asked by a health inspector of the person-in-charge?
During a health inspection, the inspector usually asks the person-in-charge questions regarding food safety knowledge and practices. Depending on the operation, the questions will generally be from the areas of knowledge such as: [7]
Foodborne Illness: The relationships between foodborne illness, bare hand contact, personal hygiene, and cross contamination. Prevention and modes of transmission by a sick food employee.
Potentially Hazardous/TCS Foods: The hazards involved in eating undercooked animal products. The temperatures and times for receiving, holding, cooling, cooking, and reheating.
Contamination Prevention: Proper food storage and handling. The proper procedures for cleaning and sanitizing utensils and other food contact surfaces. Protecting the water source, including the prevention of cross connections. Identifying toxic materials and ensuring safe handling, storage, and disposal.
Standard Operating Procedures: Food safety procedures in the establishment. Explanation of the Hazard Analysis Critical Control Plan (HACCP), if required. The responsibilities of food workers, PICs, and the regulatory authority as stated in the food code.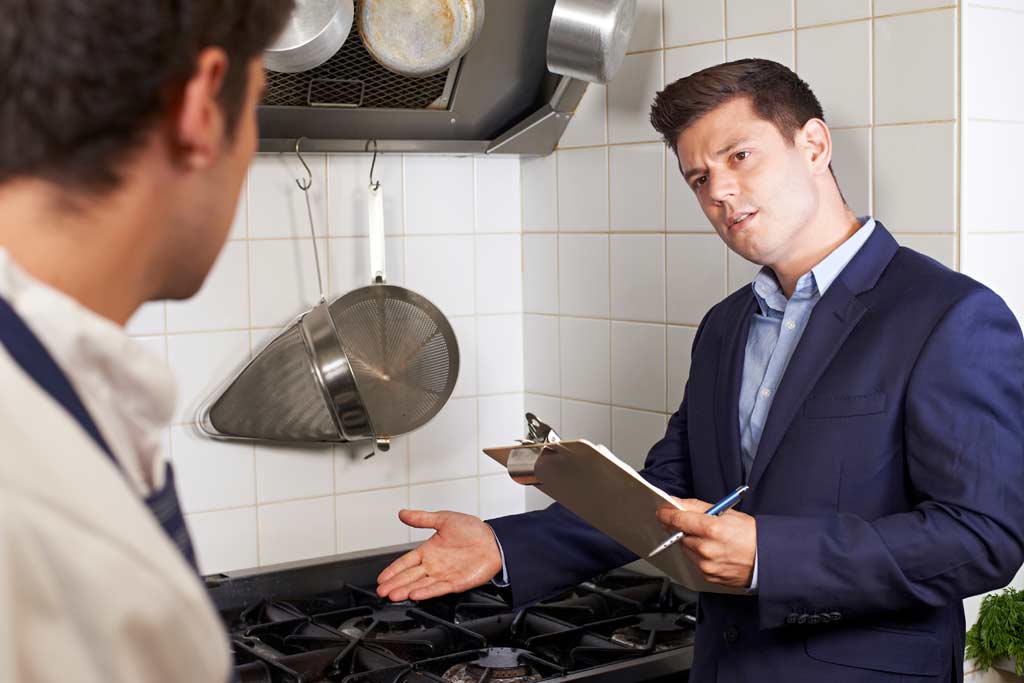 References
[1]
U.S. Food & Drug Administration (FDA). 2017 Food Code. Ch. 1 Purpose and Definitions. 1-2 Definitions. 1-201 Applicability and Terms Defined. "Person in charge". Retrieved July 22, 2019, from https://www.fda.gov/food/fda-food-code/food-code-2017
[2]
U.S. Food & Drug Administration (FDA). 2017 Food Code. Ch. 2 Management and Personnel. 2-1 Supervision. 2-101 Responsibility. 2-101.11 (A). Retrieved July 22, 2019, from
https://www.fda.gov/food/fda-food-code/food-code-2017
[3]
U.S. Food & Drug Administration (FDA). 2017 Food Code. Retrieved July 6, 2019, from
https://www.fda.gov/food/fda-food-code/food-code-2017
[4]
U.S. Food & Drug Administration (FDA). 2017 Food Code. Retrieved July 6, 2019, from
https://www.fda.gov/food/fda-food-code/food-code-2017
[5]
U.S. Food & Drug Administration (FDA). 2017 Food Code. Ch. 2 Management and Personnel. 2-1 Supervision. 2-102 Knowledge. 2-102.11 Demonstration. Retrieved July 25, 2019, from
https://www.fda.gov/food/fda-food-code/food-code-2017
[6]
U.S. Food & Drug Administration (FDA). 2017 Food Code. Ch. 2 Management and Personnel. 2-1 Supervision. 2-103 Duties. 2-103.11 Person in Charge. Retrieved July 27, 2019, from
https://www.fda.gov/food/fda-food-code/food-code-2017
[7]
Mason County Public Health. Washington. Retrieved July 27, 2019, from
https://www.co.mason.wa.us/health/environmental/food/pic.php