October is National Seafood Month! Whether you prefer salmon, cod, shrimp, halibut, sole, crab, or oysters, remember, they're all delicious, sustainable and good for you.
National #SeafoodMonth is a time to highlight smart seafood choices, sustainable fisheries, and following basic food safety tips for buying, preparing, and storing fish and shellfish – to reduce the risk of foodborne illness.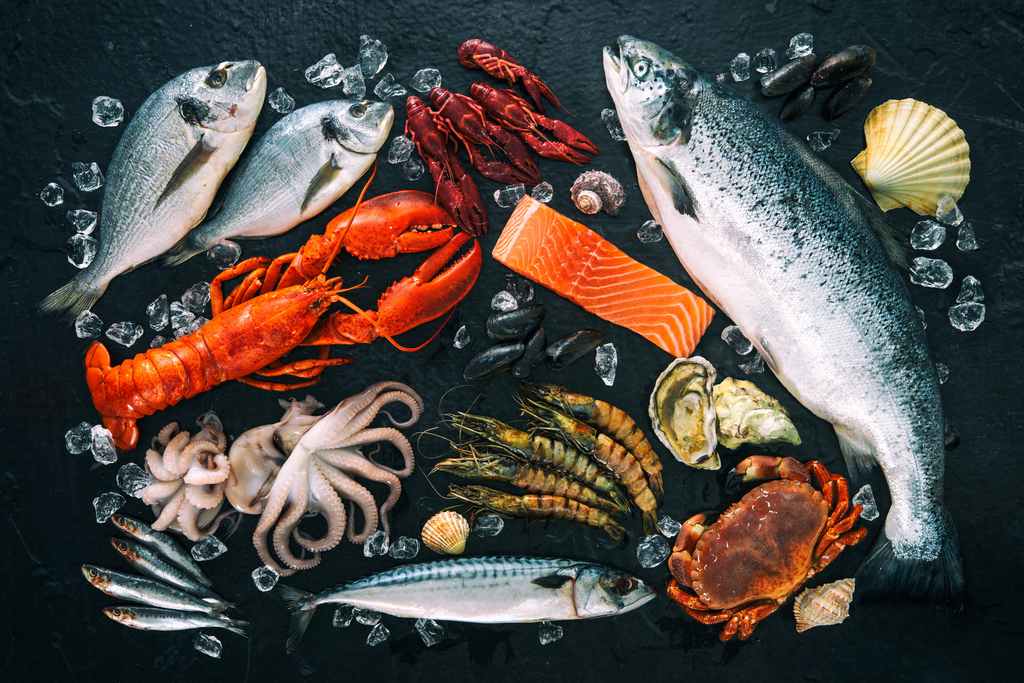 NOAA Fisheries and Sustainable Seafood
The seafood caught and farmed in the United States comes from some of the most sustainably managed fisheries in the world.
NOAA Fisheries, which monitors and enforces marine fisheries within 4.4 million square miles and 95,000 coastland miles in the United States. They report U.S. fisheries are some of "the largest and most valuable in the world, supplying about a fifth of the seafood we eat in the United States."

Food Safety & Allergy Training - 10% OFF SALE
Learn about proper hygiene, cross contamination, cold and hot food safety, foodborne pathogens, and best practices to prevent foodborne illness.
Food Manager Training & ANSI Certification - $99.00
Food Handler Training - only $7.00!
HACCP Training: 16hr/4hr/1hr
Food Allergy Training - $15.00
Enter Promo "train10off" at Checkout
Maintaining a safe seafood product requires caring for the product from the time it is caught until it is consumed; that responsibility doesn't end at the point of sale. Local, state and federal food safety regulations require that fishermen – just like others in the seafood supply chain – be aware of and use proper handling and storage practices to ensure a safe product.
To learn more about seafood, check out FishWatch.gov—the nation's database on sustainable seafood—providing science-based facts on more than 100 marine species.
Seafood Safe Cooking Temperatures
The USDA recommends that all seafood (fish and shellfish – i.e. clams, oysters, shrimp, crabs, and lobsters) be cooked to a minimum internal temperature of 145°F (62.8°C) – as measured with a food thermometer.
Fish should be opaque (not translucent like when it's raw) and break easily into flakes when you nudge it with a fork.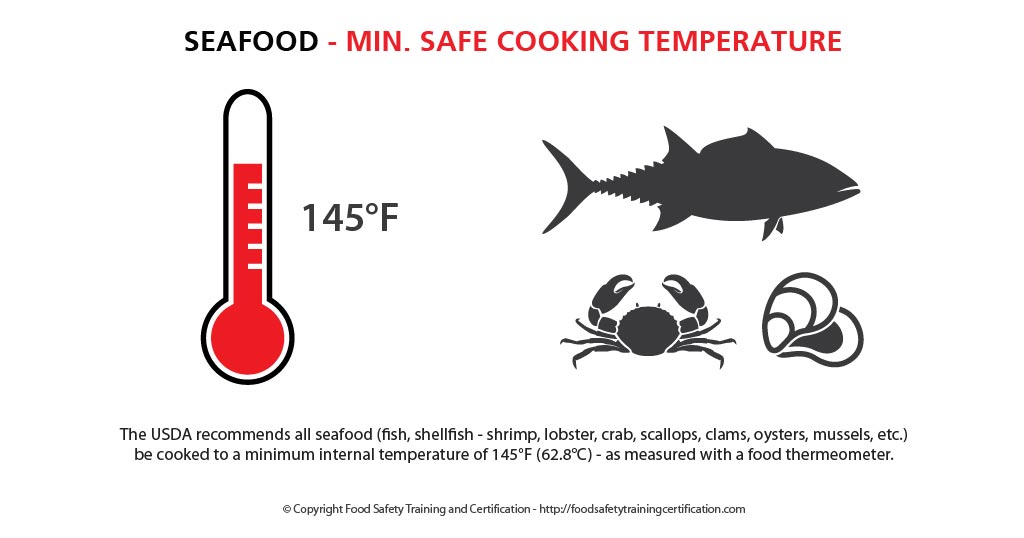 Fish should be opaque (not translucent like when it's raw) and break easily into flakes when you nudge it with a fork.
Shrimp turns pink and the flesh becomes white and firm. Boiling 1 pound of medium shrimp takes from 3 to 5 minutes.
Lobster turns red and the flesh becomes white. When boiling, allow 5 to 6 minutes per pound.
Scallops turn milky white and firm. They cook in 3 to 4 minutes.
Clams, mussels, and oysters are done when their shells open. Throw out any that stay closed.
Shucked clams take from 2 to 5 minutes to cook, depending on size. Oysters cook in about 2 to 3 minutes and their edges will start to curl.
When using the microwave, rotate the dish several times to ensure even cooking. Follow manufacturer's recommendations, including standing times.
Leftover cooked seafood should be refrigerated as soon as possible and used within 1 or 2 days.
If cold or hot seafood has been left out at temperatures between 40°F and 140°F for longer than 2 hours, discard.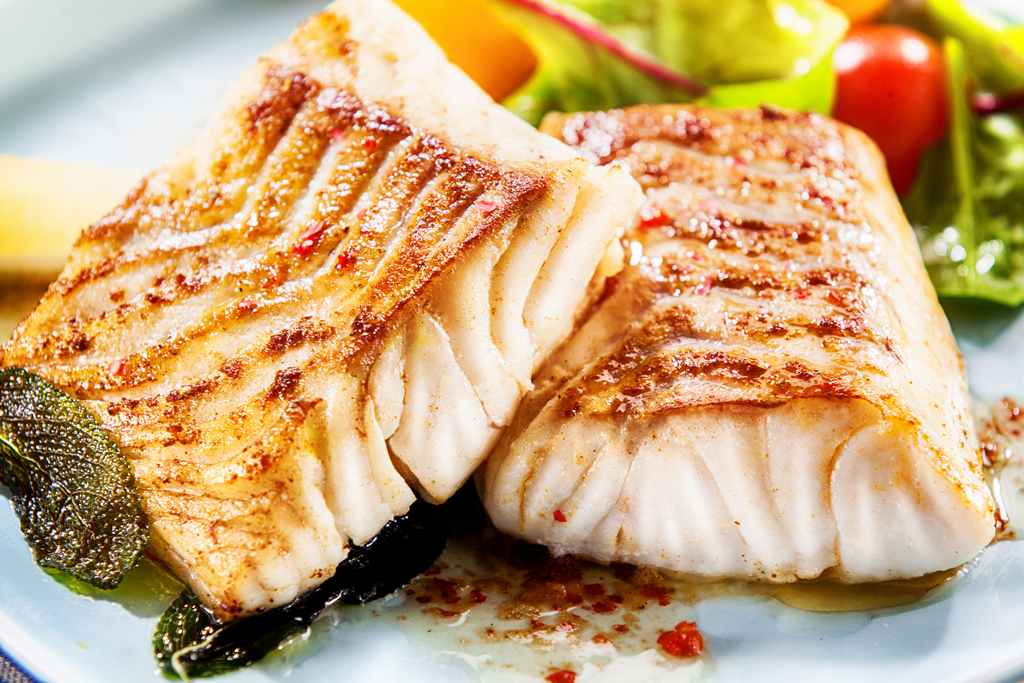 Selecting and Serving Seafood Safely
Eating Fish: Pregnant Women and Young Children
The FDA and EPA have issued advice regarding eating fish. This advice is geared toward helping women who are pregnant or may become pregnant – as well as breastfeeding mothers and parents of young children – make informed choices when it comes to fish that is healthy and safe to eat.
For women of childbearing age (about 16-49 years old), especially pregnant and breastfeeding women, and for parents and caregivers of young children.
Eat 2 to 3 servings of fish a week from the "Best Choice" list OR 1 serving from the "Good Choice" list.
Eat a variety of fish.
Serve 1 to 2 servings of fish a week to children, starting at age 2.
If you eat fish caught by family or friends, check for fish advisories. If there is no advisory, eat only one serving and no other fish that week.*
You can use this chart to help you choose which fish to eat, and how often to eat them, based on their mercury levels. The "Best Choice" have the lowest levels of mercury.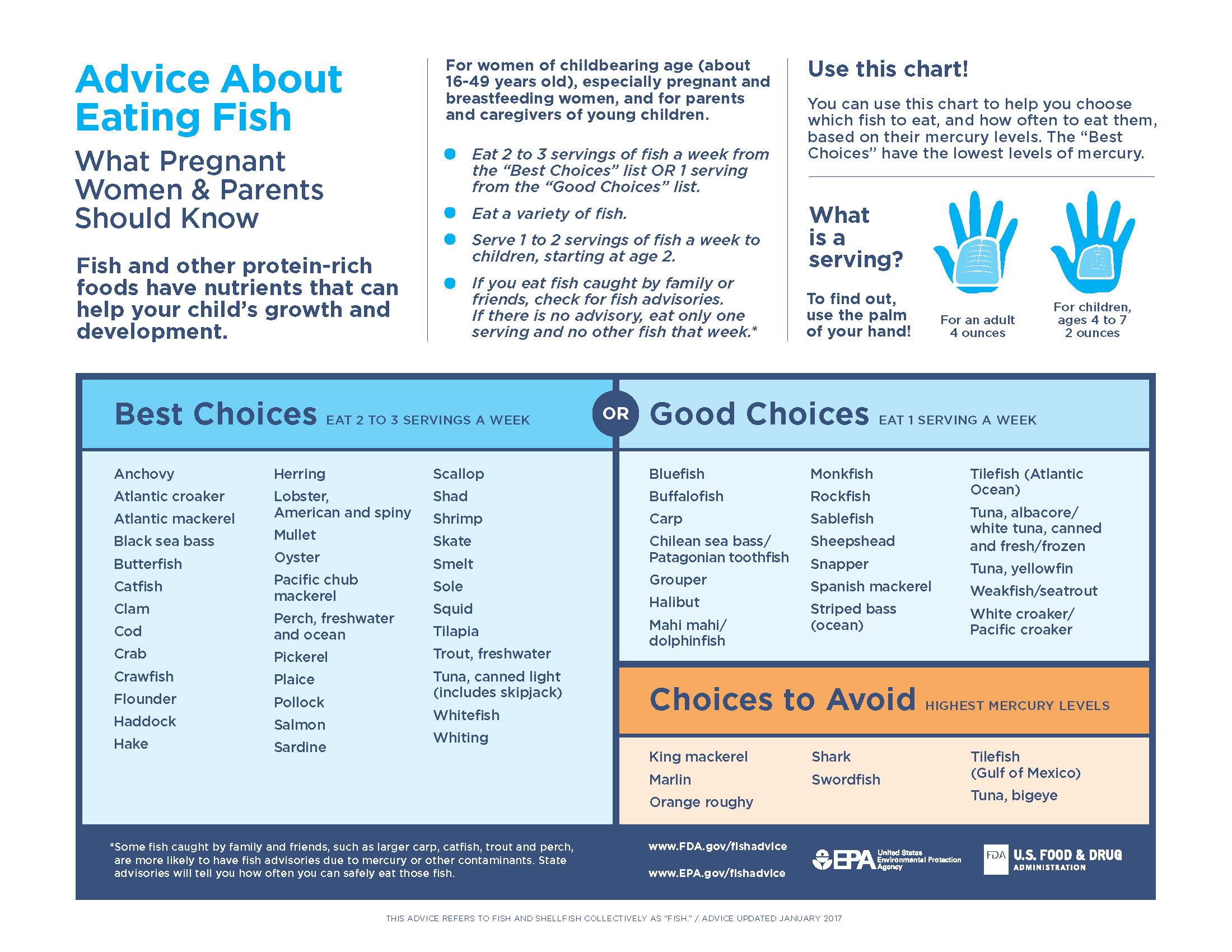 Raw Seafood Dangers
It's always best to cook seafood thoroughly to minimize the risk of foodborne illness. However, if you choose to eat raw fish anyway, one rule of thumb is to eat fish that has been previously frozen.
Some species of fish can contain parasites, and freezing will kill any parasites that may be present.
However, be aware that freezing doesn't kill all harmful microorganisms. That's why the safest route is to cook your seafood.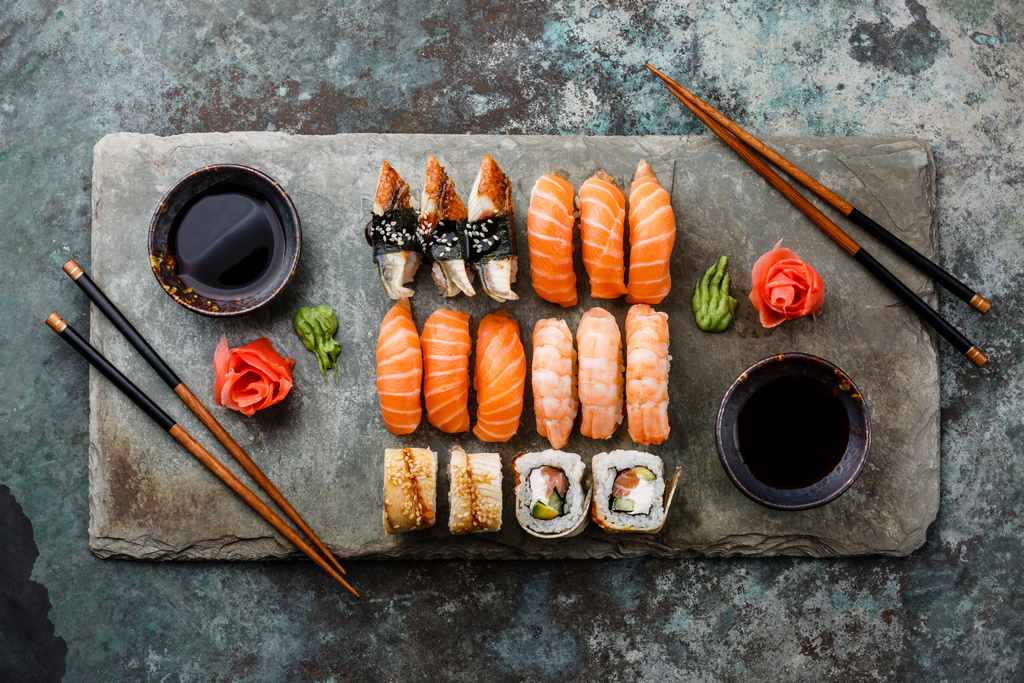 Raw Shellfish Dangers
Shellfish (oysters, clams, mussels) pose the greatest risk to be contaminated because they are filter feeders and become contaminated when their waters are polluted with raw sewage and bacteria.
Oysters can be contaminated with a variety of foodborne pathogens such as E. coli, norovirus, and Vibrio vulnificus and can put you at risk for infections.
The FDA urges consumers to eat only fully cooked oysters – i.e., boiling them for for 3 to 5 minutes or steaming for 4 to 9 minutes.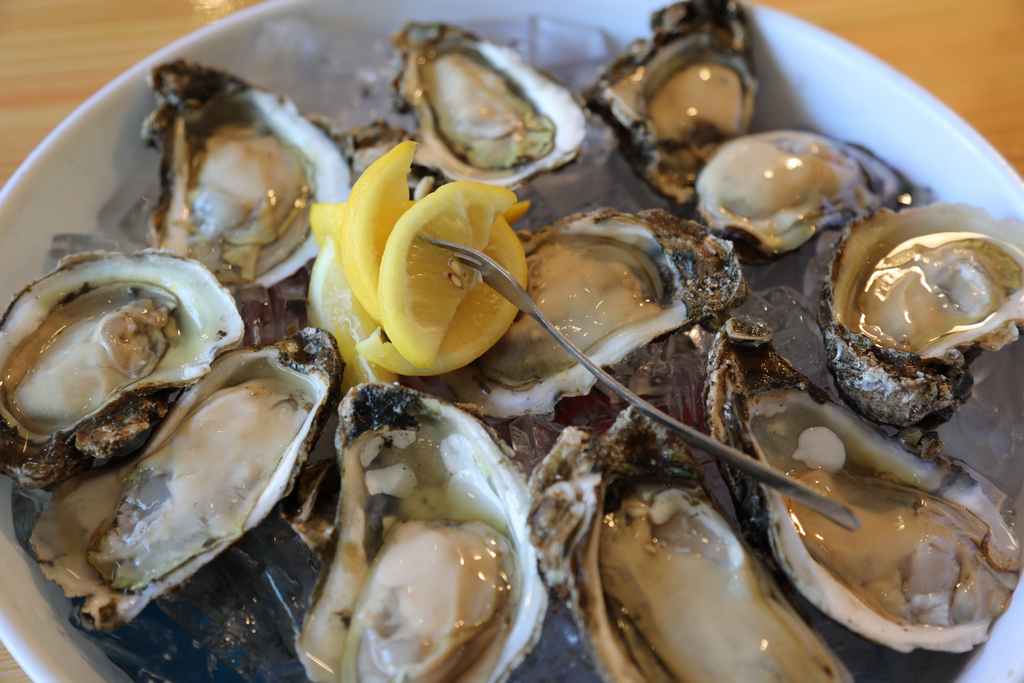 Additional Seafood Sustainablitity and Safety Resources
Audience: Fishermen, seafood processors, packers, importers, and retailers, seafood safety inspectors, health professionals, and students interested in seafood careers – who are responsible for handling and keeping seafood products safe for customers.