New York HACCP Training and Certification
The NYC Health Code requires supervisors of food service establishments and non-retail food service establishments be certified in food protection. This means a person-in-charge, an owner, or manager of a food establishment – (i.e., restaurants, bars, cafes, bakeries, delis, mobile vending, food trucks, assisted-living, day care centers, and convenience stores) become certified by taking a approved food manager training course and successfully passing an accredited food manager certification exam.
NYC Health Code – Article 81: Food Preparation & Food Establishments (PDF)
§81.15. Food protection course
(a) Food protection certificate required. No person who is charged with the management or supervision of the operations of a food service establishment or non-retail food processing establishment shall engage or be employed in such capacity unless he or she obtains a certificate issued by the Department subsequent to successful completion of a course in food protection, and passage of an examination administered by the Department. No person required to have a license issued pursuant to §89.03(b) of this Code shall be issued such license unless he or she obtains such a certificate. A person holding such certificate shall be on the premises and shall supervise all food preparation activities during all hours of operation.
New York Approved 16hr HACCP Course for Retail Establishments
Our 16 hour HACCP training course is the first accredited nationwide HACCP course for retail food establishments. The HACCP for Retail Food Establishments course is accredited by the International HACCP Alliance and teaches the theories and practices of HACCP. Once learners have successfully completed the course, they will understand how HACCP is applied through Active Managerial Control (AMC) to establish a functional food safety management system.
New York State Approved:  NYC Business – HACCP Certification
Course Summary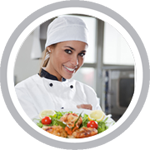 Accredited by the International HACCP Alliance (360 Training)
New York State Accepted: NYC Business
Durations: 16hr, 8hr & 1hr
Take course anywhere and anytime!
Download certificate upon completion!
Available en Español
24×7 Support: (877) 881-2235 – Online
New York HACCP Certification for Retail Food Establishments – 16hrs
Price: $125.00
New York HACCP Training: The State-of-the-Art Approach to Food Safety – 4 hrs
Price: $50.00
New York – Seafood HACCP Training – 1 hr
Price: $75.00
Save Big with Group Rates
Get huge discounts by enrolling and training all your employees. Enjoy tailored corporate solutions and training services – a free cloud-based LMS and even consulting services. Track progress, generate reports, and manage learners online. More Info
Accepted Statewide
We offer online Food Safety Training in New York for: New York City – NYC, Buffalo, Rochester, Yonkers, Syracuse, Albany, New Rochelle, Cheektowaga, Mount Vernon, Schenectady, Utica, Brentwood, Tonawanda CDP, White Plains, Hempstead, Levittown, Manhattan, Bronx, Queens, Brooklyn, Staten Island, and many more!