Texas HACCP Training and Certification
Every Texas food service operation serving or selling food needs to have a food safety system in place that is designed specifically to guarantee the food being served is safe to eat. This specific food safety system is called HACCP for Hazard Analysis and Critical Control Point. HACCP is a system comprised of 7 principles that are to be applied to a written food safety program focusing on the food in your operation. Source: FDA – HACCP Guidance
Texas requires supervisors of food service establishments and non-retail food service establishments be certified in food protection. This means a person-in-charge, an owner, or manager of a food establishment – (i.e., restaurants, bars, cafes, bakeries, delis, mobile vending, food trucks, assisted-living, day care centers, and convenience stores) become certified by taking a approved food manager training course and successfully passing an accredited food manager certification exam.
As per Texas Food Establishment (TFER) Rules §229.163(a):
(a) Responsibility, assignment. The permit holder shall be the person in charge or shall designate a person in charge and shall ensure that a person in charge is present at the food establishment during all hours of operation.
As per Texas Administrative Code – Title 25 – Chapter 229: Food and Drug – Subchapter K: Texas Food Establishments – Rule § 229.177(b): Certification of Food Managers:
(b) Food manager certification required. One certified food manager must be employed by each food establishment permitted under HSC, §437.0055. Certification must be obtained by passing a department approved examination at an approved examination site, and meeting all requirements in HSC, Chapter 438, Subchapter G, and §229.176 of this title (relating to Certification of Food Managers).
Texas HACCP Course for Retail Establishments – 16hrs
Our HACCP training course is the first accredited nationwide HACCP course for retail food establishments. The HACCP for Retail Food Establishments course is accredited by the International HACCP Alliance (360 Training) and teaches the theories and practices of HACCP. Once learners have successfully completed the course, they will understand how HACCP is applied through Active Managerial Control (AMC) to establish a functional food safety management system.
HACCP Training Courses and State Info
Course Summary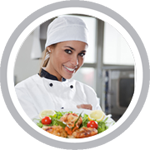 Accredited by the International HACCP Alliance (360 Training)
Durations: 16hr, 8hr & 1hr
Take course anywhere and anytime!
Download certificate upon completion!
Available en Español
24×7 Support: (877) 881-2235 – Online
Texas HACCP Certification for Retail Food Establishments – 16hrs
Price: $125.00
Texas HACCP Training: The State-of-the-Art Approach to Food Safety – 4 hrs
Price: $50.00
Texas – Seafood HACCP Training – 1 hr
Price: $75.00
Save Big with Group Rates
Get huge discounts by enrolling and training all your employees. Enjoy tailored corporate solutions and training services – a free cloud-based LMS and even consulting services. Track progress, generate reports, and manage learners online. More Info
Accepted Statewide
We offer online HACCP Training in Texas for: Abilene, Amarillo, Arlington, Austin, Bastrop, Brownsville, Beaumont, Corpus Christi, Dallas, Denton, De Soto, El Paso, Fort Worth, Gainsville, Garland, Grand Prarie, Irving, Killeen, Houston, Laredo, McAllen, Mesquite, Midland, Mineral Wells, New Braunfels, North Richland Hills, Odessa, Pasadena, Pearland, Plano, Port Aransas, Richardson, Round Rock, San Antonio, San Marcos, Schertz, Tyler, Waco, Wichita Falls – Bell County, Bexar County, Comal County, Hays County, Harris County, San Patricio County, Tarrant County, Travis County, Witchita County, and Williamson County, and many more!