Halloween season can bring friends and family fun and many scares, but don't let one of those scares be food illness. Whether you're hosting a Halloween party or just going trick-or-treating, educating yourself on the proper food safety practices will help prevent foodborne illness.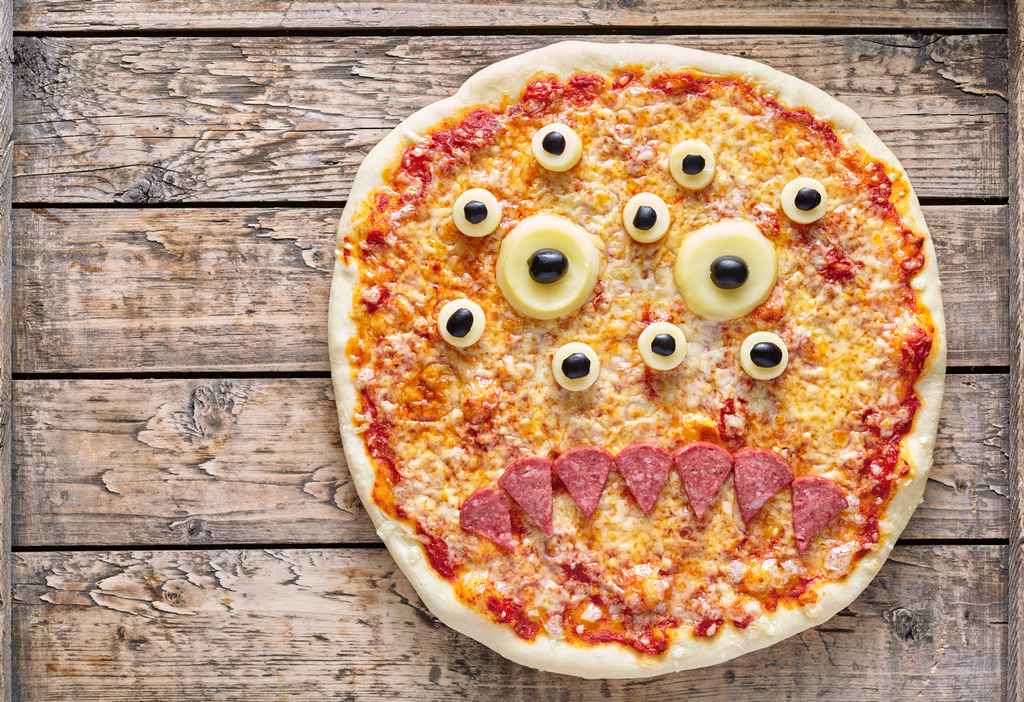 Educate yourself on spook-tacular food safety, while impressing all your guests on the most frightening night of the year!

Food Safety & Allergy Training - 10% OFF SALE
Learn about proper hygiene, cross contamination, cold and hot food safety, foodborne pathogens, and best practices to prevent foodborne illness.
Food Manager Training & ANSI Certification - $99.00
Food Handler Training - only $7.00!
HACCP Training: 16hr/4hr/1hr
Food Allergy Training - $15.00
Enter Promo "train10off" at Checkout
Clean – Separate – Cook – Chill
By following four simple food safety steps, you can protect the little monsters from getting a food illness:
Clean: Make sure to pack clean paper towels, water, and soap for cleaning surfaces and your hands. Disposable moist towelettes also work well.
Separate: Use clean plates. Likewise, don't put foods eaten raw on the same platter that held raw meat or poultry. Any harmful bacteria present in the raw meat juices could contaminate them.
Cook: Always use a food thermometer to check the internal temperature of burgers, steaks, chicken, and egg dishes.
Chill: Place leftovers in shallow containers and store them in a cooler immediately.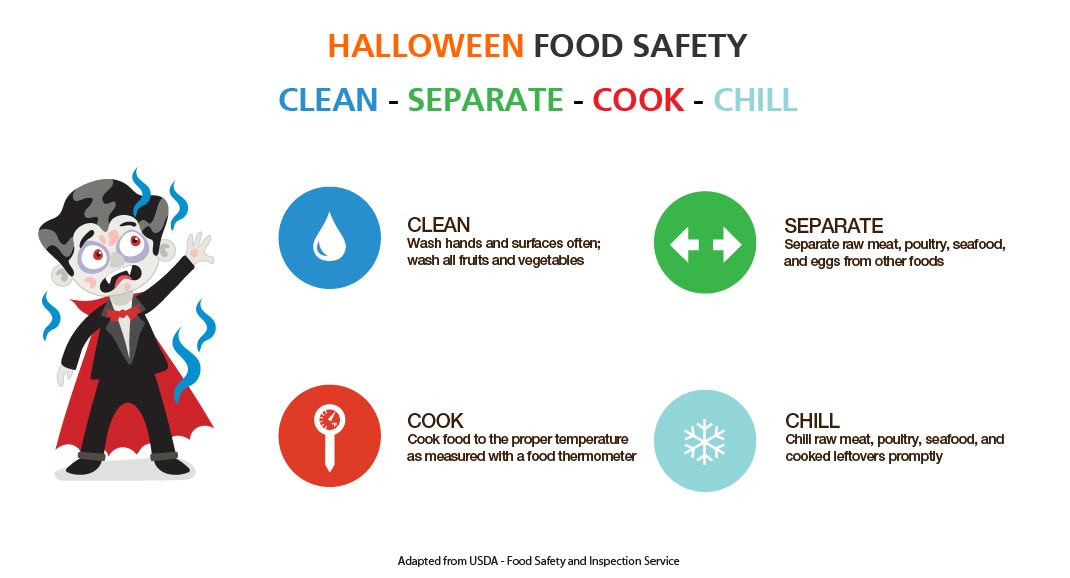 Bacteria Danger Zone & Two Hour Rule
Bacteria will creep up on you if you let foods sit out too long. Don't leave perishable goodies, such as meat, poultry, eggs and casseroles in the temperature "Danger Zone" (between 40°F and 140°F) over 2 hours; 1 hour in temperatures above 90°F.
Keep food cold in the refrigerator, in coolers, or on the serving line on ice. Keep hot food in the oven, in heated chafing dishes, or in preheated steam tables, warming trays and/or slow cookers.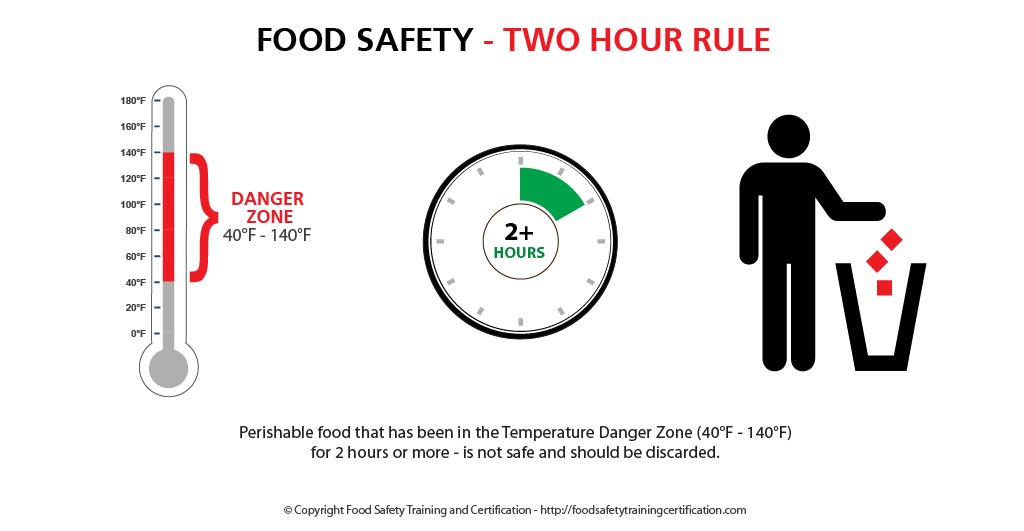 USDA Brochure – Cooking for Groups
The "Cooking for Groups" booklet  helps people prepare and serve food safely for large groups.
English Booklet, Full Color (PDF, 880kb)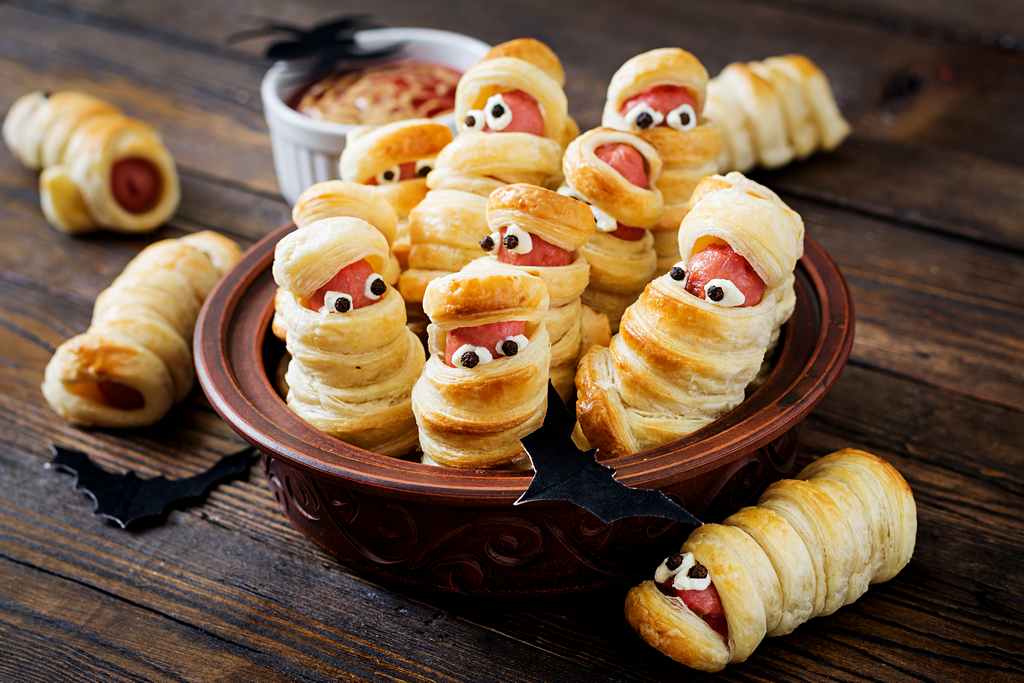 Safe Halloween Candy and Treats
Eating candy and sweet treats is also a big part of the fun on Halloween. If you're trick-or-treating, health and safety experts say you should remember these tips:
Inspect before eating. Don't eat candy until it has been inspected at home.
Homemade treats. Avoid homemade goodies from people you don't know. The CDC recommends avoiding eating homemade treats made by strangers since there is no way to ensure the person preparing them followed proper food safety procedures.
Eat before heading out. Trick-or-treaters should eat a snack before heading out, so they won't be tempted to nibble on treats that haven't been inspected.
Food allergies. If your child has a food allergy, check the label to ensure the allergen isn't present. Tell children not to accept—or eat—anything that isn't commercially wrapped.
Choking hazards. Parents of very young children should remove any choking hazards such as gum, peanuts, hard candies, or small toys.
Check for tampering. Inspect commercially wrapped treats for signs of tampering, such as an unusual appearance or discoloration, tiny pinholes, or tears in wrappers. Throw away anything that looks suspicious.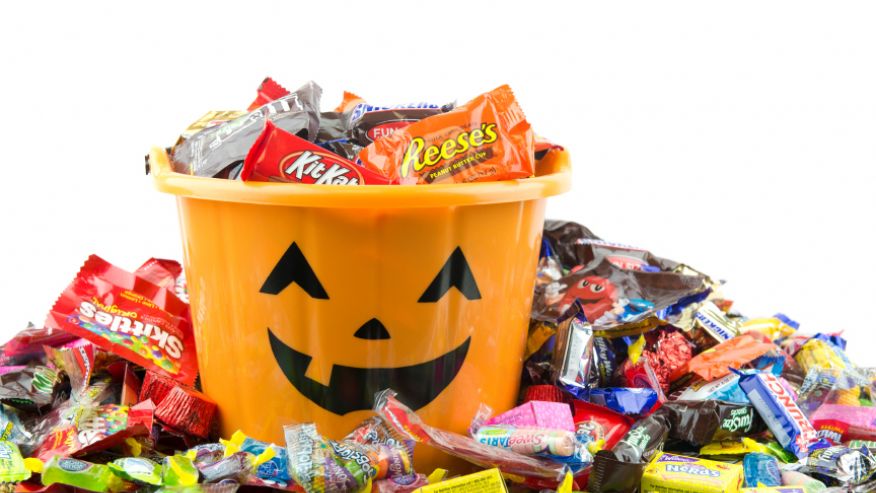 Additional Resources