October is Breast Cancer Awareness Month.  Food safety is important for people living with cancer because it is easier for them to become ill.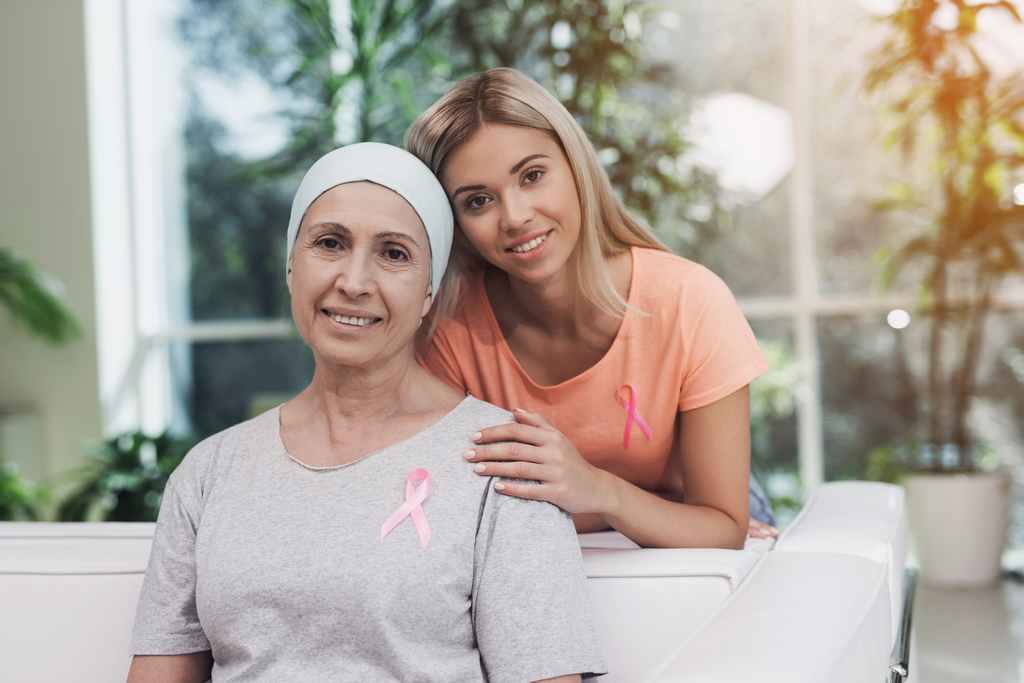 Currently, 8.2 million people die from cancer worldwide every year, out of which, 4 million people die prematurely (aged 30 to 69 years). Breast cancer is the second most common kind of cancer in women. About 1 in 8 women born today in the United States will get breast cancer at some point.
Cancer patients are at a greater risk of suffering from a foodborne illness because of their weakened immune systems. Cancer treatments, such as radiation and chemotherapy, weaken the body's immune system by affecting the blood cells that protect against disease and germs.
National #BreastCancerAwareness Month is a chance to raise awareness about the importance of early detection of breast cancer – and the risks that come with treatment – like food illness.

Food Safety & Allergy Training - 10% OFF SALE
Learn about proper hygiene, cross contamination, cold and hot food safety, foodborne pathogens, and best practices to prevent foodborne illness.
Food Manager Training & ANSI Certification - $99.00
Food Handler Training - only $7.00!
HACCP Training: 16hr/4hr/1hr
Food Allergy Training - $15.00
Enter Promo "train10off" at Checkout
Plan a Pink Ribbon Event
The FDA Office of Women's Health (OWH) has launched the Pink Ribbon Sunday Mammography Awareness Program to educate women about early detection of breast cancer through mammography.
Download the Pink Ribbon Sunday Guide (PDF 1000KB). The guide provides five simple steps and sample materials to help you plan and promote mammography awareness activities in your community.
Step 1 – Get Support from Church or Organization Leadership
Step 2 – Start Planning
Step 3 – Spread the Word: Promote Your Event
Step 4 – Implement Your Activities
Step 5 – Do Your Follow-Up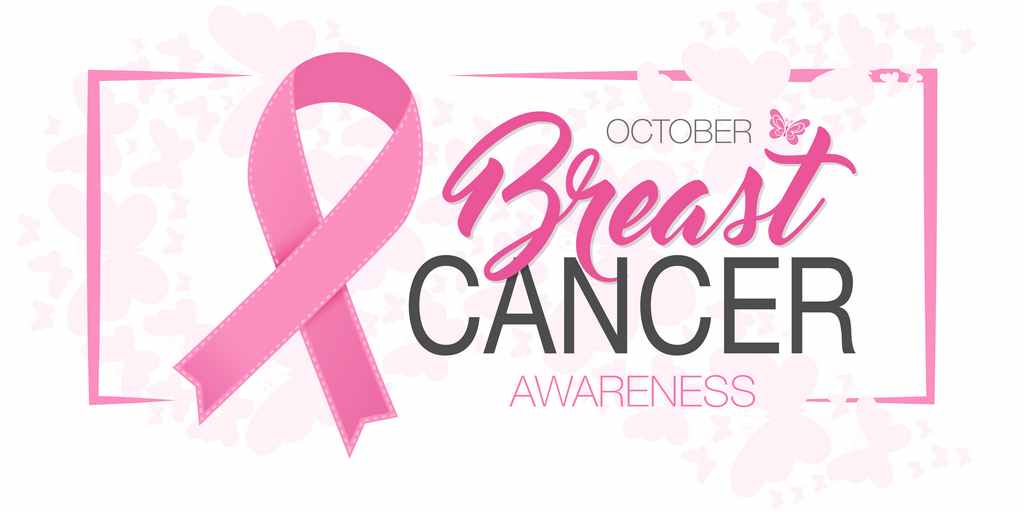 Food Safety During Cancer Treatment
Your cancer and the type of treatment you receive may weaken your immune system. Choosing and preparing safe foods can help protect you from foodborne illness. A diet rich in fruit, vegetables, grains, beans, lean meat, fish and low fat dairy are important to consume to help maintain your strength and immune system. These guidelines can help make sure your foods are safe.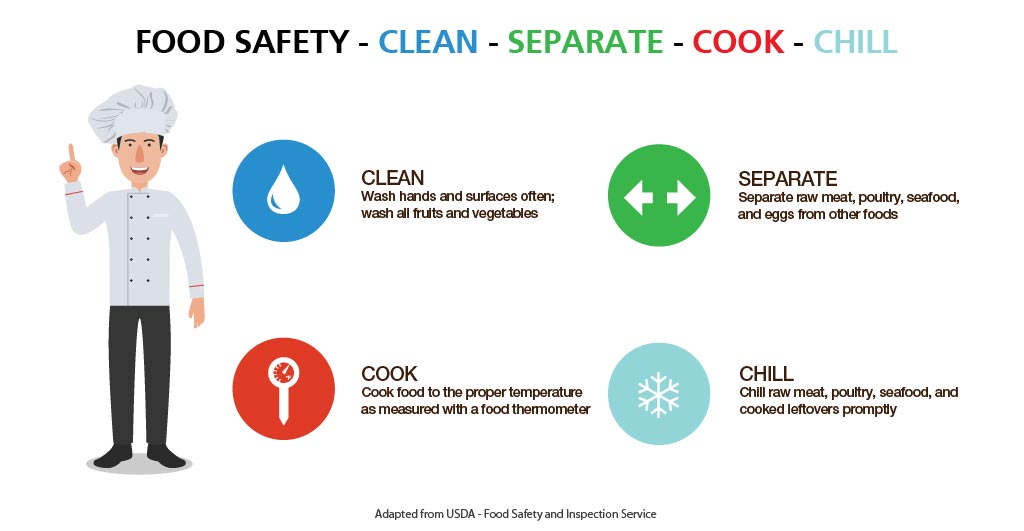 Wash your hands the right way – for 20 seconds with soap and running water.
Use a thermometer to make sure your refrigerator is 40°F or lower and your freezer is 0°F or lower.
Keep raw meat away from fresh produce and other ready-to-eat food, to avoid contamination.
Thaw or marinate foods in the refrigerator, never on the counter or in the kitchen sink.
Wash fruits and vegetables (even if you plan to peel them), but do not wash meat, poultry or eggs!
Use separate cutting boards for raw produce and for raw meat, poultry, seafood, and eggs.
Use a food thermometer to be sure food is cooked to its proper temperature.
Refrigerate leftovers within 2 hours in shallow covered containers and use within 3-4 days.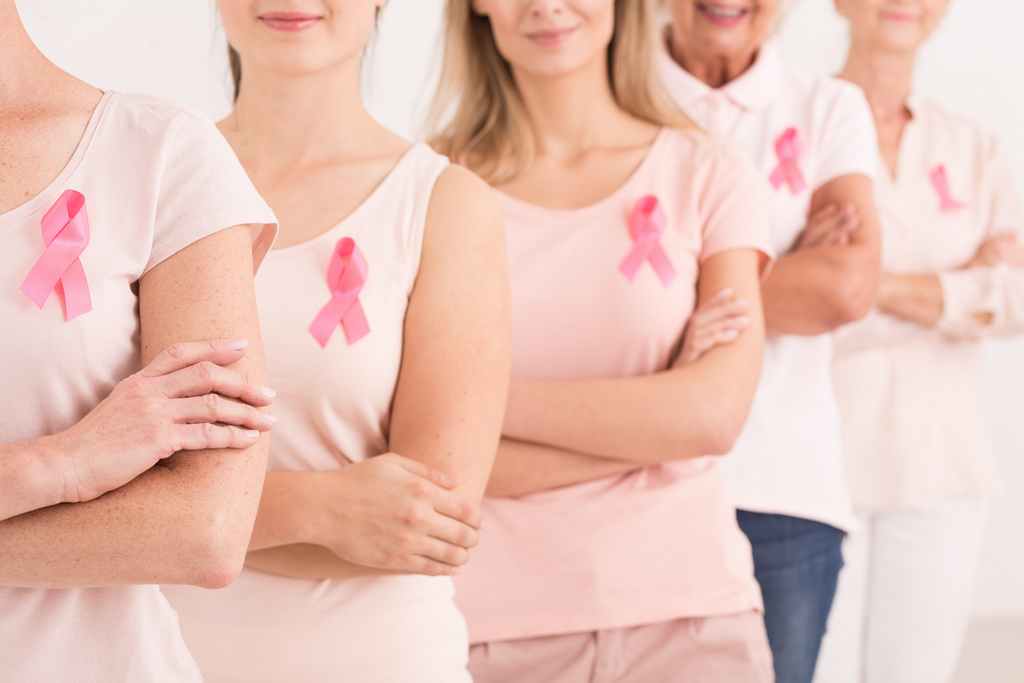 Food Safety for People with Cancer
As a cancer patient, your healthcare provider may have recommended that you take chemotherapy, radiation, or mediations to help fight your disease. A side effect of these therapies is that they may weaken your immune system. Cancer also may weaken your immune system over time due to its chronic disease process.
A properly functioning immune system works to clear infection and other foreign agents from the body. However, cancer and its treatments can weaken your immune system – making you more susceptible to many types of infections.  These infections include those that can be brought on by disease-causing bacteria and other pathogens that cause foodborne illness.
Because you have cancer and are receiving cancer treatment, you are more likely to have a lengthier illness, undergo hospitalization, or even die, should you contract a foodborne illness.
To avoid contracting a foodborne illness, you must be vigilant when handling, preparing, and consuming foods.  
Make safe handling a lifelong commitment to minimize your risk of foodborne illness. Be aware that as you age, your immunity to infection naturally is weakened.
Infographic: Food Safety for People with Cancer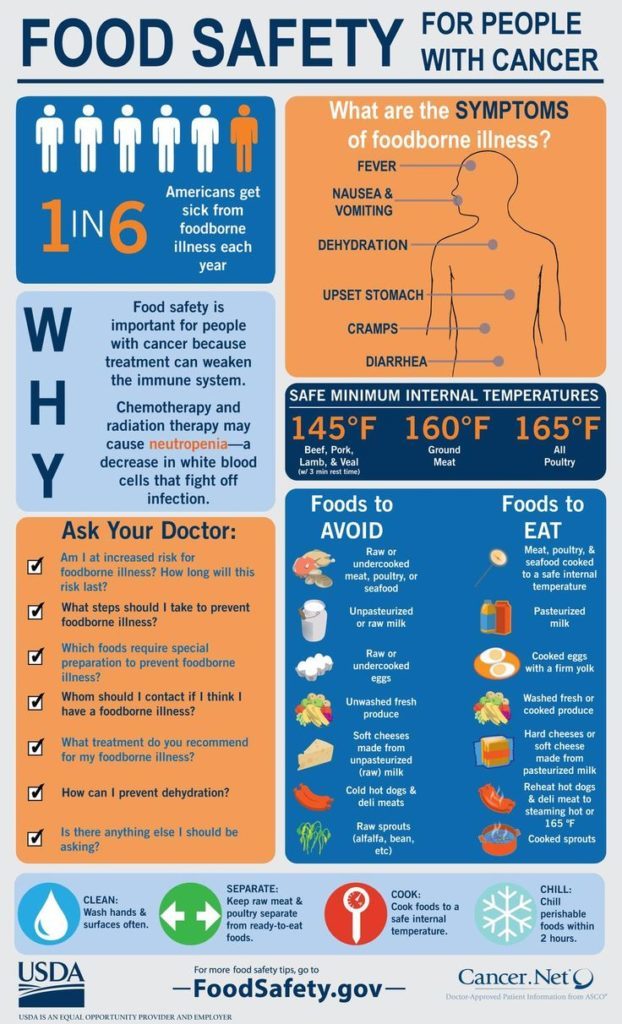 Additional Cancer & Food Safety Resources
Partnership for Food Safety Education (Fight BAC )
Stay Involved with the National Breast Cancer Awareness Foundation
Consider visiting these sites to learn more about breast cancer, breast health, the latest research developments, awareness events and patient resources.