Most dairy and milk products sold commercially in the U.S. contain pasteurized milk or cream. But raw milk, i.e., unpasteurized milk, can harbor dangerous microorganisms that can pose serious health risks to you and your family.
Raw milk is milk from cows, sheep, and goats — or any other animal — that has not been pasteurized to kill harmful bacteria. Raw milk can carry dangerous bacteria such as Salmonella, E. coli, Listeria, Campylobacter, and others that cause foodborne illness,.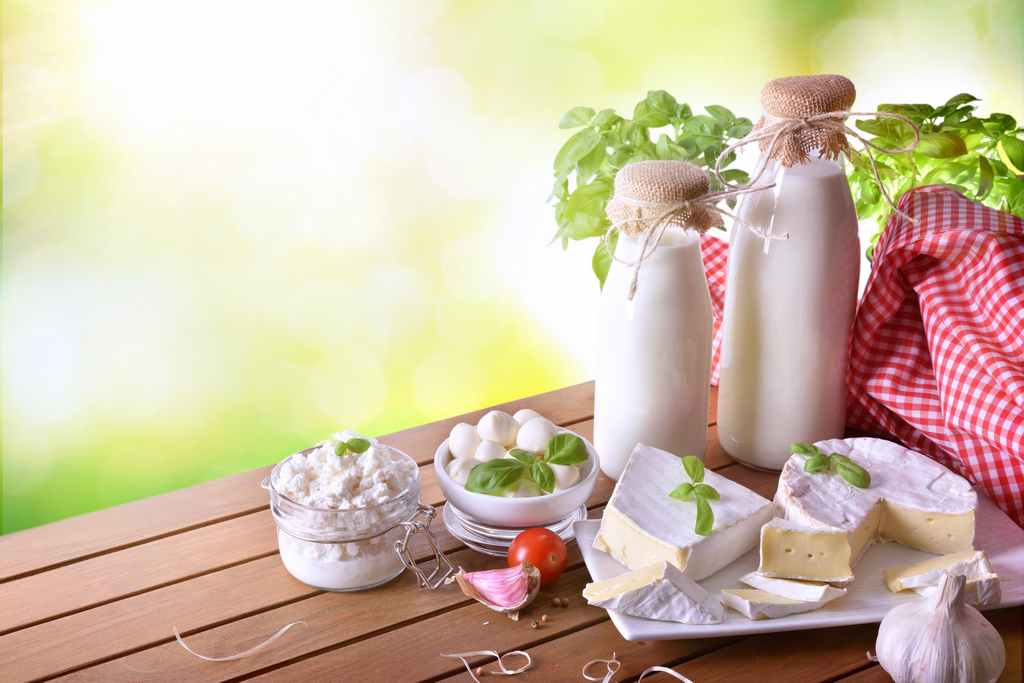 Pasteurization Destroys Harmful Bacteria
While pasteurization has helped provide safe, nutrient-rich milk and cheese for over 120 years, some people continue to believe that pasteurization harms milk and that raw milk is a safe, healthier alternative.
Raw milk is milk that has not been pasteurized. Milk is an excellent medium for microbial growth, and when stored at ambient temperature bacteria and other pathogens soon proliferate.

Contaminated Raw Milk and Milk Products Outbreaks
As consumption of unpasteurized dairy products grows, illnesses will increase steadily; a doubling in the consumption of unpasteurized milk or cheese could increase outbreak-related illnesses. Proponents of raw milk consumption rave about its positive health effects, pointing out that leafy green vegetables actually cause more foodborne illnesses than dairy products.

Food Safety & Allergy Training - 10% OFF SALE
Learn about proper hygiene, cross contamination, cold and hot food safety, foodborne pathogens, and best practices to prevent foodborne illness.
Food Manager Training & ANSI Certification - $99.00
Food Handler Training - only $7.00!
HACCP Training: 16hr/4hr/1hr
Food Allergy Training - $15.00
Enter Promo "train10off" at Checkout
A 2017 report released by the Centers for Disease Control and Prevention (CDC) states that raw milk and milk products account for 96% of foodborne illnesses linked to contaminated dairy products and outbreaks linked to the consumption of cow's milk and cheese were estimated to cause on average 761 illnesses and 22 hospitalizations per year in the United States.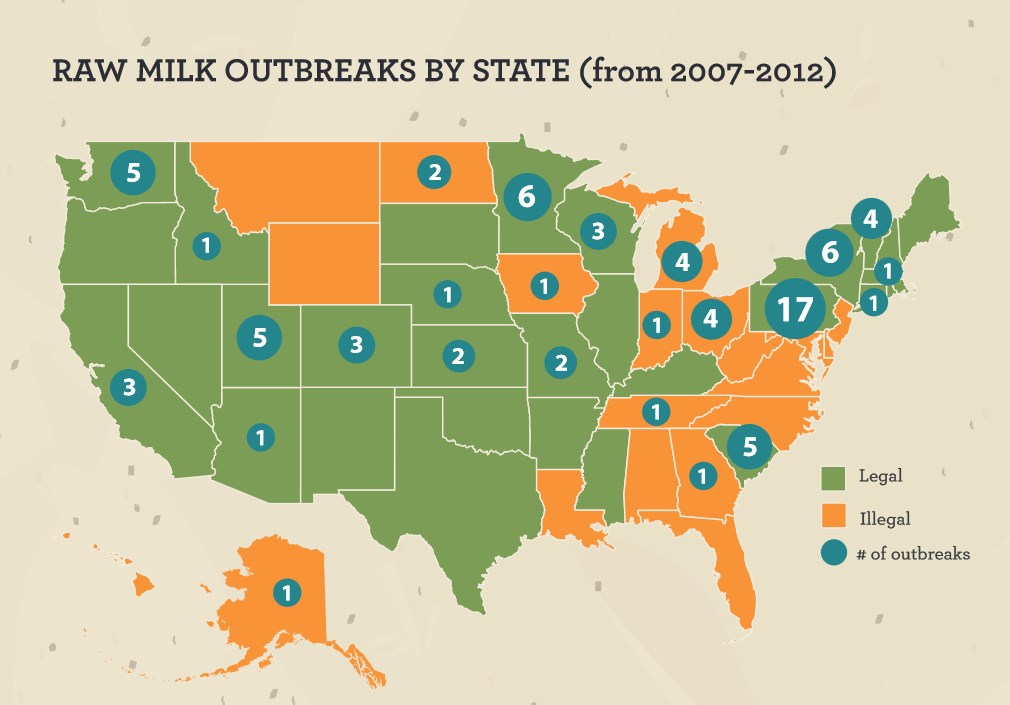 Groups More Vulnerable to Raw Milk Bacteria
Bacteria in raw milk can be especially dangerous to people with weakened immune systems (such as transplant patients and individuals with HIV/AIDS, cancer, and diabetes), children, older adults, and pregnant women. In fact, CDC finds that foodborne illness from raw milk especially affects children and teenagers.
The Dangers of Listeria and Pregnancy
Pregnant women run a serious risk of becoming ill from the bacteria Listeria, which is often found in raw milk and can cause miscarriage, or illness, or death of the newborn baby. If you are pregnant, drinking raw milk — or eating foods made from raw milk, such as Mexican-style cheese like Queso Blanco or Queso Fresco — can harm your baby even if you don't feel sick.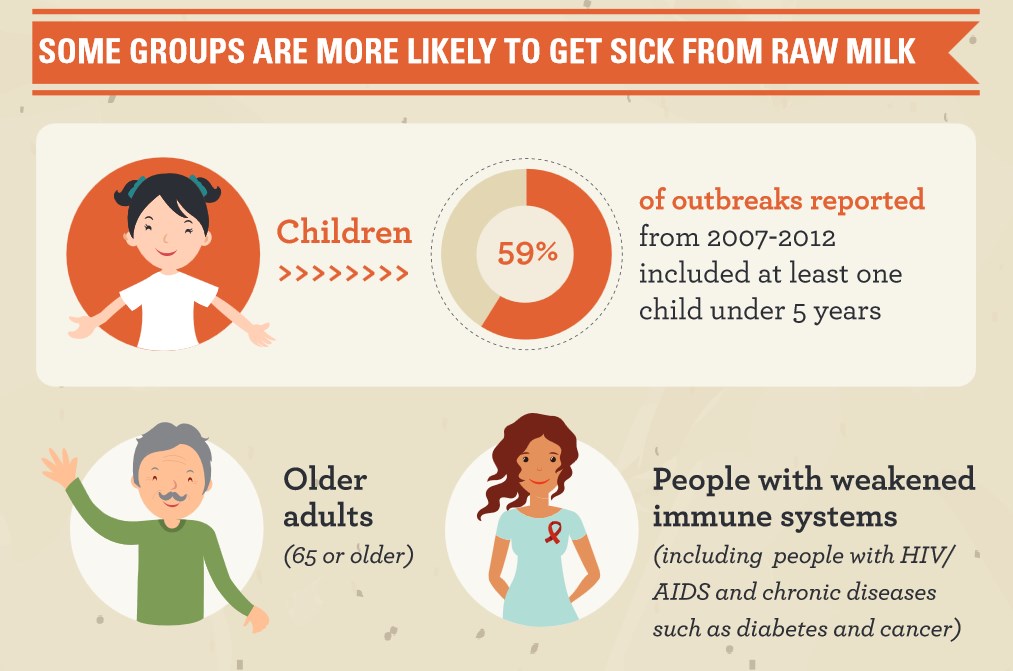 What is raw dairy or milk?
Raw milk is milk from cows, sheep, or goats that has not been pasteurized to kill harmful bacteria. This raw, unpasteurized milk can carry dangerous bacteria such as Salmonella, E. coli, and Listeria, which are responsible for causing numerous foodborne illnesses.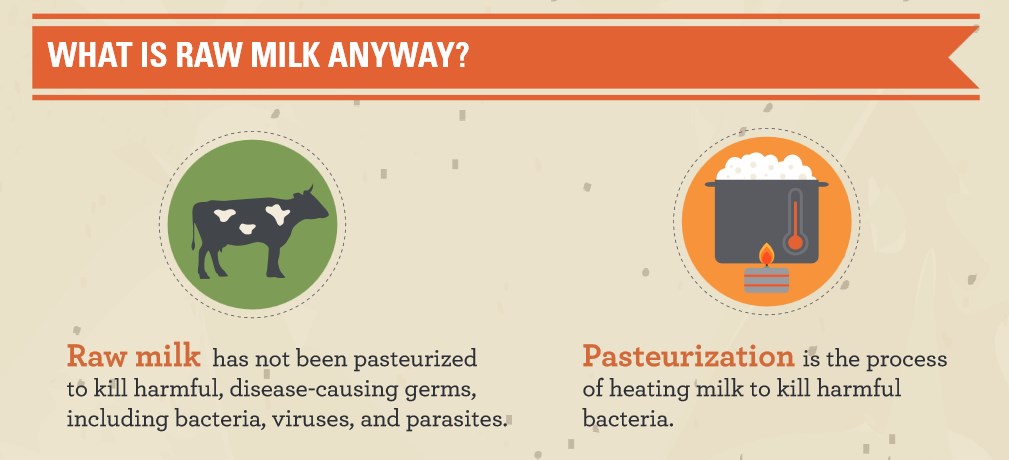 Symptoms of foodborne illness from raw milk products usually include:
Vomiting, diarrhea, and abdominal pain
Flu-like symptoms such as fever, headache, and body ache
While most healthy people will recover from an illness caused by harmful bacteria in raw milk – or in foods made with raw milk – within a short time, some can develop symptoms that are chronic, severe, or even life-threatening.
How to Reduce Illness from Raw Milk
Read the label. Safe milk will have the word "pasteurized" on the label. If the word "pasteurized" does not appear on a product's label, it may contain raw milk.
Don't hesitate to ask your grocer or health food store clerk whether milk or cream has been pasteurized, especially milk or milk products sold in refrigerated cases.
Don't buy milk or milk products at farmers' markets or roadside stands unless you can confirm that they have been pasteurized.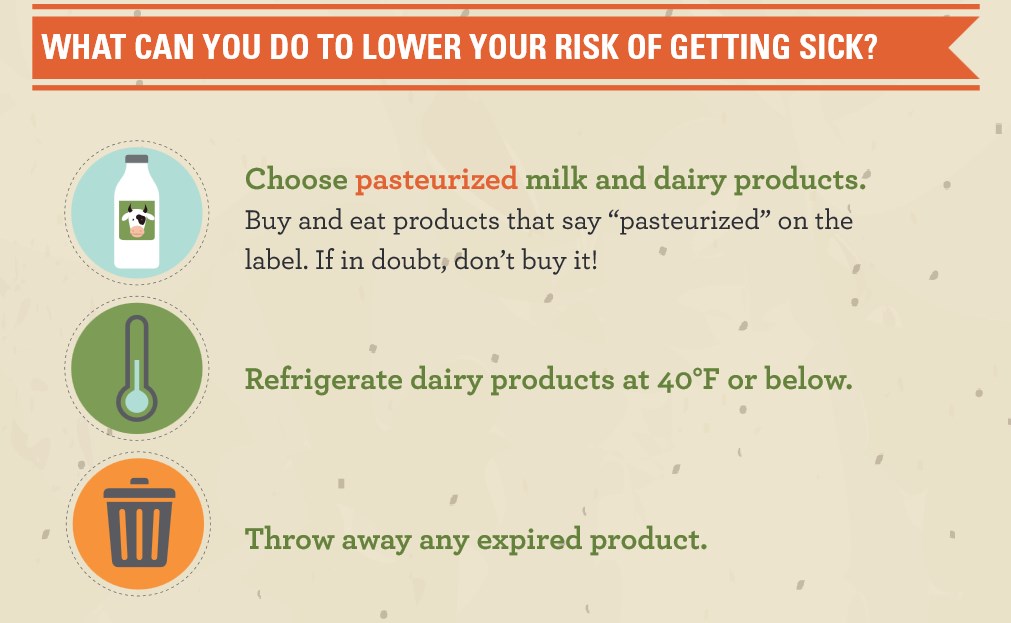 References