It's graduation season! Graduation parties are a fun time to celebrate by cooking all kinds of food and inviting friends and family.
Be sure to include food safety as an important gift that graduates will appreciate on their big day. Cooking for groups – where foods are left out for long periods – leaves the door open for uninvited guests – bacteria that can cause foodborne illness.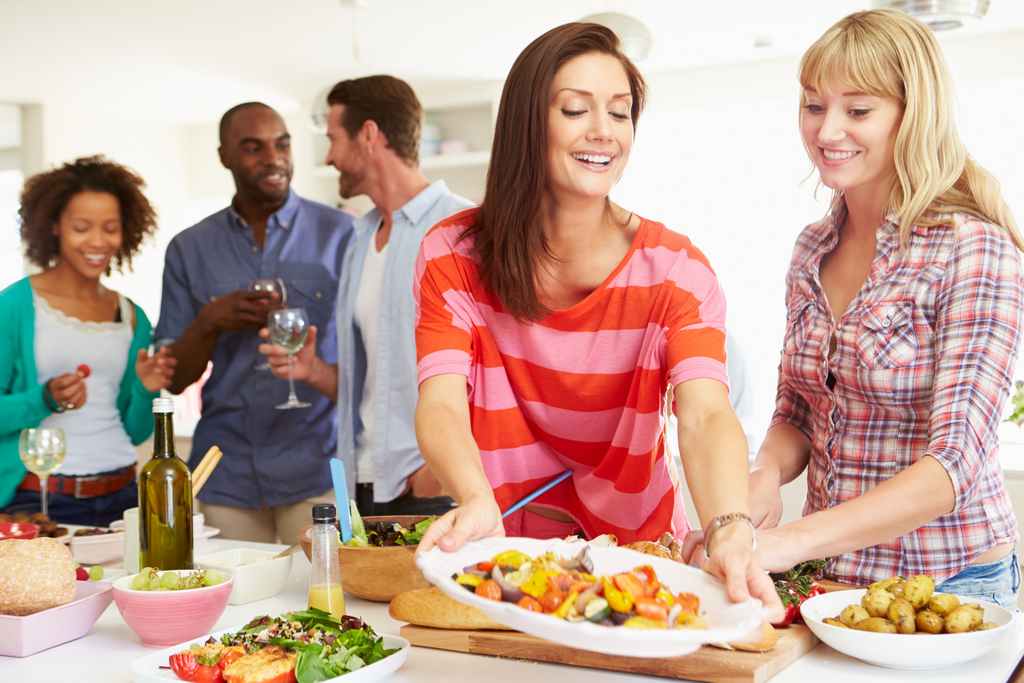 Food Illness Facts
When preparing for your special event, remember that bacteria can make you sick. Food poisoning, sometimes called foodborne illness, is a common, but preventable condition caused by eating foods contaminated with harmful pathogens or bacteria.
According to the CDC, each year about 1 in 6 Americans (or 48 million people) get sick, 128,000 are hospitalized, and 3,000 die of foodborne diseases.

Food Safety & Allergy Training - 10% OFF SALE
Learn about proper hygiene, cross contamination, cold and hot food safety, foodborne pathogens, and best practices to prevent foodborne illness.
Food Manager Training & ANSI Certification - $99.00
Food Handler Training - only $7.00!
HACCP Training: 16hr/4hr/1hr
Food Allergy Training - $15.00
Enter Promo "train10off" at Checkout
Clean – Separate – Cook – Chill
By following four simple food safety steps, you can protect people from getting a food illness: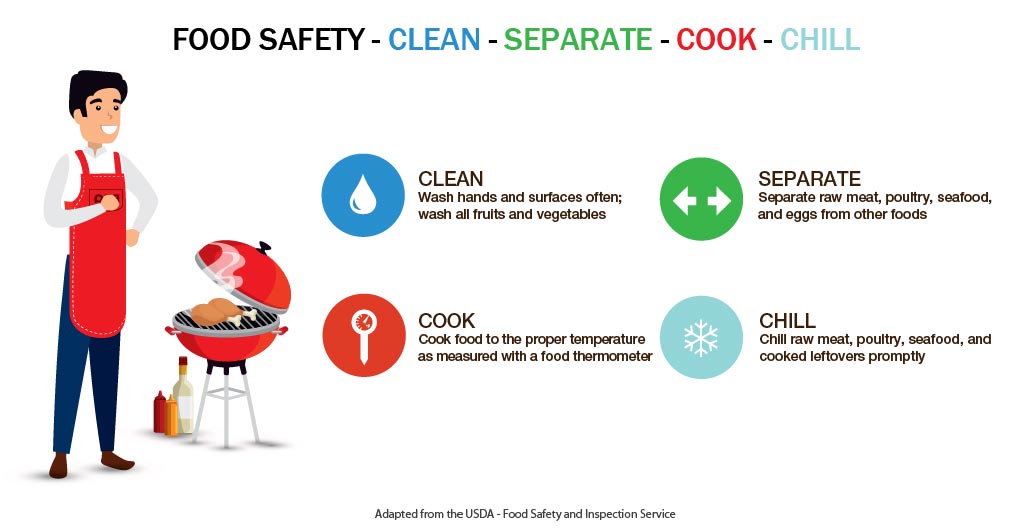 Clean: Make sure to pack clean paper towels, water, and soap for cleaning surfaces and your hands. Disposable moist towelettes also work well.
Separate: Use clean plates. Likewise, don't put foods eaten raw on the same platter that held raw meat or poultry. Any harmful bacteria present in the raw meat juices could contaminate them.
Cook: Always use a food thermometer to check the internal temperature of burgers, steaks, chicken and foods containing meat, poultry and egg dishes.
Hamburgers, sausages and other ground meats should reach 160°F (71°C).
All poultry should reach a minimum temperature of 165°F (74°C).
Whole cuts of pork, lamb, veal and beef should be cooked to 145°F (63°C) as measured by a food thermometer placed in the thickest part of the meat, and allowed to rest for three minutes before eating.
Fish should be cooked to 145°F (63°C).
Cook eggs until yolks are firm, and cook foods containing eggs thoroughly.
Chill: Place leftovers in shallow containers and store them in a cooler immediately. Discard food left in the Danger Zone for more than two hours. When the outside temperature is 90°F or above this time reduces to just one hour.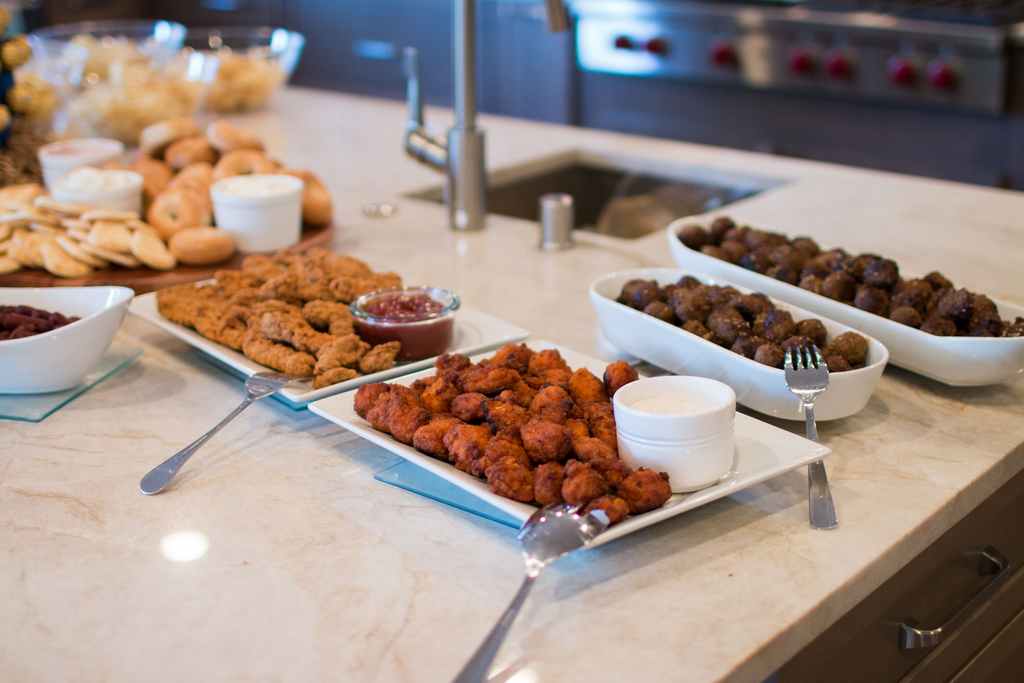 Temperature Danger Zone
One of the critical factors in controlling bacteria in food is controlling temperature. Bacteria grows very slowly at temperatures below 40°F, multiply rapidly between 40°F and 140°F, and are destroyed at temperatures above 140°F. The temperature range in which foodborne bacteria can grow is known as the "Danger Zone".
Keep food cold in the refrigerator, in coolers, or on the serving line on ice.
Keep hot food in the oven, in heated chafing dishes, or in preheated steam tables, warming trays and/or slow cookers.
Never leave perishable foods, such as meat, poultry, eggs and casseroles in the "Danger Zone" over 2 hours; 1 hour in temperatures above 90°F.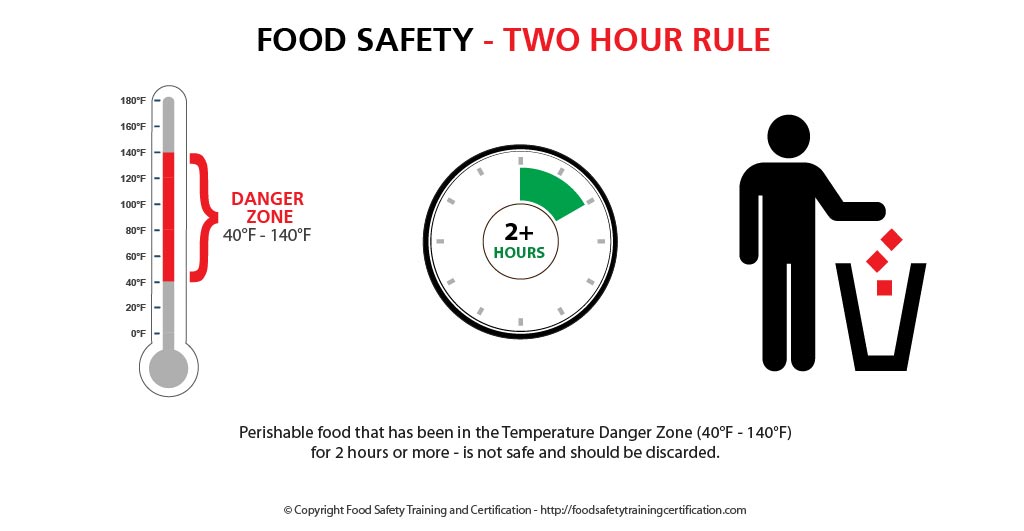 USDA Brochure – Cooking for Groups
The "Cooking for Groups" brochure helps people prepare and serve food safely for large groups.
Additional Resources – Cooking for Groups Food Safety