Each year on February 4th, World Cancer Day unites the world's population in the fight against cancer.
Having cancer can make people more susceptible to many infections, including foodborne illness. As a cancer patient, you are more likely to have longer illnesses, become hospitalized, or even die if you contract foodborne illness. Practice food safety by being vigilant when handling, cooking, and consuming foods.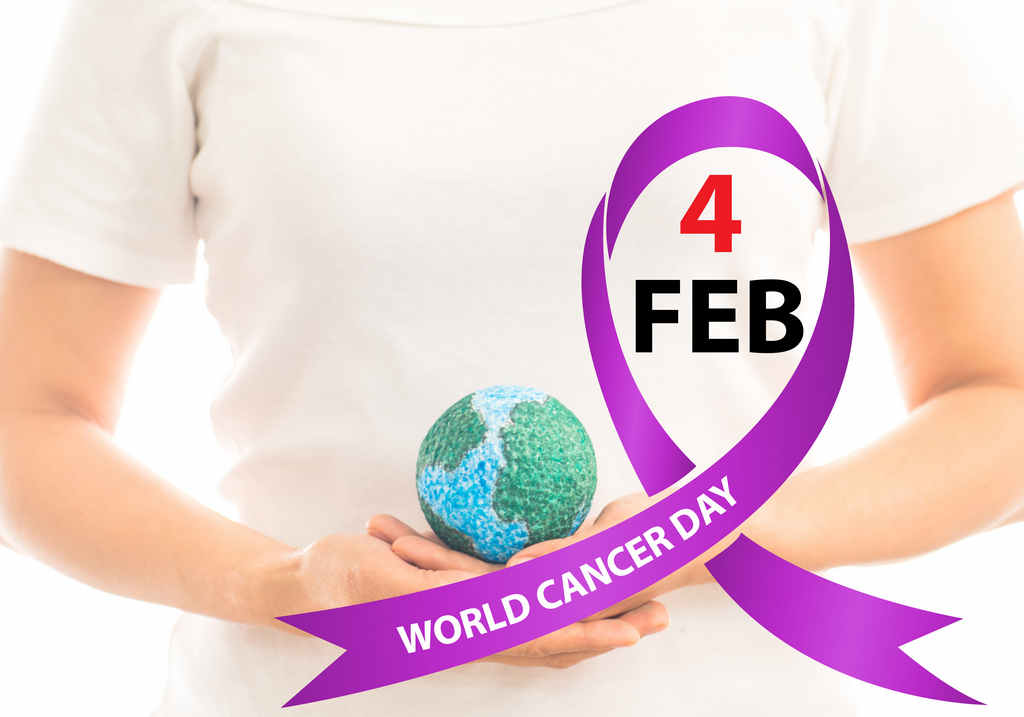 Cancer and the Immune System
The immune system is the body's natural reaction or response to "foreign invasion." In healthy people, a properly functioning immune system readily fights off harmful bacteria and other pathogens that cause infection.
However, the immune systems of people with certain illnesses, such as HIV/AIDS, cancer, and diabetes, are often weakened from the disease process and/or the side effects of some treatments, making them susceptible to many types of infections — like those that can be brought on by harmful bacteria that cause foodborne illness.

Food Safety & Allergy Training - 10% OFF SALE
Learn about proper hygiene, cross contamination, cold and hot food safety, foodborne pathogens, and best practices to prevent foodborne illness.
Food Manager Training & ANSI Certification - $99.00
Food Handler Training - only $7.00!
HACCP Training: 16hr/4hr/1hr
Food Allergy Training - $15.00
Enter Promo "train10off" at Checkout
World Cancer Day – February 4th
A truly global event taking place every year on 4 February, World Cancer Day unites the world's population in the fight against cancer.
On #WorldCancerDay, share your personal commitment to reduce the impact of cancer for yourself, the people you love and the world with the hashtag: #IAmAndIWill
For more info visit: worldcancerday.org
Download and share the World Cancer Day materials.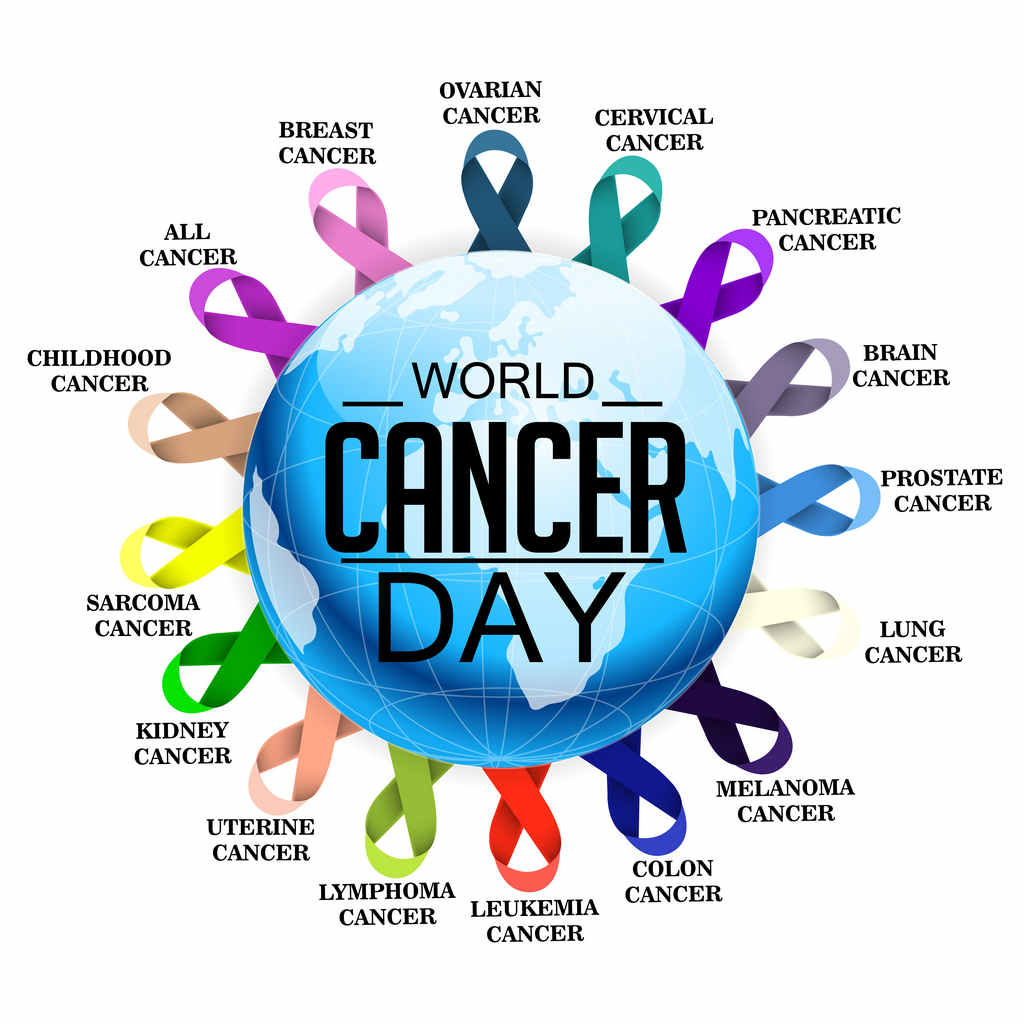 Why World Cancer Day is Important
It aims to save millions of preventable deaths each year by raising awareness and education about the disease, pressing governments and individuals across the world to take action.
Currently, 8.2 million people die from cancer worldwide every year, out of which, 4 million people die prematurely (aged 30 to 69 years)
World Cancer Day is the ideal opportunity to spread the word and raise the profile of cancer in people's minds and in the world's media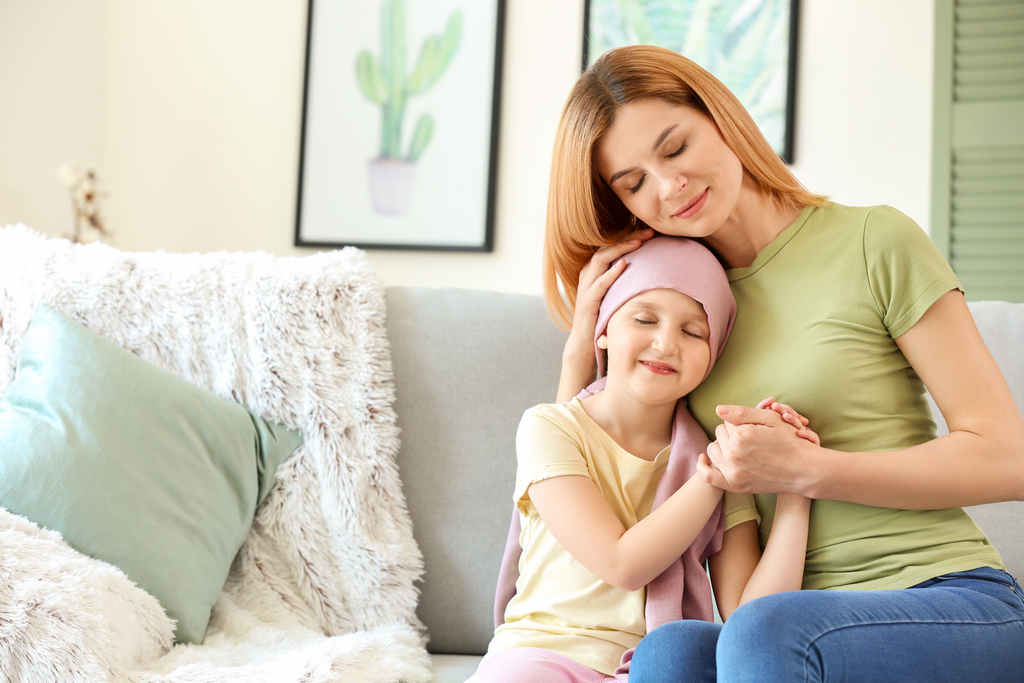 Food Safety for People with Cancer
As a cancer patient, your healthcare provider may have recommended that you take chemotherapy, radiation, or mediations to help fight your disease. A side effect of these therapies is that they may weaken your immune system. Cancer also may weaken your immune system over time due to its chronic disease process.
A properly functioning immune system works to clear infection and other foreign agents from the body. However, cancer and its treatments can weaken your immune system – making you more susceptible to many types of infections.  These infections include those that can be brought on by disease-causing bacteria and other pathogens that cause foodborne illness.
Because you have cancer and are receiving cancer treatment, you are more likely to have a lengthier illness, undergo hospitalization, or even die, should you contract a foodborne illness.
To avoid contracting a foodborne illness, you must be vigilant when handling, preparing, and consuming foods.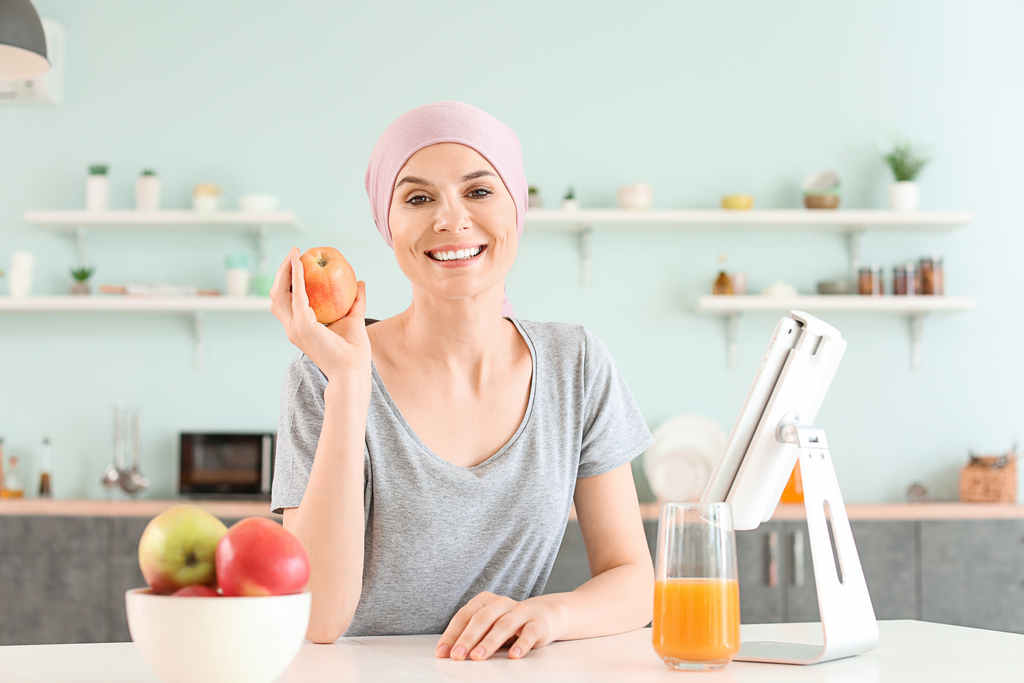 Foods to Avoid
If you are at greater risk of foodborne illness, the FDA advises not to eat:
Raw or undercooked meat or poultry.
Raw fish, partially cooked seafood (such as shrimp and crab), and refrigerated smoked seafood.
Raw shellfish (including oysters, clams, mussels, and scallops) and their juices.
Unpasteurized (raw) milk and products made with raw milk, like yogurt and cheese.
Soft cheeses made from unpasteurized milk, such as Feta, Brie, Camembert, blue-veined, and Mexican-style cheeses (such as such as Queso Fresco, Panela, Asadero, and Queso Blanco).
Raw or undercooked eggs or foods containing raw or undercooked eggs, including certain homemade salad dressings (such as Caesar salad dressing), homemade cookie dough and cake batters, and homemade eggnog. NOTE: Most pre-made foods from grocery stores, such as Caesar dressing, pre-made cookie dough, or packaged eggnog are made with pasteurized eggs.
Unwashed fresh vegetables, including lettuce/salads.
Unpasteurized fruit or vegetable juices (these juices will carry a warning label).
Hot dogs, luncheon meats (cold cuts), fermented and dry sausage, and other deli-style meats, poultry products, and smoked fish — unless they are reheated until steaming hot.
Salads (without added preservatives) prepared on site in a deli-type establishment, such as ham salad, chicken salad, or seafood salad.
Unpasteurized, refrigerated pâtés or meat spreads.
Raw sprouts (alfalfa, bean, or any other sprout).
Food Safety for People with Cancer – FDA Infographic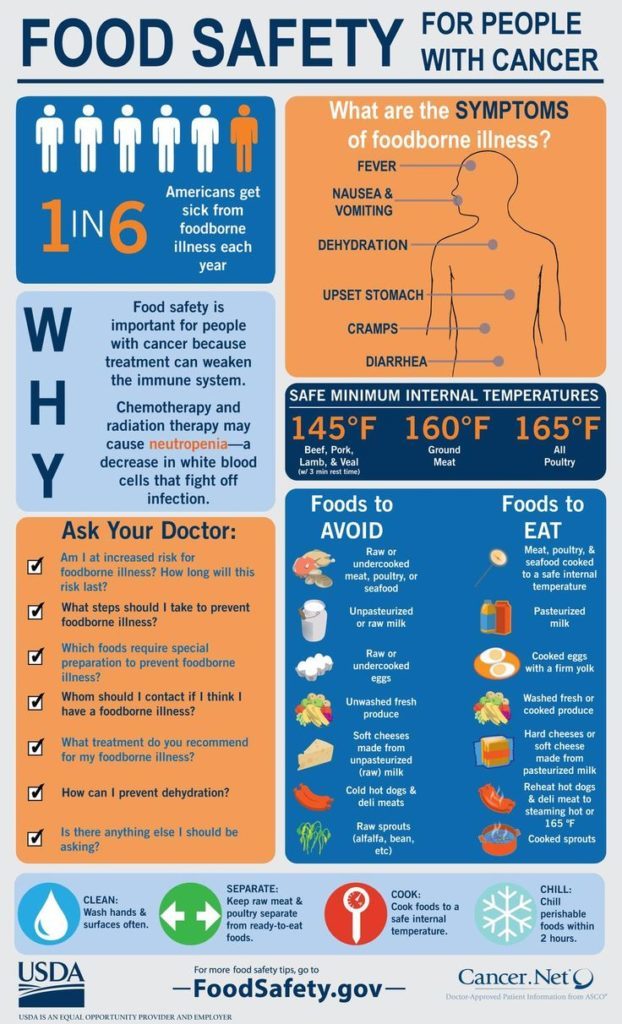 Additional Food Safety Resources
FDA – Food Safety for People with Cancer Guide (PDF)