The first-ever World Food Safety Day, adopted by the United Nations General Assembly in December 2018, will be celebrated on 7 June 2019 under the theme "Food Safety, everyone's business".
#WorldFoodSafetyDay is an event to draw attention to the health consequences of contaminated food and water – and inspire action to help prevent, detect, and manage foodborne risks – that affect human health, economic prosperity, and sustainable development.
The new annual observance will draw attention and direct efforts to stopping the roughly 600 million cases of global foodborne illnesses that occur annually.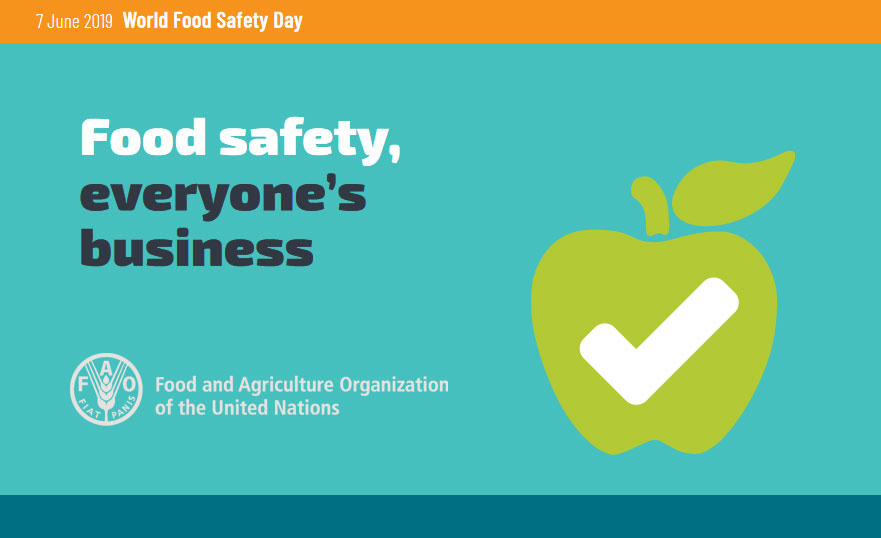 Food Safety and the United Nations
Keeping food safe is a complex process that starts on the farm and ends with the consumer. All stages of the food chain, from production, harvest and storage to preparation and consumption, must be considered. The Food and Agriculture Organization of United Nations (FAO) is the only international organization overseeing food safety along all aspects of the food chain.
Be sure to check out these World Food Safety Day resources provided by WHO, FAO, and UN. If you plan to observe, don't forget to use #WorldFoodSafetyDay on all social channels to share your efforts with us!

Food Safety & Allergy Training - 10% OFF SALE
Learn about proper hygiene, cross contamination, cold and hot food safety, foodborne pathogens, and best practices to prevent foodborne illness.
Food Manager Training & ANSI Certification - $99.00
Food Handler Training - only $7.00!
HACCP Training: 16hr/4hr/1hr
Food Allergy Training - $15.00
Enter Promo "train10off" at Checkout
World Food Safety Facts and Figures
An estimated 600 million – almost 1 in 10 people in the world – fall ill after eating contaminated food and 420, 000 die every year.
Each year, an estimated 700, 000 people die around the globe because of antimicrobial-resistant infections.
Children under 5 years of age carry 40% of the foodborne disease burden, with 125,000 deaths every year.
Foodborne diseases impede socioeconomic development by straining health care systems, and harming national economies, tourism and trade.
Climate change is associated with altered geographic occurrence and prevalence of food safety hazards.
WHO statement on World Food Safety Day:
Dr Naoko Yamamoto, WHO Assistant Director-General Healthier Populations, encourages countries to celebrate the first-ever World Food Safety Day on 7 June 2019.
World Food Safety Day – United Nations
FAO statement on World Food Safety Day:
Food safety, everyone's business on World Food Safety Day
The Food and Agriculture Organization (FAO) of the United Nations is committed to a world without hunger Bukar Tijani, FAO Assistant Director-General calls on all those who work with food, from production to consumption, to ensure the food we all eat is safe.
World Food Safety Day – United Nations
World Health Organization (WHO): Five keys to safer food
This animated film was developed to explain the WHO Five Keys to Safer Food to general public from 9 to 99 years old, and encourage their practice at home. The Five Keys to Safer Food is a WHO global health message that everybody should know all over the world to prevent foodborne diseases and improve health.
How can I participate in World Food Safety Day in the U.S.?
Spread the word about safe food practices.
Share food safety messages on social media: #DYK About 1 in 6 Americans get sick from foodborne illness each year. This #WorldFoodSafetyDay get the facts about food safety: http://foodsafetytrainingcertification.com
Organize a WFSD event  – Celebrate WFSD by organizing different activities aimed at the general public – concerts, festivals or fairs, food tastings or cooking demonstrations with a #foodsafety message. You can also host a public lecture, panel or roundtable with political leaders, educators, scientists and farmers, followed by a question and answer session to encourage involvement. Social or cultural events may also serve as platforms to reach audiences and spread the word.
Engage the young generation – Involve students in #foodsafety activities at schools, youth centres or youth events. This way young people can learn about food safety and pass on the message that by changing simple day-to-day actions, they can avoid the perils of foodborne disease.
Recreation and sports – Organize a run, a march, a walk or even a dance or fitness activity to promote #foodsafety. Encourage people to get involved in their communities, committing to take action and calling on others to do their part.
Spread the word – Inform, educate and engage audiences with information about #foodsafety. Take part in the ongoing #WorldFoodSafetyDay twitter campaign and publish photos, messages or videos to show your appreciation for #foodsafety.
Download and read the FAO – World Food Safety Day Guide (PDF):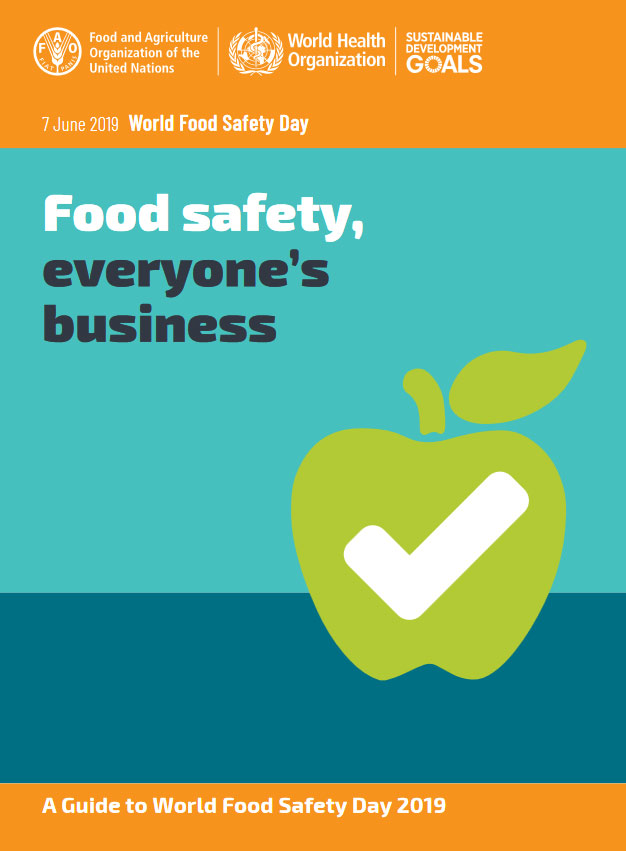 What is Food Poisoning or Foodborne Illness?
Food poisoning, sometimes called foodborne illness, is a common but preventable condition caused by eating foods contaminated with harmful pathogens or bacteria.
According to the CDC, each year about 1 in 6 Americans (or 48 million people) get sick, 128,000 are hospitalized, and 3,000 die of foodborne diseases. Learn more about foodborne illnesses and what you can do to lower your chances of getting sick.
The Temperature "Danger Zone"
Bacteria grow very slowly at temperatures below 40°F, multiply rapidly between 40°F and 140°F, and are destroyed at temperatures above 140°F. The temperature range in which foodborne bacteria can grow is known as the "Danger Zone".  Keeping food out of this "Danger Zone" temperature range will help prevent food illness.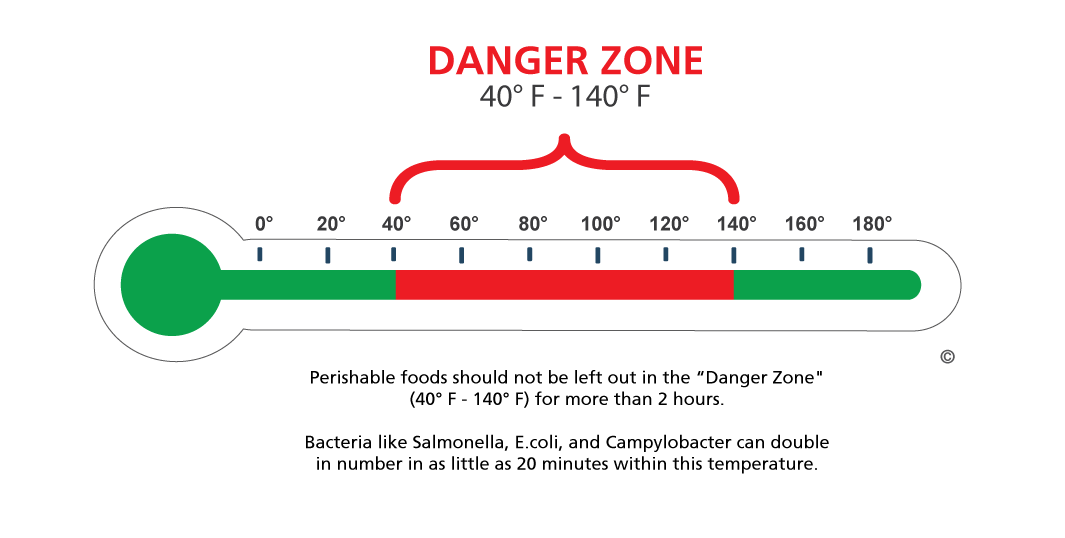 Foodborne Illness Signs and Symptoms
Foodborne bacteria may cause foodborne illness or food poisoning. Some of the symptoms include stomach cramps, nausea, vomiting, diarrhea, and fever.
Foodborne illness symptoms can begin as early as shortly after and as late as weeks after consumption of the contaminated food.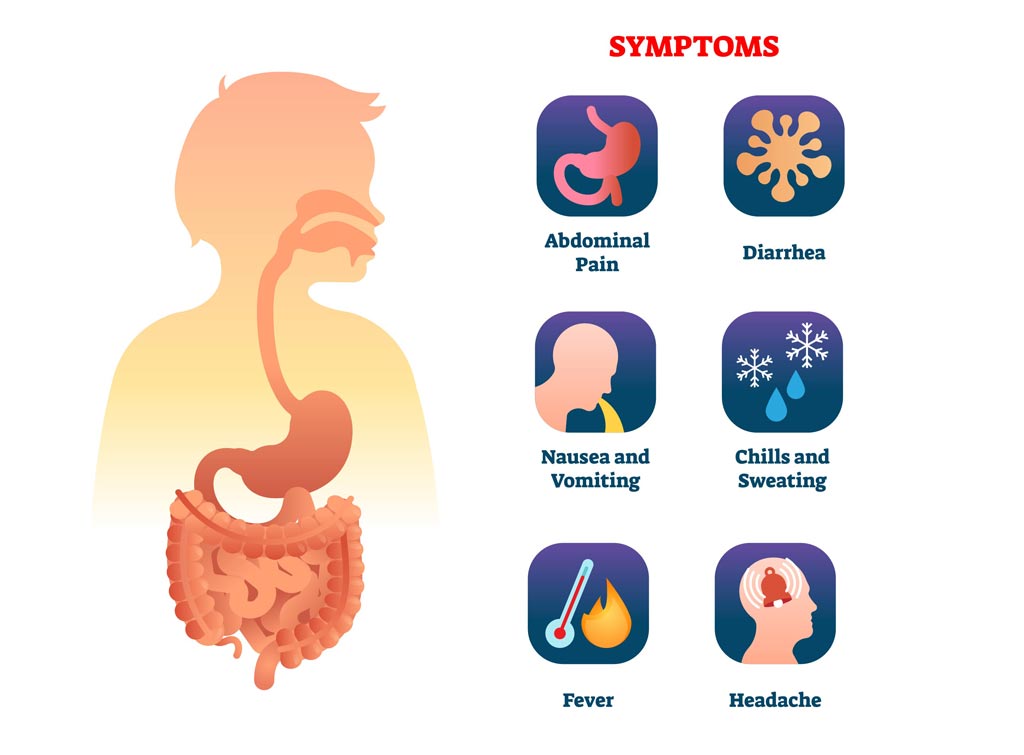 Food Safety Steps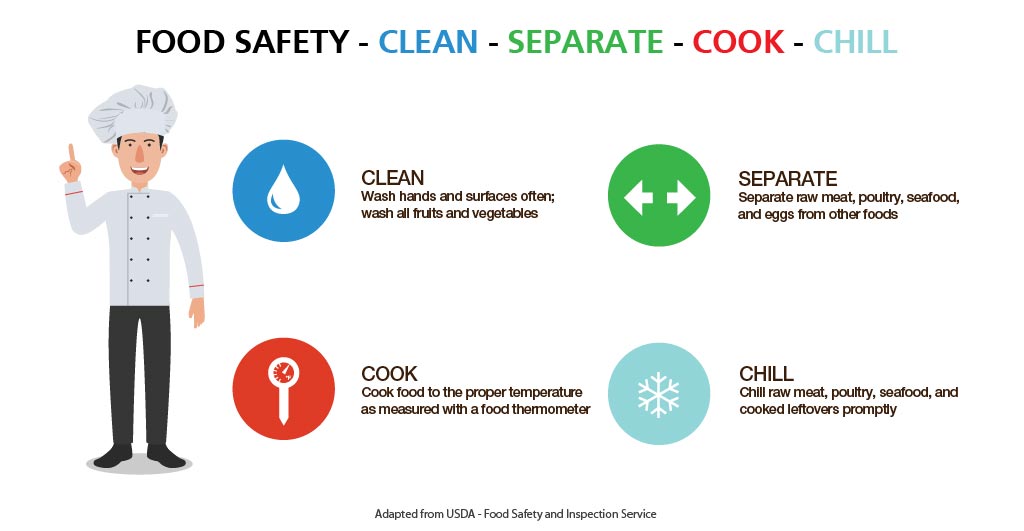 Good hygiene and cooking foods thoroughly are the best and easiest ways to avoid food poisoning. To prevent food poisoning it is recommended to:
Always clean your hands, utensils and food surfaces before using them;
Separate foods and avoid cross-contamination. Never store raw foods next to ready-to-eat foods;
Cook foods to a safe temperature. Check them using a food thermometer:

ground meats: 160°F
fresh beef, veal, and lamb: 145°F (let stand 3 minutes)
poultry: 165°F
pork and ham: 145°F (let stand 3 minutes)
egg dishes: 160°F, cook eggs until whites are firm
leftover dishes and casseroles: 165°F
fish: 145°F or flesh can come apart with a fork
shellfish: cook until shells open on their own

Refrigerate or freeze perishable foods within two hours since purchase or preparation;.
Defrost food safely in the refrigerator;
Make sure to dispose of food if you are unsure of its safety.
Groups Vulnerable to Foodborne Illness
Anyone can get a foodborne illness, but people in certain groups are more likely to get sick and to have a more serious illness. These groups are:
Young children
Pregnant women
Adults aged 65 and older
People with weakened immune systems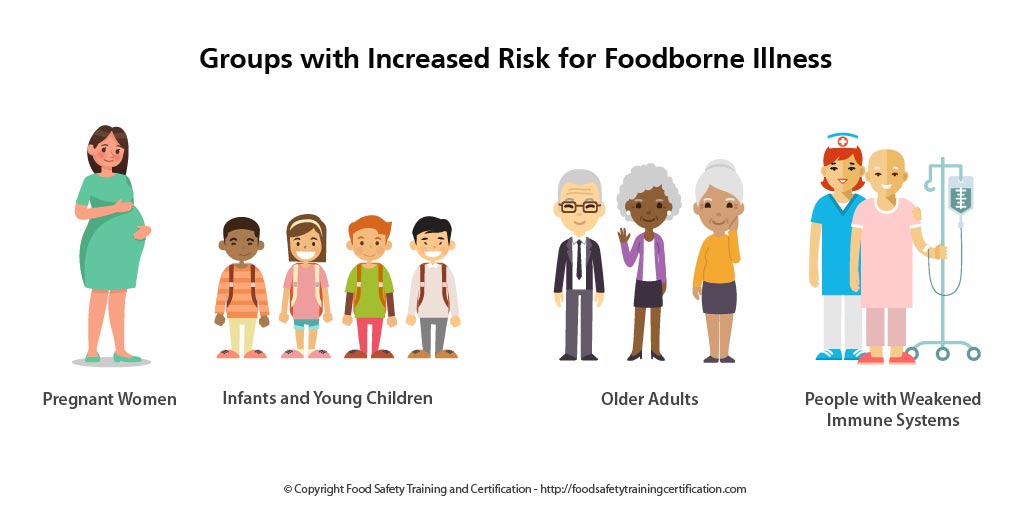 Summary
The first World Food Safety Day is Friday, June 7, 2019. The United Nations has declared this day to draw global attention to the health consequences of contaminated food and water.
Join World Food Safety Day to spread the word about ways to reduce the risk of food poisoning.
References and Resources